It has been years since Advanced Find underwent a major update; many Dynamics 365 users are excited to see the changes.
Advanced Find is the powerful query tool built into Dynamics 365 CE. Dynamics 365 users used Advanced Find for decades to easily customize system views for personal use. But for the last several years, Microsoft has neglected to improve Advanced Find, instead focusing on improvements to views in the Unified Interface. Advanced Find was looking a bit long in the tooth, and now we see that its days are coming to an end. In Part 4 of our series of updates included in the 2022 Dynamics 365 Wave 1 release we will walk through the new way to query Dynamics 365 data.
These changes began a few years ago with the introduction of Modern Search, since renamed Dataverse Search. Dataverse Search was a massive improvement over what existed before and in my opinion was one of the most important changes in how users interact with their data. Prior to the introduction of Dataverse search the only option for globally searching Dynamics data was categorized search and many organizations did not take advantage off its clunky interface and strict search parameters.
What is Dataverse Search?
Dataverse Search helps users quickly find what they are looking for. It delivers fast and comprehensive results across multiple tables in a single list, sorted by relevance. The new Modern Search experience is:
Fast and accurate search: faster and more precise than previous search methods
Suggested results as you type: Finds what you're looking for and shows you the top results, as you type.
Better matching: Finds matches to any word in the search term for columns in a table. Provides a better user experience compared to quick find search, where all words in the search term must be found in one column.
Smart: Finds matches that include inflectional words such as stream, streaming, or streamed.
Search across documents in Microsoft Dataverse: Includes search results for text in documents that are stored in Dataverse such as PDF, Microsoft Office documents, HTML, XML, ZIP, EML, plain text, and JSON file formats. It also searches text in notes and attachments.
Understanding of underlying data: effectively interprets a search query that includes multiple search terms.
Operators for advanced search: Lets you use simple Boolean operators in your search term and craft the query – to get the results you want.
Intelligence: Deliver quality results by applying AI technology to interpret things such as misspellings, common abbreviations, and synonyms.
Important to note– Dataverse search also becomes the default and only global search experience in all model-driven apps within the environment. Users will no longer be able to switch to categorized search.
Modern Advanced Find – how it works
Configuring Modern Advanced Find
Administrators can easily enable the new experience through the Power Platform Administration portal. From within the target environment, click on Settings/Features and set the below checkboxes to On.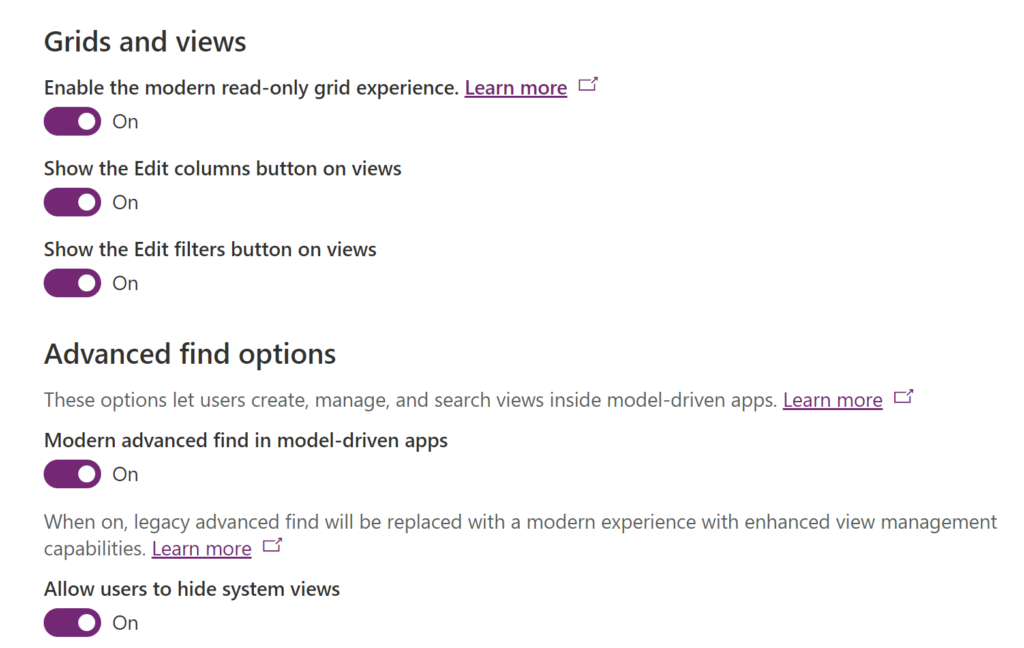 Enabling Modern Advanced find will disable the funnel icon in all Hubs (except the default hub). Users will be unable to access traditional Advance Find.
Using Modern Advanced Find
So here is the first piece of info – Advanced Find is no longer a separate pop-up window that you access via a Ribbon button. Instead, Modern Advanced Find is organically part of the Power Apps grid. In other words, the grids that you use to view data in Dynamics 365 CE now house all (almost) of the functions in traditional Advanced Find.
From the grid you can Edit Columns, Edit Filters, and change column filters and sorting. An asterisk besides the name of the view indicates that the view has been modified – to save the view, click on the ellipses (the three dots) and select Save As New View or Save changes to current view.

Sharing personal views is easier than ever. From the grid, select the option Manage and share views at the bottom of the list of available views. You will see the below side bar pop up on the right. From this bar you can do several actions including:
Share Views
Set Default View
Hide Views
Change the sort order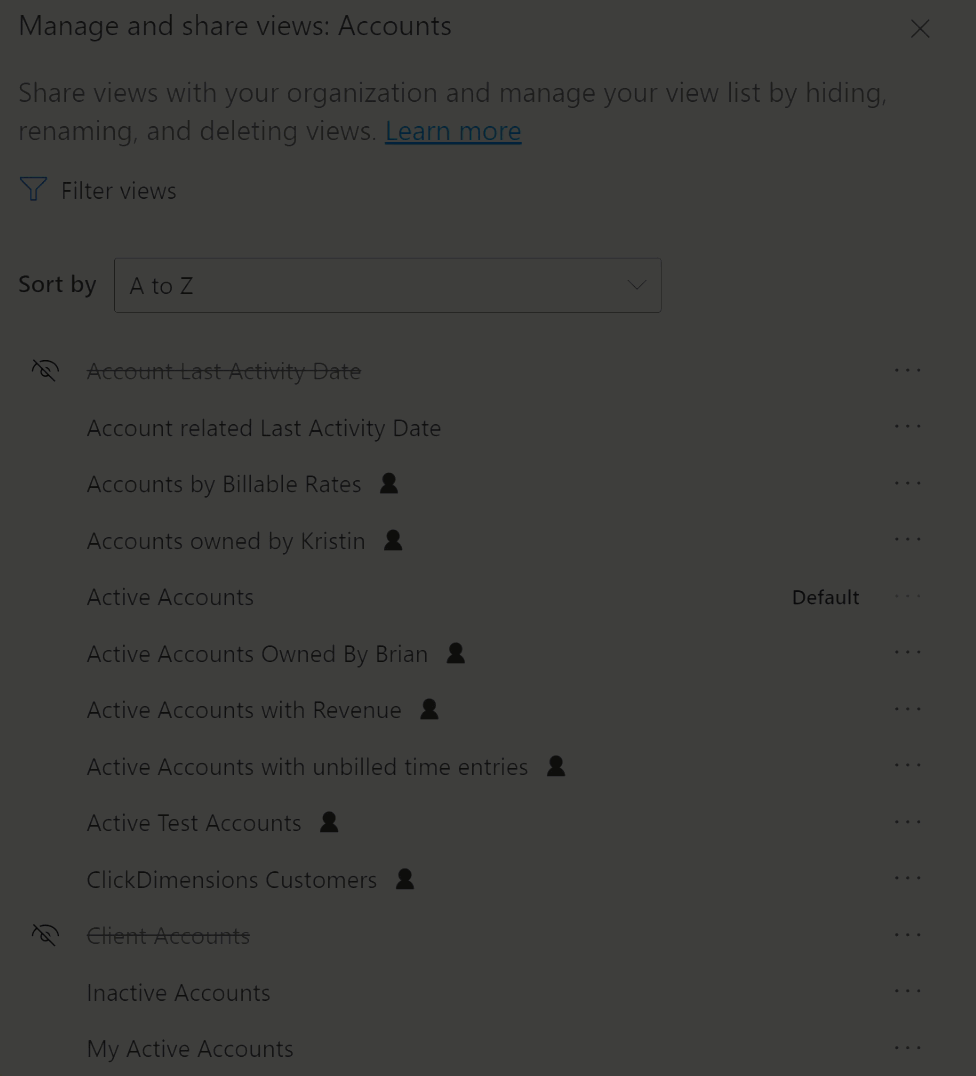 New Preview Feature – Dynamics 365 Connector for Microsoft Search
Microsoft Search is used to index data stored in Office 365 and present data in various search results, including the Office 365 portal, Bing.com and Teams.
Currently a Private Preview is available which will surface Dynamics 365 data in these results. You can sign up to participate in this preview here.
Once enabled, users will be able to make queries such as – "Who are my contacts at Contoso? or "What are my calls scheduled for today?"
The Dynamics 365 connector provides the following benefits:
Easy to find: Dynamics 365 content is visible to users whether they are using Bing.com, Office.com, and SharePoint.
Easy to use: Users can easily and quickly find important information stored in Dynamics 365, withoutto navigating to a new app or page.
Quick setup: Easy and quick to configure and maintain the search connection to Dynamics 365.
Built-in data protection: Dynamics 365 results only appears for users who have access to the connected instance.
Unified search experience: Dynamics 365 results are consistent across all search entry points. Users get the same results with the same look and feel – no matter where they search.
How Can We help?
Please don't hesitate to contact us if you have questions about your Dynamics 365 system or any of the new features from the 2022 Dynamics 365 release.
Watch our blog for more details on updates to Dynamics 365 and the Power Platform.
Contact us today. We'd love to hear about you and discuss how Dynamics 365 can drive the digital transformation and change the way you do business. Our goal is to make sure are getting the most out of your Dynamics 365.
enCloud9 is your Premier Dynamics 365 Partner. When engaging with enCloud9, you are engaging with a gold-certified partner that is up to date with the latest technology. Learn more about enCloud9's support services.
Further Learning
Other topics in our series of 2022 release wave 1 features include:
Visit our blog for more tips and tricks on Dynamics 365 and the Power Platform.
enCloud9 is focused on bringing you the latest on sales, marketing and customer service. You might enjoy a recent blog article we wrote about How Dynamics 365 Helps Throughout the Customer Buying Journey.
In addition, we have many informational on-demand webinars. These videos can be viewed on our YouTube Channel.