What is Dynamics 365 Marketing?
By leveraging the power of data and AI, Microsoft Dynamics 365 Marketing is a marketing automation application that helps turn prospects into long lasting business relationships. Dynamics 365 Marketing empowers marketers to improve their marketing campaigns by helping them find the right prospects and nurturing them into becoming customers. In addition, Dynamics 365 Marketing allows businesses to effectively engage with their customers and prospects, personalize customer experiences, and target their marketing content – so the right content gets to the right customer at the right time.
Dynamics 365 Marketing capabilities and benefits
The main goals of any good marketing campaign are to identify the needs and wants of potential buyers and to provide goods or services that meet or exceed the expectations of those buyers. A good marketing campaign turns prospects into business relationships.
Core marketing tasks
Dynamics 365 Marketing is designed to help organizations more effectively manage basic marketing tasks such as event management, prospecting, customer engagement, and more. Probably one of the most important elements of a good marketing campaign is identifying the customers you want to target. Lead generation and scoring tools in Dynamics 365 Marketing help marketers to effectively identify and target potential customers. The image below demonstrates how Dynamics 365 Marketing works seamlessly with Sales. There are numerous benefits to sales and marketing working together.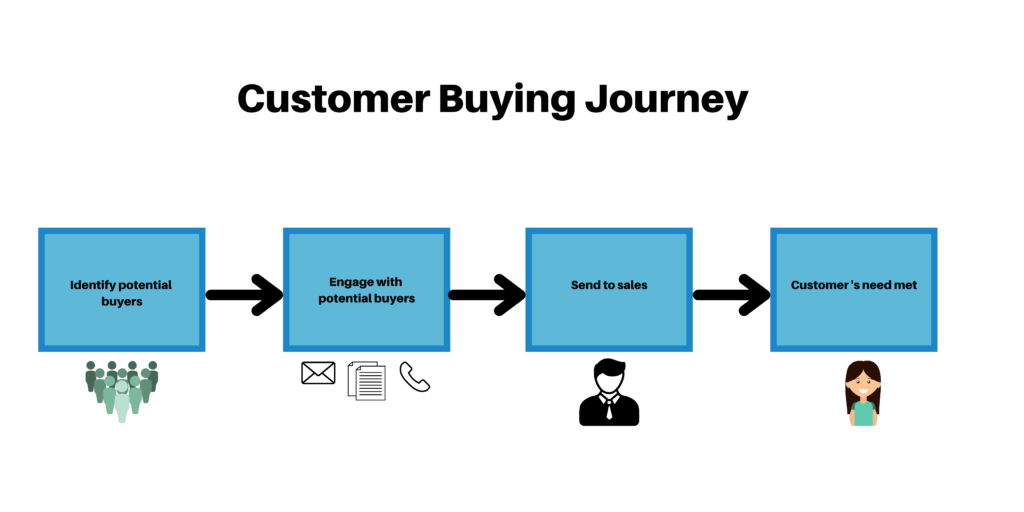 Combining Marketing Automation and CRM provides you with clear insights into your customer's journey.
Engage customers in real time
Dynamics 365 Marketing allows marketers to respond to customer actions in real time: Respond in the moments that matter with real-time, event-based journeys.
Marketers are able to easily personalize their messaging with dynamic text and images from a flexible set of data sources.
By using mobile channels to create text messages and push notifications, marketers can connect with customers on the channels they use the most.
Win customers and earn loyalty faster
Through the power of built in AI and analytics, Dynamics 365 Marketing allows organizations to personalize content and experiences, understand customers and prospects better, and strengthen relationships. Microsoft Dynamics 365 Marketing helps in meeting this goal by:
Enabling moments-based marketing with real time, event-based journey orchestration.
Leveraging the power of data and AI to personalize interactions across the customer journey.
Making it easier to collaborate across people, departments, and organizations to create engaging campaigns using built-in Microsoft Teams chat.
What's Included with Dynamics 365 Marketing?
Dynamics 365 Marketing focuses on two types of marketing actions: Real time Marketing and Outbound Marketing. Outbound Marketing focuses on social posting, landing pages, lead scoring, and more. Real-time marketing, on the other hand, focuses on using real time customer behavior to trigger customer interactions.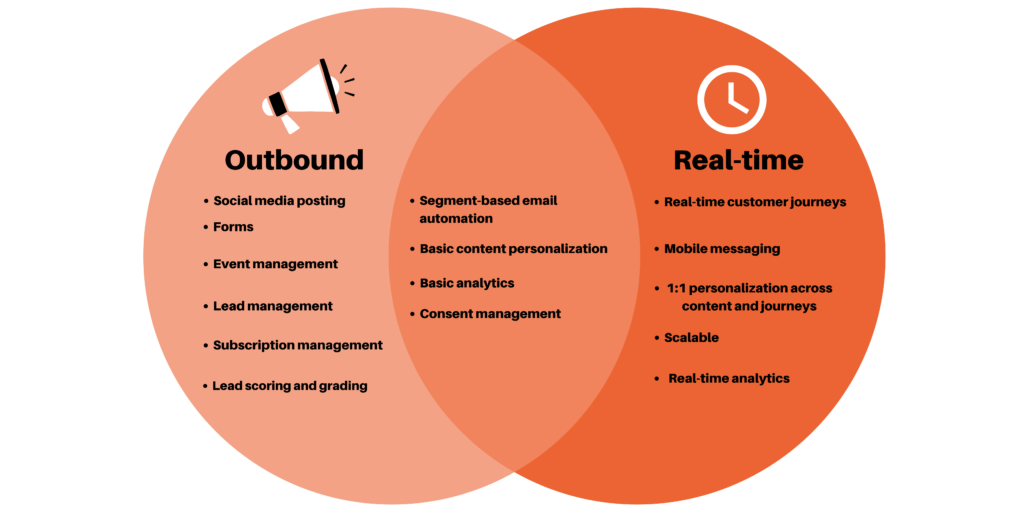 Key terminology of Dynamics 365 Marketing
The following are key terms used not only throughout the marketing industry, but throughout the Dynamics 365 Marketing application as well.
Marketing operations – This includes everything that happens in your marketing automation and customer engagement platforms that enables delivery of the right message at the right time to the right people.
Marketing campaign – Promotes products through different types of media, such as television, radio, print, and social media platforms.
Lead scoring – A methodology used to rank prospects against a scale that represents the perceived value that each lead represents to the organization.
Lead nurturing – Includes educating and building prospects trust in order to help guide them through the customer buying journey. The goal of nurturing is to provide prospects a personalized experience that not only keeps them engaged and interested, but eventually converts them into customers.
Customer segmentation – The process of categorizing customers into groups (based on common characteristics) – so you can market to each group effectively and appropriately.
Key performance indicator (KPI) – Tracks progress towards marketing goals. Examining KPIS enables you to continuously evaluate performance – to adjust and optimize marketing strategies as needed.
Digital marketing – Any form of digital communication that is used to persuade people to purchase a product or service. This includes such marketing strategies as online advertising, emails, and social media.
Events marketing – Strategy used to promote brands, products, or services through in-person events – whether online or offline.
Product marketing – Process of bringing a product to market and ensuring that the product is successful.
Brand positioning – How you differentiate yourself from your competitors – as well as how consumers identify and connect with your brand.
Brand awareness -How people recognize and perceive your brand.
Landing page – Webpage that is optimized for lead generation. Successful landing pages have well-defined content, clear conversion paths, and are highly benefit focused.
Customer journey – Create automated drip marketing campaigns for your customers.
Getting started with Dynamics 365 Marketing
Dynamics 365 Marketing includes a bundle of apps and solutions carefully selected to support marketing departments and coordinate with sales. Some of these apps and solutions are available as add-ons or bundles with other Dynamics 365 products, while others are only available as part of the Marketing package. Contact the Marketing experts at enCloud9 to learn more and to get started. Start turning prospects into business relationships.
enCloud9's Marketing Accelerator is a fully integrated CRM and marketing automation solution designed to connect marketing and sales teams.
If you are looking for a better way to identify, target, and nurture prospects, contact the marketing automation experts at enCloud9. In addition, check out other blogs we have written about marketing.