Dynamics 365 Blog
Focused on helping you to get the most out of your Dynamics 365 with ideas and tips on sales, marketing and customer service.
Your Digital Transformation begins today
enCloud9 wants to empower users to get the most out of Microsoft Dynamics 365. Our blog covers everything from the basics to the more advanced topics. CONTACT US TODAY >>
White Papers, Downloads and Other Resources
At enCloud9 we want you to have the right tools to help you in selecting your company's CRM solution. FIND THEM HERE >>
What is Dynamics 365 Customer Service Dynamics 365 Customer Service is a full suite of capabilities to ensure your business can deliver the best customer service experience possible to customers.
Read This
Understanding your customer and where they are at in the customer buying journey allows you to make the best possible decisions on how to proceed with an opportunity or lead. 
Read This
Dynamics 365 shines bright with Case Management!  At the heart of Dynamics 365 Customer Service is the agent experience. The key to improving customer satisfaction in service delivery is providing
Read This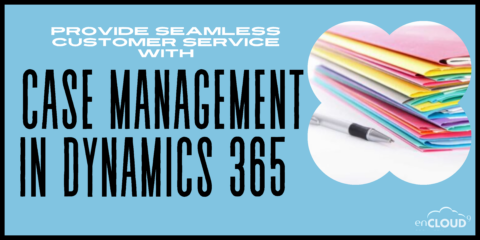 Most of us have experienced the all to familiar situation of having to explain our problem over and over again to numerous support people. If only your issue was recorded the
Read This
Why is Providing Great Customer Service So Important? Do you want your company to be known for providing excellent customer service?  It seems like a simple thing or common sense,
Read This
Why do customers stop doing business with you? Do you know the #1 reason customers stop doing business with a business? You'll be surprised that the answer isn't that a
Read This
What is ClickDimensions? ClickDimensions is a complete marketing automation solution built exclusively for Dynamics 365 CE - designed to bring together sales and marketing to generate bigger business wins. Among
Read This
In our third and final blog of our email marketing series, we focus on interpreting the email statistics provided by ClickDimensions. Part one of our email marketing series covered creating
Read This
In part one of this blog email marketing series, we covered creating email templates. In this blog, you will learn how easy sending emails with ClickDimensions is. Using marketing lists,
Read This