Dynamics 365 Sales enables salespeople to build stronger relationships with their customers and personalize the customer buying journey. With Dynamics 365 Sales, salespeople can easily manage their pipeline, nurture sales from lead to order, and accelerate their sales. We will show you just how easy getting started with Dynamics 365 Sales is. Dynamics 365 Sales offers many benefits to sales managers as well as to salespeople.
Benefits to Salespeople
Dynamics 365 Sales:
Benefits to sales managers
Dynamics 365 Sales:
Real time analytics (based on historical and predictive data) accelerate your teams performance.
Monitor results and provide feedback (in real time).
Easily perform a quick analysis on your sales teams productivity by using immersive Excel and prebuilt templates within Dynamics 365. Saves time as you don't have to leave Dynamics 365 Sales to do this.
Microsoft has provided some very valuable help resources for administrators and sales managers.
Getting started with Dynamics 365 Sales
Once you are in Dynamics 365, to access the Sales Hub – click on the App Selector.

A list of apps will be displayed. Select Sales Hub.

Once you have chosen the Sales Hub, the site map will be displayed. The site map shows you the different areas you can navigate to within the Sales Hub.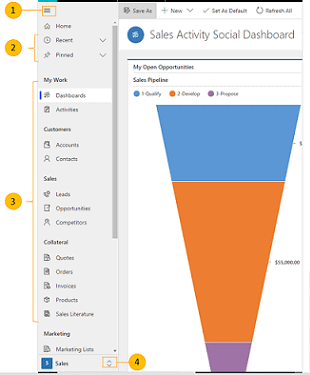 Open or collapse the site map,
Access the recent items you've worked on or the customers you have pinned.
Access everything that you need to communicate with customers, manage your sales-related records, and so on.
Switch between Sales, Settings, and Training area.
The 4 Records used most by salespeople
There are components that all 4 types of these records have in common. All of these record types consist of basic contact information, and a timeline in which the activities and communications related to the record are tracked.
1. Accounts
Account records contain information that you and your team need to know about businesses you work with. Account records contain information including phone numbers and addresses, relationship type, owner of the record, revenue and billing information, main contact, etc.
Accounts are generally considered the main record in Dynamics 365 CE. Other records, such as contacts, opportunities, and activities roll up to the parent account. Accounts can have hierarchical relationships with other accounts, making it easy to visualize Parent/Child relationships.
2. Contacts
Contact records track the people employed by accounts. In addition to basic contact information like phone numbers and addresses, contact records include information such as job title, contact preferences, and a place to mark personal notes.
Contact records also include a field to note the contact's manager. This can be useful to generate organizational charts.
3. Leads
Dynamics 365 primarily uses leads to track unqualified prospects. These prospects might be businesses or consumers who have expressed an interest in your product or service. Leads can come from web forms, emails, trade show visits, and other sources.
The Sales team's job is to contact these leads, determine if there is a fit between your company and them. If there is not a fit, the lead should be disqualified. Otherwise, the lead should be qualified which creates an account, a contact, and an opportunity.
Important information gathered in a lead record includes estimated purchase date, lead rating (cold, warm, or hot), source campaign – as well as basic contact information. Salespeople should track activities including emails, phone calls, and tasks to keep a trail of interactions with perspective clients.
The lead management capabilities in Microsoft Dynamics 365 let you connect with your customers in a whole new way – he information you track and log about leads in Microsoft Dynamics 365 can be used to build relationships and turn leads into lifelong customers. More leads means more revenue, which means more profit! To learn the top 10 surefire ways to obtain more leads, visit our blog
4. Opportunities
Opportunities are the second stage in the sales cycle. Once a lead is qualified, the opportunity sales process begins. Using opportunities, salespeople can track estimated close dates and revenue as well as sales stage. Opportunity revenue can be either estimated or salespeople can add products from the product catalog to come up with an accurate revenue figure.
When the sales cycle is complete, opportunities are either marked as won or lost. Sales managers should keep a close eye on their sales team's opportunity list in order to generate realistic revenue forecasts.
Activity Tracking in Dynamics 365
Activities are used to plan, track, and organize all your customer communications. For example, you can take notes, send emails, make phone calls, set up appointments, and assign yourself tasks and reminders. All of these actions are considered types of activities.
There are two places in which activities can be found:
Within the Parent record in the Timeline.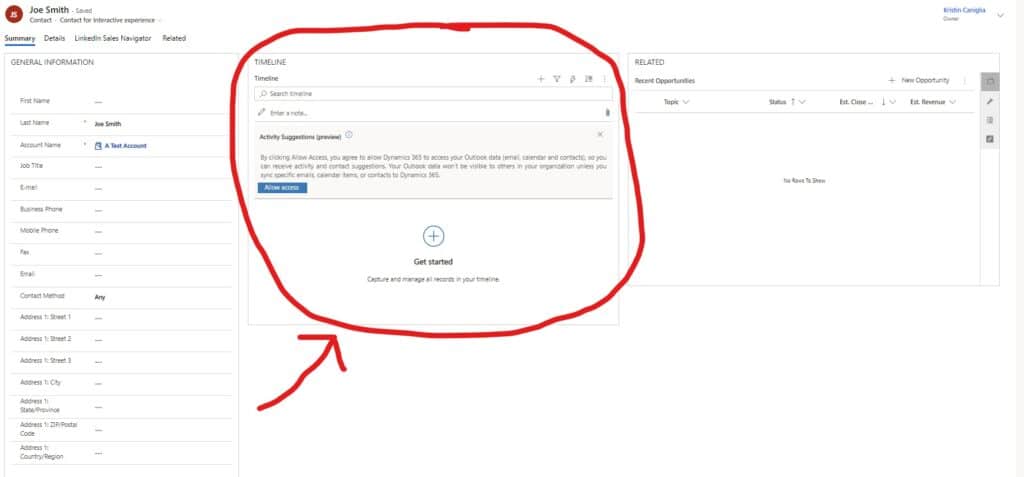 2. By navigating to Activities, in the My Work section of the site map.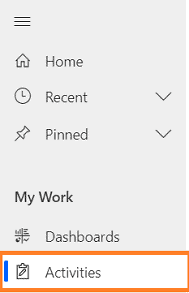 Activities can be viewed in a list, calendar, or Kanban view.
Better data means more effective Sales Metrics
With the steady increase of business intelligence, small to medium businesses, managers and owners have been able to take advantage of better data. One business function that has really benefited from the increased business intelligence is sales. Since there are so many sales-related metrics to employ, it can be very difficult to choose the metrics that will be most effective for your business. To aid in your selection process, here are five of the most common and useful sales metrics used.
How can we help?
We have put together a quick summary of all of the skills that enCloud9 consultants teach to our new clients as part of sales team onboarding. To see our basic sales training outline, visit our blog.
Because Dynamics 365 is continually evolving, you need expert guidance to determine exactly which apps fit your business needs and strategies. You also need expert help to set up and tailor Dynamics 365 to your business processes and to support you over time – as your business grows. That expert guidance and assistance comes from a Microsoft Dynamics Partner, like enCloud9.
enCloud9 works with your business' specific needs, from assisting in the selection process to licensing – all the way to implementation and go live. And enCloud9 doesn't walk away when your solution is in place. We support your business so that your solution is always up to date and running smoothly.
Contact us today. We'd love to hear about you and discuss how Dynamics 365 can improve the way you do business.
We can get you started quickly with our Sales Accelerator. Our Accelerators are prepackaged Dynamics 365 implementations designed to get your business up and running rapidly.
We hope our Dynamics 365 navigation guide has demonstrated just how easy it is to get around in Dynamics 365. This month, we have focused on the "Basics of Dynamics 365." You may enjoy some of our other recent articles such as our Simple Guide to Dynamics 365, our CRM Glossary, or our Dynamics 365 Navigation Guide.
To learn more about doing other functions in Dynamics 365 such as creating a personal view, creating a personal dashboard, or sharing views, charts, and dashboards – visit our blog.