Microsoft Dynamics 365 empower your sales force by helping them to:
Expand targets by making more sales in fewer strokes with Microsoft
Dynamics CRM integrated sales intelligence.
Save time by fully automating the sales process, reducing administration and verification tasks.
Gain insight into leads, drivers, time charts and more.
Keep up with all facets of the sales process. Real-time dashboards allow a continual view of all data, communications, news and social media in one place on any device.
Stay in touch with customers effortlessly and time-appropriately, across print and digital platforms.
Find more information on how Microsoft Dynamics can help enhance your sales productivity within your business.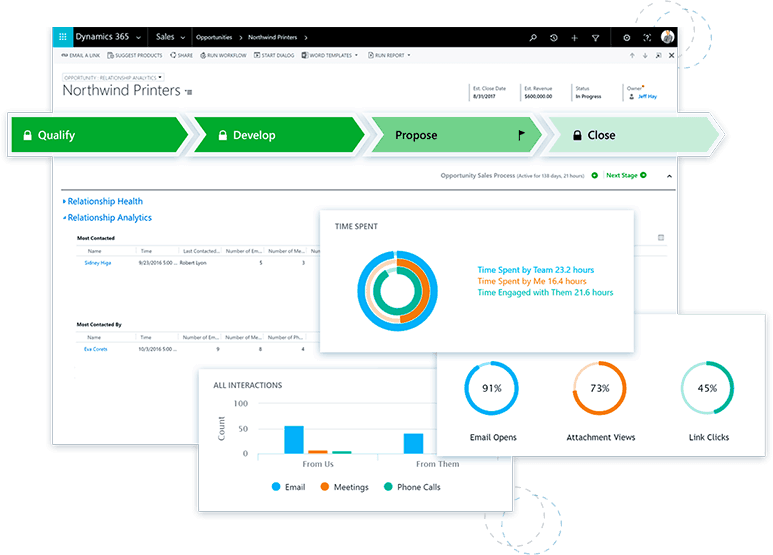 Marketing
Microsoft Dynamics 365 boosts marketing team success by helping them to:
Plan, evaluate, and deliver target campaigns with Microsoft Dynamics Marketing, which matches sales to leads faster than ever.
Be more creative with multi-channel marketing where customers can be reached across multiple touch-points on the go. Microsoft Social Listening allows you to monitor, manage and engage with your customers across social media.
Organize team engagement and communications more easily, reducing time wastage and distraction.
Take out the tedium of smaller repetitive tasks and enable a focus on wider goals.
Measure success with behavioral and marketing analytics.
See how ClickDimensions for Dynamics 365 can help Marketing in your organization.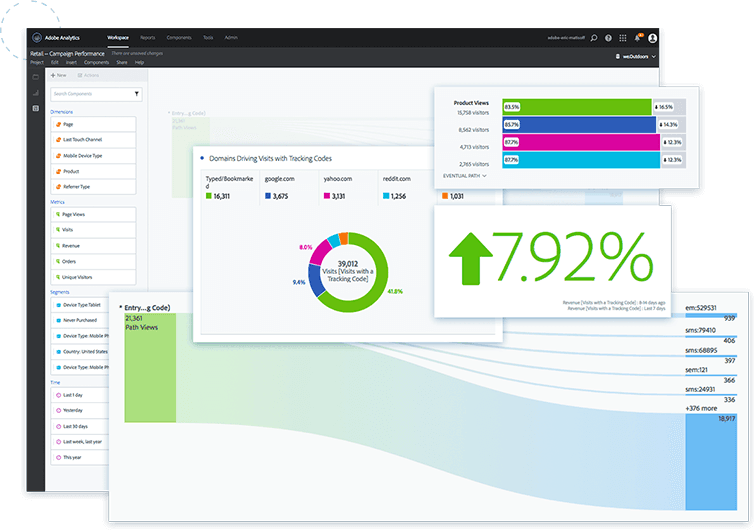 Microsoft Dynamics CRM helps your customer care department to:
Access and share key information plus any customer communications, avoiding on-going issues and delay.
Resolve complaints swiftly by keeping a clear customer profile and purchase history plus details of your care staff's actions.
Create long-term profitability by enabling them to up-sell or cross-sell to an unconvinced customer so that they either return or recommend the service or product.
Anticipate customer care concerns by building awareness of regular or intermittent satisfaction issues.
Evaluate your service with analysis reports.
See how Dynamics CRM can help your business serve your customers more efficiently.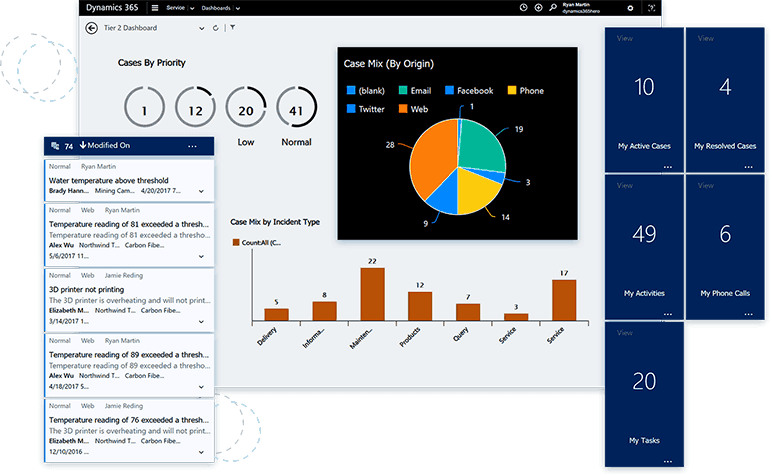 Success Stories:
Leveraging Dynamics 365 for Sales

Sales
Dynamics 365 CE for Sales helps your sales team close deals faster using lead and opportunity management, activity tracking, and an easy to use mobile app.

Customer Service
Dynamics 365 Customer Service App is a full-featured solution that includes Case Management, Entitlements, and Knowledgebase articles to keep your customers engaged and enthusiastic.

Marketing
Dynamics 365 for Marketing and ClickDimensions combine to power your marketing team's ability to engage with prospects and customers.