Dynamics 365 shines bright with Case Management! 
At the heart of Dynamics 365 Customer Service is the agent experience. The key to improving customer satisfaction in service delivery is providing agents with the tools they need to provide customers with excellent customer service. Empower agents to provide customers with the seamless customer service they deserve. Learn the Dynamics 365 Customer Service basics.
Dynamics 365 Customer service provides agents with the tools they need to deliver more personalized service, resolve issues quickly, and engage with customers on their terms at any time and any place! Understanding your customer and where they are at in the customer buying journey allows you to make the best possible decisions on how to proceed with an opportunity or lead. To learn specifically how Dynamics 365 Customer Service helps at each of the 6 stages of the customer buying journey, visit our blog. For more tips and best practices for providing amazing customer experiences using Dynamics 365, download our whitepaper.
To learn more about how you can improve agent productivity with Dynamics 365 Customer Service, watch this short video from Microsoft about Alex a customer service agent for an electronics company.
Another great resource is enCloud9's Case Management webinar. Watch it on demand here. Here we walk through a day in the life scenario of a customer service person.
Customer engagement is the key to driving sales, driving every interaction and decision. In fact, customer service is quickly overtaking price and product as the number one differentiator. Do you know the #1 reason customers stop doing business with a business? You'll be surprised that the answer isn't that a company's pricing is too high or their product insufficient. According to Hubspot and Microsoft, 90% of Americans use customer service as a main factor in deciding whether or not to do business with a company. Also, a surprising 58% of American consumers will switch companies because of poor customer service.
To learn 12 strategies for great customer service or 10 pitfalls to avoid so that you don't fall into the bad customer service trap, visit our blog.
Learn the Dynamics 365 Customer Service basics
In the Customer Service Hub, you will find everything you need to delight your customers. The different entity types you will find are:
Dashboards– collect all your most important data in one place. According to your role, you can select from multiple dashboards.
Activities – keep track of tasks, email messages, appointments, and phone calls.
Contacts – a record of information about all the customers you work with.
Social Profiles – keep track of a contact's presence on social media.
Cases – a record of customer requests and issues. For more information about working with cases in Dynamics 365, visit our blog.
Queues – cases that are waiting to be resolved.
Knowledge Articles – a place to capture customer's questions, issues, feedback, resolutions – so that other reps can refer to and benefit from them.
Record Types
Contacts – represent a person. This could be a consumer who has purchased your product or an employee of one of your clients.
Accounts – represent a company, organization, or group of people.
Terms to know
Cases: are the fundamental record type in service management and represent a single incident of any requested service. Cases may also be referred to as incidents, tickets, or service requests.
In other words, cases are any customer interaction that requires a resolution or an answer. In Customer Service, any customer representatives can view open and resolved cases from the customer record. In that way, Dynamics 365 Customer Service unifies the way customer experience your business.
Activities: Interactions between a business and its customers that are tracked in Customer Service are known as activities. Activities can be associated with many different types of records in Customer Service. Agents can view open activities as well as closed activities.
Entitlements: Entitlements specify how much support services a customer is entitled to.
Entitlement channels: Entitlement channels specify the type of service a customer is entitled to. Out of the box, there are six entitlement channels:
Phone
Email
Web
Facebook
Twitter
IoT
Knowledge Base articles: The Knowledge Base is a repository of informational articles that help customer service reps resolve cases, handle customer inquiries, requests, or issues.
Resolution activities: After a case is resolved, the Resolution Activity type is created. This activity is found in the closed activities associated with a case. Resolution activities show not only the case's resolution but also how much time was spent on the case.
Queues: Queues are a place to organize and store activities and cases that are waiting to be resolved.
Products: Products in the Microsoft Dynamics 365 Product Catalog can be related to a customer service case. Products can help provide a more detailed view of cases, resolutions, and customer feedback at a product level.
Goals: In addition to the reporting/analyzing capabilities in Customer Service, organizations can also use the Goal Management features to track progress against KPIs (key performance indicators).
SLAs (Service level agreements): can be used to track and define what should happen when a case is opened. You can track things such as when a case was first taken by a support engineer or how long it took to resolve the case. Notification emails based on specific warning and failure timelines can also be sent to customer service agents.
Modern customer support journey
In the last five to ten years, service has changed drastically. In the past, when a customer would call with a support issue, the customer would be put on hold until someone picked up the phone. Today, the support landscape looks different and there are other options. One thing that I've noticed recently is the option to wait on hold or receive a call when your turn in the queue is up. Another option I see is when I call Apple with a support issue. I enter my information, along with the specifics of my support issue (so that my support issue can be routed to the correct person) and they call me (usually pretty instantaneously).
With the advent of self-service capabilities, customers can now start educating themselves and working towards resolving their issues by utilizing a variety of resources including:
Portals with an interactive bot
Live chat capability
SMS communication
Interactive kiosks
A mobile app deployed by the customer's organization
Remote sharing of screens between a service agent and the customer
Any number of social networks, including Facebook and Twitter
Exceed customer expectations by delivering exceptional service on any channel
It isn't enough just to have bunch of different channels. Your organization must be integrated so that all the support channels have the same information. (Example – You want the advise that bots give to be the same as what a customer service agent would give). Your support channels need to be seamlessly connected, meaning you want information to easily pass from one channel to another.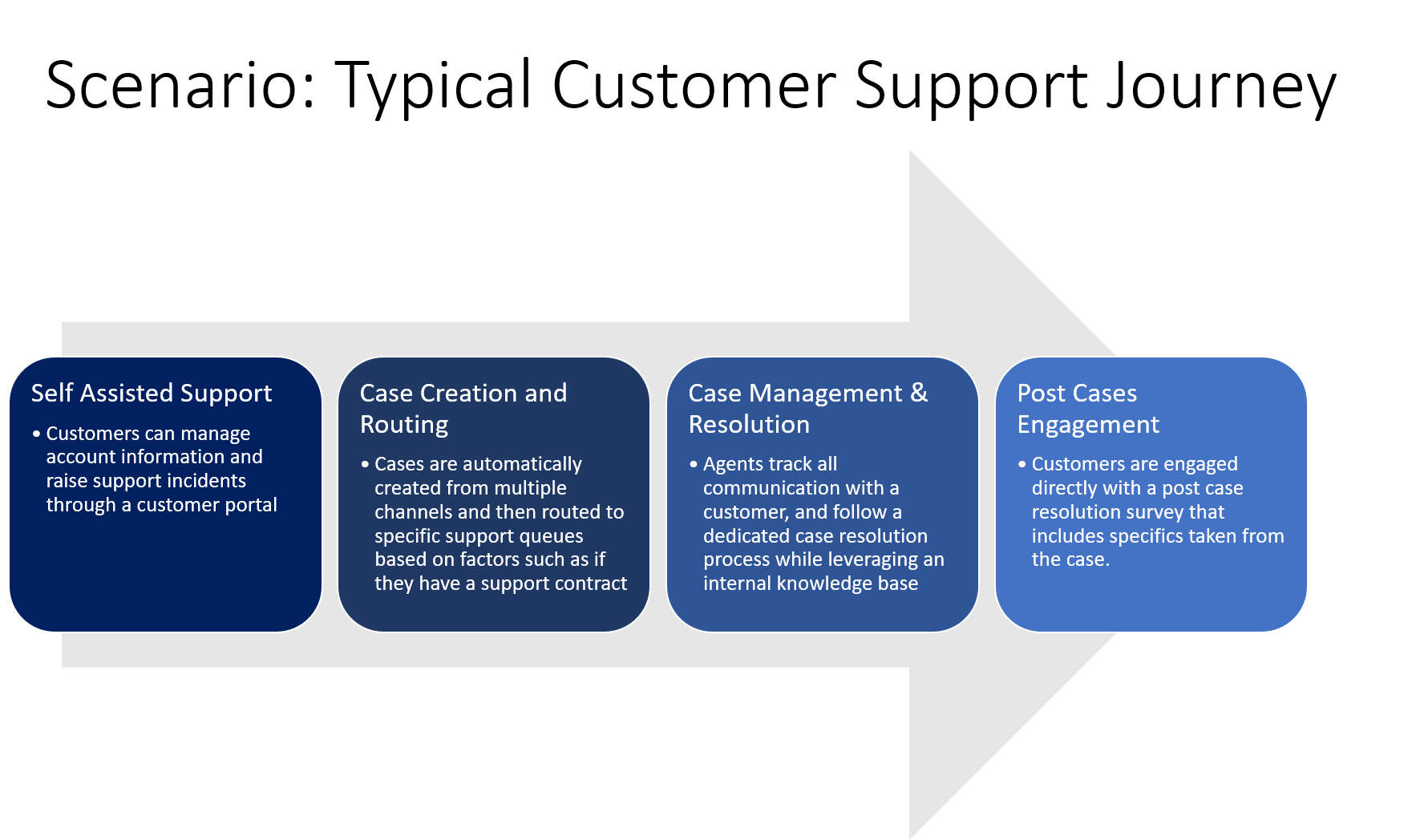 An example of a company that follows this model explicitly is ClickDimensions. Every time I have started a support ticket with them, I see all four steps. I create a ticket on a customer portal, after creating a very detailed support ticket, my case is routed to the correct person – who then contacts me and resolves my case. After my case is resolved, I receive a post resolution survey asking me to rate the service I received. To me, they are an example of a company that provides excellent customer service.
How can we help?
We hope our blog on Dynamics 365 Customer Service basics has been helpful. Case management with Dynamics 365 Customer Service enables you to unify the way people experience your business.
With our Service Accelerator, we can get you started with Dynamics 365 Customer Service. Reach out to a customer care expert at enCloud9 today.
Intelligent customer service empowers you to deliver effortless experiences that leave our customers thinking not about the process, but just how easy their journey was.