Earlier this week, Microsoft published the Power Platform 2022 release wave 1 plans describing the new features that will roll out between April 2022 and September 2022.
Download the Power Platform 2022 release wave 1 PDF here.
The new features coming to Dynamics 365 have been published in a separate release plan. This blog will focus on the new features coming to the Power Platform but if you would like an overview of the Dynamics 365 2022 release wave 1 plan, click here.
In addition, Microsoft has released the timeline for the first major update of the year – the Dynamics 365 and Power Platform 2022 Release Wave 1.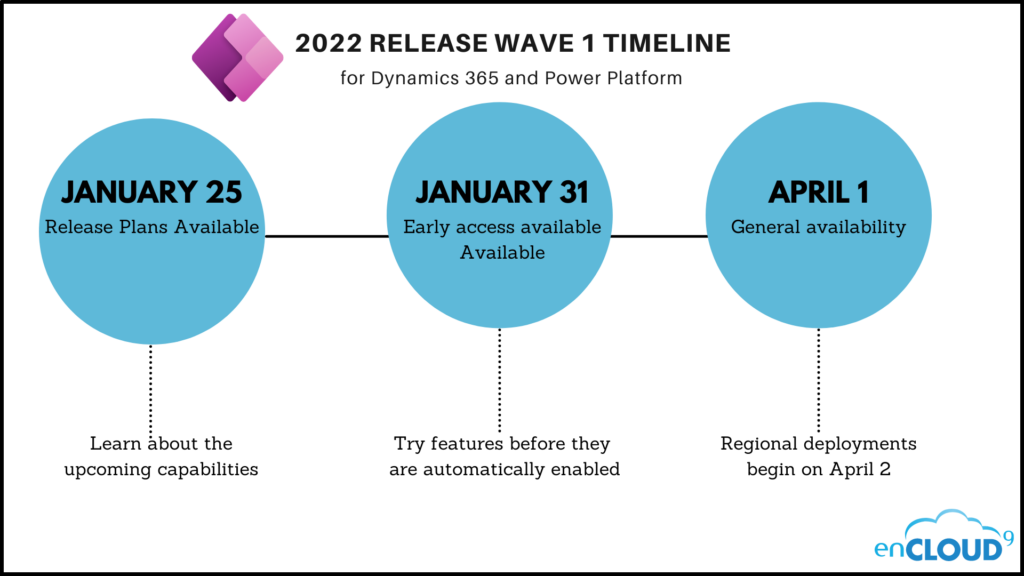 Highlights of the Power Platform 2022 Release Wave 1
Power BI
Power BI continues to invest in empowering every individual, team, and organization in their digital transformations:
The create experience is being improved by the creation of measures using natural language and work sharing for easy collaboration using OneDrive. 
Enhancements to goals focused on enterprise needs
Integration with PowerPoint
New capabilities to the Power BI experience in Teams. 
Automatic aggregations/ improvements to big data experience
Data protection capabilities through DLP
Providing improved visibility into activity to admins.
Power Apps
Power Apps will continue to enable developers of all skill levels to build enterprise class apps for web and mobile infused with intelligence and collaboration capabilities. 
New built-in collaboration features – that will enable teams to work on an app simultaneously as well as merge and track changes for faster and more seamless development.
Makers and developers will be more productive over Dataverse by leveraging intelligence to assist development with natural language to code powered by advanced AI models such as GPT-3 and PROSE.
Key updates to ensure that organizations can deliver flagship apps across the entire company faster and safer than ever, such as Power Apps mobile apps
Ability to deployed apps on Android or iOS
improvements to ALM and governance capabilities to ensure safe and scalable roll outs.
Power Apps Portals
Power Apps portals continues to invest in bringing more out-of-the-box capabilities to support both low-code / no-code development as well as for professional developers.
Ability to convert portals into cross-platform mobile applications
Option to use Global search that is powered through Dataverse search integration
enhancements for professional developers to do more with the portals using Power Platform PAC CLI tool as well as for admins to author administrative workflows using Admin APIs.
Power Automate
Power Automate is more accessible than ever before with integrations in Windows 11, Microsoft Teams, which helps in automating tasks no matter where you are in Microsoft 365. 
Increased in customer usage of the robotic process automation (RPA) deployments
New features to make it easier to manage machines in Azure and the credentials of your users and accounts.
All features are increasingly automatable by default (adhering to the API-first approach), so that IT departments can manage their Power Automate infrastructure in whatever way they want. 
Power Virtual Agents
Power Virtual Agents gives anyone in your organization the ability to create powerful custom bots using an easy, code-free graphical interface, without the need for AI experts, data scientists, or teams of developers.
Improvements in the authoring experience with commenting,
Power Apps Portals integration
Data loss prevention options
Proactive bot update messaging in Microsoft Teams
AI Builder
AI Builder is adding capabilities around document automation—in particular, the ability to process unstructured documents, such as contracts or e-mails.
Customers will be able to extract key information from documents and process them automatically in an end-to-end flow using Power Automate.
Building out a Feedback Loop process, – enabling improvement of model accuracy by retraining models with data processed in production.
Added capabilities to effectively manage the governance and lifecycle of AI Models.
Added capabilities around document automation like the ability to process unstructured documents (such as contracts or e-mails). 
Early Access
Beginning January 31, 2022, new features from the release will be available for Early Access. Power Platform users will have the opportunity to test some of the new capabilities in a sandbox environment, before they are automatically enabled in April 2022. To see a list the early access features, check out the Dynamics 365 and Microsoft Power Platform pages. For questions about early access, please visit the Early Access FAQ page. Click here for directions on opting into early access features.
Take advantage of the early access period, test out the latest updates in a non-production environment, and get ready to roll out updates to your users with confidence.
How Can We help?
Please don't hesitate to contact us if you have questions about your current system or the Power Platform 2022 release. We will be posting further blogs when more details become available.
We will continue to update you as we learn more details. Watch our blog for more details or sign up to receive our monthly newsletter.
Contact us today. We'd love to hear about you and discuss how the Power Platform can drive the digital transformation of your business.
Technology is constantly changing. And enCloud9 is your Power Platform certified partner. When engaging with enCloud9, these Microsoft Power Platform Certifications are proof that you are engaging with a partner that is up-to-date with the latest technology.
Further Learning
Visit our blog for tips and tricks on the Power Platform and getting the most out of your Dynamics 365.
enCloud9 is focused on bringing you the latest on sales, marketing and customer service. Check out some other articles we have written recently on the Power Platform.
In addition, we have many informational on-demand webinars. These videos can be viewed on our YouTube Channel.