Microsoft continues to innovate.
Among the top new or improved features in the April 2022 release includes a tighter integration with Microsoft Teams. We will discuss the many enhancements in this area in this second part to our series on new features on the 2022 release wave 1.
Using Teams Chat in Dynamics 365
Since Sales is a team sport, collaboration is a must. The ability to use Teams chats directly from Dynamics 365 makes it easier than ever to collaborate with your coworkers and customers throughout the sales lifecycle.
This feature is currently in preview – meaning it is a feature that is not complete yet but is made available to users before general availability. The purpose of having a feature in preview is to allow users to evaluate the feature and provide meaningful feedback to Microsoft before it becomes generally available. Note -there is no support provided by Microsoft on a preview feature.
To enable chat and collaboration capabilities, administrators need to have Microsoft Teams available on their tenant. Once complete, head to the app settings area. Go to Get started > Microsoft Teams collaboration > Quick Setup.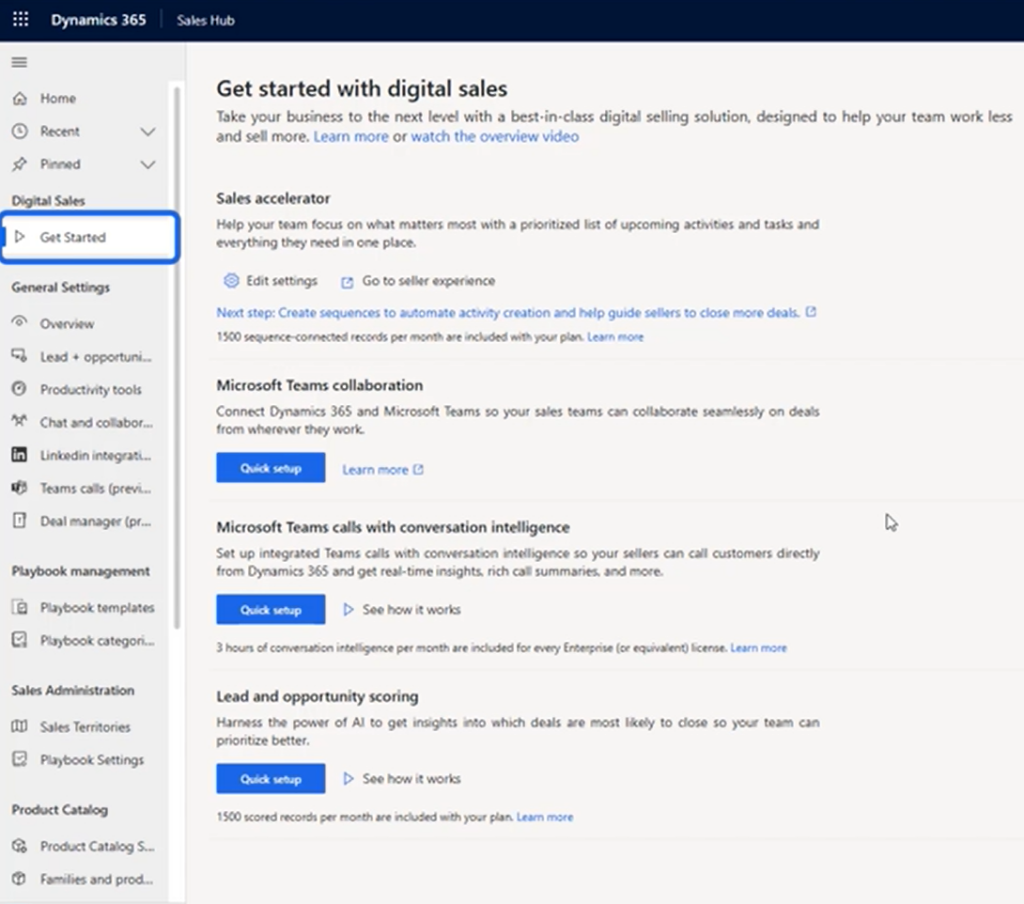 The Teams collaboration quick setup window will be displayed. From there, you can turn the preview on.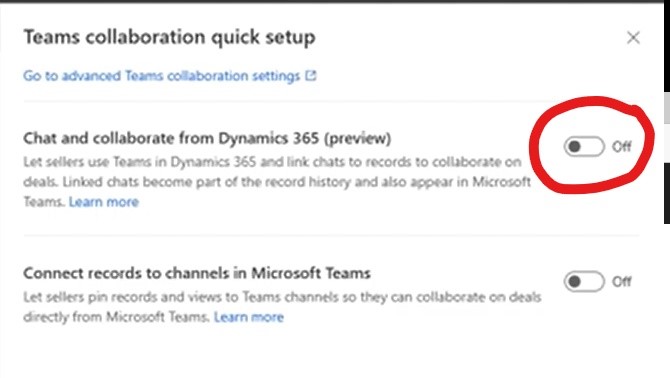 Opening Teams chat in Dynamics 365
From a Dynamics 365 record, select the Teams chat icon – in the upper right-hand corner of the screen.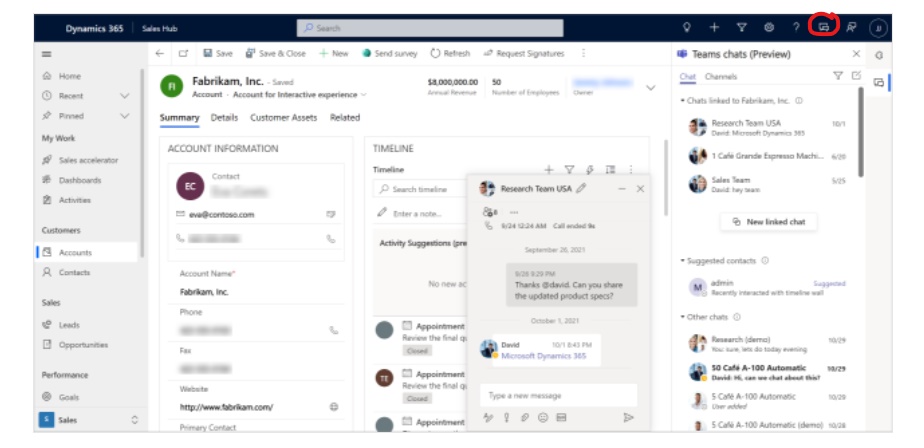 A Teams chat window opens up. Simultaneously the following sections on the Chat tab are opened in Teams as well:
Chats linked to record – lists Teams chats that either you've linked to the selected record or someone else has linked with you as a participant.
Suggested contacts lists – suggested contacts depending on the users who are working on the record. For more information, to see how contacts work – go to How contact suggestions work
Other chats – lists your top 200 chat conversations on Teams. You can select any existing conversation and link it to a record.
Additional things you can do with this new feature are:
View all linked Dynamics 365 chats.
Start a linked Teams chat channel in Dynamics 365
Link a Teams channel to a record
Start a regular or unlinked Teams chat in Dynamics 365
Create Teams meeting from Dynamics 365 appointments
It can be very inconvenient to have to switch apps when you are in the middle of something. Users will now be able to create and add a Teams meeting directly from the appointment – instead of having to go through Outlook to do so. Users will also be able to join Teams meetings directly from Dynamics 365 activities.
Users will also have the functionality to interact with Dynamics 365 records directly in Microsoft Teams meetings.
This feature will be in public preview as of July 2022. The date of general availability is yet to be determined.
Enhancements to Document management
This is not a brand-new feature, but there have been a number of enhancements to document management with this update.
A user can co-author documents using Microsoft 365 and automatically sync them with Dynamics 365 records (that are linked to a Teams channel). Files that are uploaded to a Teams channel are also associated with the Dynamics 365 record. Also – files that are uploaded to the linked Dynamics 365 record are visible in the Teams channel.
More information visit: Document management with Microsoft Teams integration
Embedded Dynamics 365 in Teams
This feature is also not brand new, but embedded Dynamics 365 in Teams has been vastly improved. Conversations in embedded Teams are linked directly to Customer Service records. Another thing you will see is AI-suggested contacts as well as AI-generated conversation summaries for agents.
Personal dashboard: You can use the Dynamics 365 app to view your personal Dynamics 365 dashboard in Teams.
Display a record or view in tab: You can add a Dynamics 365 record or a view as tabs into a Teams channel. For example, you can add a tab in Teams for a particular account. When the tab is selected, the record's detail for that account will be displayed in its form. You can also add the view My Open Opportunities as a tab. When you select the tab, you see all your open opportunities.
Embedded Teams calling: Boost seller's productivity by making and receiving Teams calls directly in Dynamics 365. Embedded Teams calling avoids the need to switch apps. You will now be able to get calls automatically recorded in the relevant record's timeline and save your call notes directly where you need them.
How Can We help?
Please don't hesitate to contact us if you have questions about Microsoft Teams and Dynamics 365. We have been using it for years now. We can't wait to see all the enhancements in action!
We have recently written about hiding system views in Dynamics 365. Watch our blog for more details on updates to Dynamics 365 and the Power Platform.
Contact us today. We'd love to hear about you and discuss how Dynamics 365 can drive the digital transformation and change the way you do business. Our goal is to make sure are getting the most out of your Dynamics 365.
enCloud9 is your Premier Dynamics 365 Partner. When engaging with enCloud9, you are engaging with a gold-certified partner that is up to date with the latest technology. Learn more about enCloud9's support services.
Further Learning
Other topics in our series of 2022 release wave 1 features include:
Modern Search in Dynamics 365
In-app notifications in Dynamics 365
Visit our blog for more tips and tricks on Dynamics 365 and the Power Platform.
enCloud9 is focused on bringing you the latest on sales, marketing and customer service. You might enjoy a recent blog article we wrote about How Dynamics 365 Helps Throughout the Customer Buying Journey.
In addition, we have many informational on-demand webinars. These videos can be viewed on our YouTube Channel.