Shorten the Sales Cycle with Dynamics 365 Sales
Dynamics 365 Sales can help businesses close more sales and achieve higher customer satisfaction. Dynamics 365 empowers salespeople to build strong relationships with their customers, take actions based on powerful AI insights, and nurture sales throughout the entire sales process. And with the Dynamics 365 Sales Mobile App, salespeople can stay productive from anywhere.
Dynamics 365 Sales enables sales managers to monitor the the results of their sales team and provide feedback and coaching in real-time.
Dynamics 365 Sales empowers salespeople to achieve more consistent sales interactions by following the sales process – as it takes them through each stage, from creating a lead to closing the sale. Part one of this blog series will focus on the lead to opportunity portion of the sales Dynamics 365 Sales Cycle. Part two of this blog will concentrate on opportunities, mainly using products with opportunities/ invoicing.
Visit our blog to learn 4 ways Dynamics 365 Shortens Sales Cycles.
What is a lead?
Your Dynamics 365 Sales Cycle begins with a lead. A lead is someone who is interested in the products or services you provide – a potential sale.
Dynamics 365 primarily uses leads to track unqualified prospects. These prospects might be businesses or consumers who have expressed an interest in your product or service. Leads can come from web forms, emails, trade show visits, and other sources.
The Sales team's job is to contact these leads, determine if there is a fit between your company and them. If there is not a fit, the lead should be disqualified. Otherwise, the lead should be qualified which creates an account, a contact, and an opportunity.
Important information gathered in a lead record includes estimated purchase date, lead rating (cold, warm, or hot), source campaign – as well as basic contact information. Salespeople should track activities including emails, phone calls, and tasks to keep a trail of interactions with perspective clients.
Does your business need more leads? Be sure to read our article for 10 surefire ways to obtain more leads.
Creating a lead
When a lead is created, there are system-required fields to fill out. Lead forms may be customized according to what information your sales team needs in order to effectively follow up with the customers.
To create a lead
Select Leads from the site map.
Select New to open a new lead form.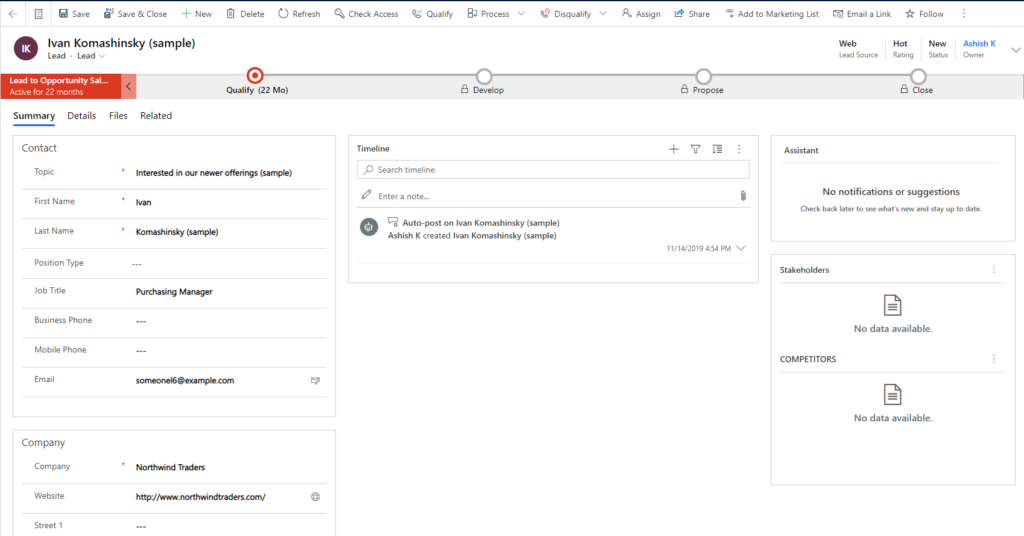 When the lead form open, you will see the business process ribbon at the tops. Underneath the business process ribbon, there are three tabs displayed- Summary, Details, and Related
The Summary tab consists of 3 components:
Contact information – consists of name, job title, and some basic contact information.
When entering information for a lead:
If you are creating the lead form for a new customer, enter the name, contact details and company name in the Summary tab of the Lead form.
OR
If you are creating the lead for an existing account, in the Qualify stage of the process bar, select the existing account or contact. The company name will be automatically populated.
OR
If you are creating a lead record for an existing contact, First Name, Job Title, Business Phone, Mobile Phone, and Email are automatically populated.
2. Timeline – is where notes and activities related to this lead may be entered. This may include activities such as emails or phone calls.
3. Stakeholders – is where you can add a contact as a stakeholder. A stakeholder is a key contact at the account who is a decisionmaker. To add a contact as a stakeholder, in the Lookup Records dialog box, enter a name or use the Lookup icon to choose from a list of suggestions and then select add.
In the Details tab:
Enter information about the lead's industry and preferred contact method.
Qualifying and converting leads to opportunities
If a lead has potential to become a sale, the lead can be qualified to an opportunity. When a lead is qualified, a new opportunity record is created. Unfortunately any notes made on a lead record do not automatically transfer to the opportunity record. These notes remain with the originating lead record.
To qualify a lead:
1. Go to Leads and choose the lead you want to qualify and convert.
2. In the Qualify section of the sales process ribbon, type in all applicable information.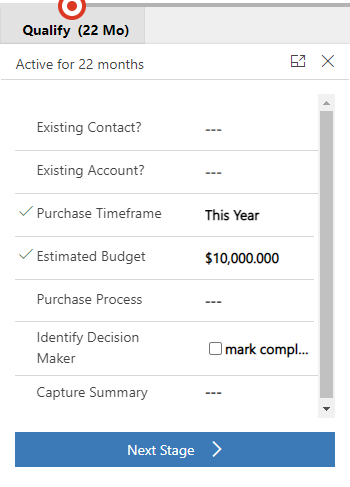 3. Then select Qualify at the top of the Lead screen. Make sure to also select the currency to calculate the opportunity.
4. Once you see a prompt to select which records to create when a lead is qualified, select Yes. (If you do not see a prompt, once the lead is qualified, an account, contact and an opportunity record will be created.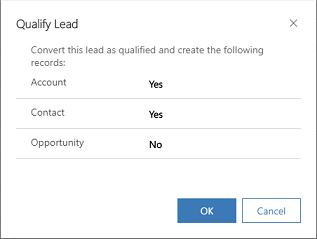 What is an opportunity?
An Opportunity is a lead that is ready to buy. Opportunities are the second stage in the Dynamics 365 Sales Cycle.
Once a lead is qualified, the opportunity sales process begins. Using opportunities, salespeople can track estimated close dates and revenue as well as sales stage. Opportunity revenue can be either estimated or salespeople can add products from the product catalog to come up with an accurate revenue figure.
In conclusion
We hope that our blog has given you some great insight into just how easy it is to …… Our next blog will concentrate on opportunities.
Get started with Dynamics 365 Sales – in as little as seven days!
enCloud9 can help you accelerate your sales and speed up your sales cycle is through Sales Accelerator. enCloud9's Sales Accelerator package is designed to provide businesses with a simple user experience and speed up adoption.
Deploying Dynamics 365 for your sales team doesn't have to take months or cost a lot of money! Sales Accelerator from enCloud9 will get you and your team up and running quickly on Dynamics 365's easy to use, yet powerful, CRM system in about 7 days. Contact the experienced Dynamics 365 implementation partners at enCloud9. We would love to come up with a Dynamics 365 implementation plan customized to how you sell. Start accelerating your business today! To learn more, watch our short Sales Accelerator video.