In our third and final blog of our email marketing series, we focus on interpreting the email statistics provided by ClickDimensions. Part one of our email marketing series covered creating email templates with ClickDimensions. Part two concentrated on creating and sending email sends within ClickDimensions. It is an important part of your email marketing strategy to know who is interacting with your emails and how they are interacting.
Viewing your Email Statistics With ClickDimensions
Once you have successfully sent out an email send record, the record will then be moved from the Drafts view to the Sent view, The record is now referred to as a Sent Email Send and this is where you will find your email send's statistics.
To view email send statistics, navigate to messaging > email > sent.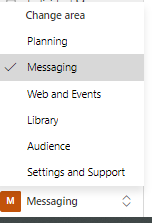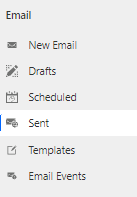 Upon opening a sent email record, the information displayed in the top portion of the screen includes Emails Sent, Emails Delivered, Total Opens, Unique Opens, Total Clicks, Unique Clicks, and Bounces.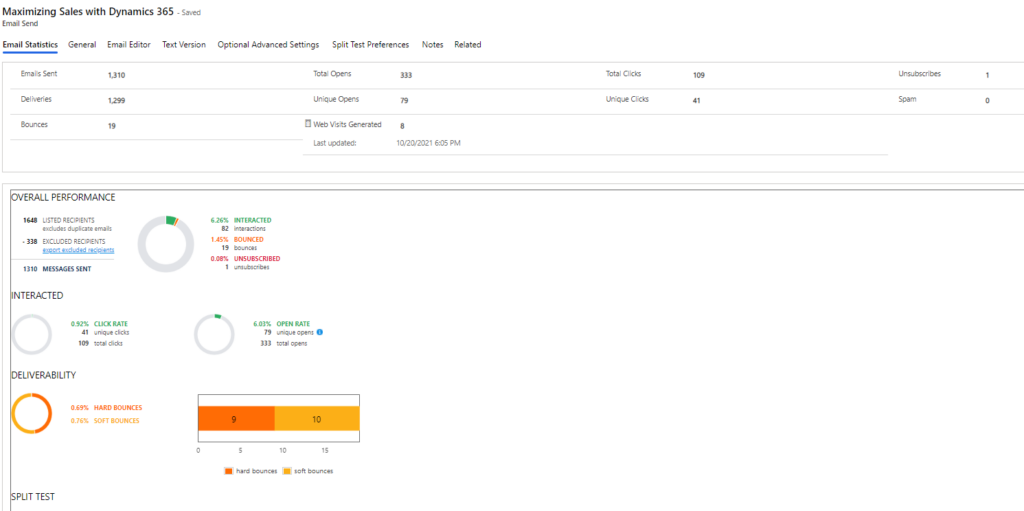 Total Opens and Unique Opens
A Unique Open is defined as the number of distinct recipients that have opened your email.
The Total Open number on the other hand represents the total number of times that your email has been opened.
For example – if a single recipient loved your email and came back to it and opened it 5 times, one Unique Open will be recorded, while five Total Opens will be recorded.
Total Clicks and Unique Clicks
A Unique Click is recorded when a recipient clicks on a link for the first time.
Total Clicks are the total number of times a link in your email has been clicked on.
For example – one of your email recipients is extremely engaged by the topic of your email and clicks on a link 10 times. Only one Unique Click is registered, whereas 10 Total Clicks are recorded.
Email Send Statistic Graph
Underneath that information, you will see a graph. There are four types of data about your email send represented in the graph.
Overall Performance – Here you will see information about how many listed and excluded recipients contained in your email as well as interaction, bounce, and unsubscribe percentages.
Interacted – Here you will see a Click Rate (which is determined by the unique clicks versus the total clicks) and an Open Rate (which is determined by the number of unique opens versus the total opens).
Deliverability – Deliverability is defined as percentages of Soft Bounces and Hard Bounces. Soft Bounces indicate a temporary delivery issue – such as a recipient's mailbox being full or a recipient's email server being down or offline. Hard Bounces indicate a permanent reason an email can not be sent – such as a recipient email address not existing or a recipient's email server completely blocking delivery.
Split Test (if applicable)
Other Email Statistics
After viewing the graph, if you scroll down further, you will see specific information about the recipients of that email. You will see information about Email Events, Excluded emails (emails not sent), and Connections and conversions – as well as the number of visits generated and the number of forms and surveys submitted as a result of your email.

When Email Statistics is clicked on, you will be able to see data about Social Statistics, Click Report, and a Click Heat Map.
How can we help?
Dynamics 365 https://www.encloud9.com/blog/basic-dynamics-365-navigation/users have two world class options for Marketing automation – ClickDimensions and Dynamics 365 Marketing. The go-to marketing automation solution for us at enCloud9 is ClickDimensions.
ClickDimensions is a full-functioned marketing suite that integrates with Dynamics 365. ClickDimensions leverages standard Dynamics 365 functionality – like marketing lists. In that way, it looks and feel like any other area of Dynamics 365.
Contact the marketing automation experts at enCloud9. We can help you select the right marketing automation solution for Microsoft Dynamics 365.
Marketing automation and CRM working together provide you with clear insights into your customer's journey. In just 7 days, we can get you started with ClickDimensions. enCloud9 will configure our Marketing Accelerator in your existing Dynamics 365.
Not using Dynamics 365 Sales yet? No worries, we can implement our Sales Accelerator to get you up and running fast.
To learn more about our Accelerators, visit our website.
We also use the ClickDimensions Social Marketing Solution – which is only available as an add on, so we are experts in that as well. Contact us to see if this solution is right for you.