Selecting the Right Marketing Automation for Microsoft Dynamics 365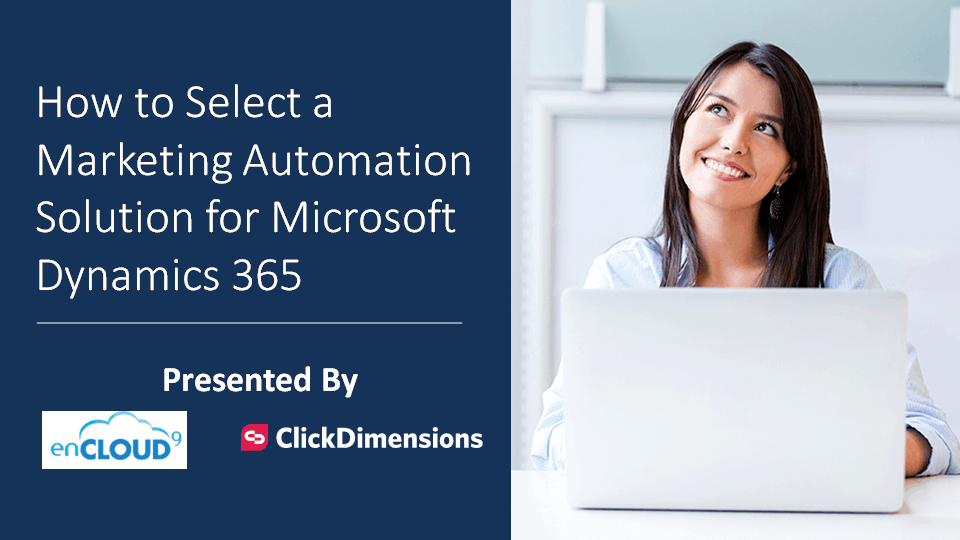 enCloud9 and ClickDimensions recently collaborated on a webinar about selecting the right marketing automation solution for Dynamics 365 and here are the takeaways.
What is Marketing Automation and Why Is It So Important Today?
Marketing automation refers to the software that enables various marketing actions to be automated. This includes many repetitive tasks such as emails, social media, and other website actions. We all know how much time can be saved by automating these repetitive tasks from our busy schedule. For example, with marketing automation tools, what initially took months, now takes days, hours, or minutes.  Here is a great infographic that ClickDimensions created explaining what marketing automation is.
Marketing Automation allows companies to target leads and customers with automated messages across email, web, social, and text. We've defined what marketing automation is. Here is a great article from ClickDimensions that discusses what marketing automation isn't. ClickDimensions has written extensively on marketing automation. Although marketing automation features may vary by platform, the diagram below shows some of the common features you will find in a marketing automation solution.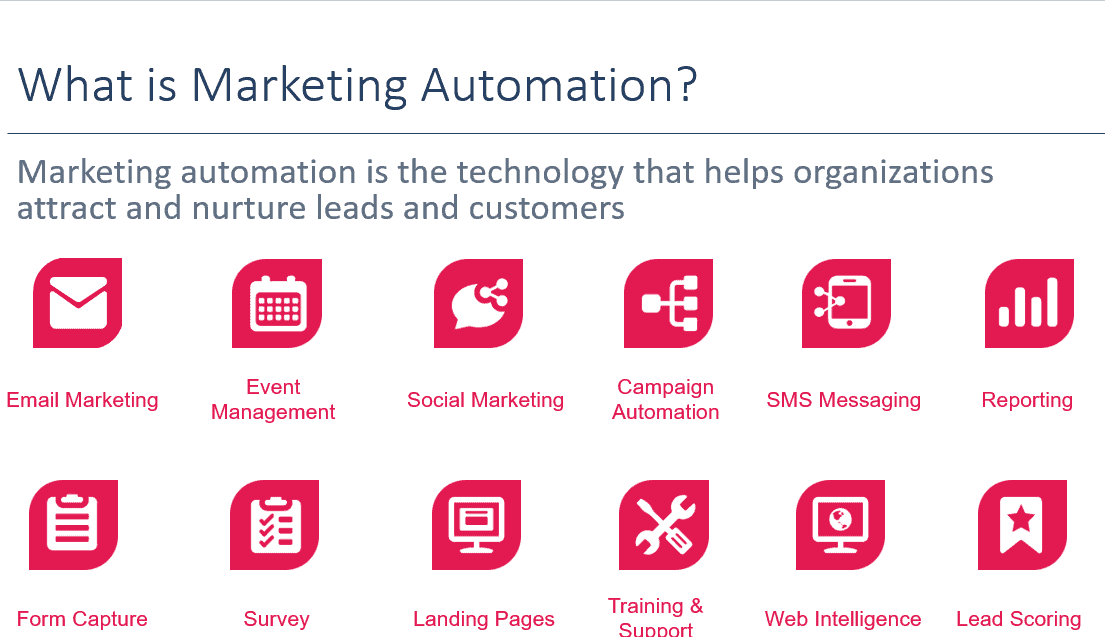 The way companies market and sell has changed, due to the internet and social media. Buyers have any information they want at their fingertips at any given time. They expect more timely and personalized interactions from companies. According to Fleishman-Hillard, 89% of customers begin their buying process with a search engine.
In order to compete in today's market, marketing automation is a must. According to LinkedIn, 80% of marketers use marketing automation software. Marketing automation enables companies to generate more leads, close more deals, and accurately measure marketing success.
When Selecting a Marketing Automation Solution
Choosing the right marketing automation solution for your company takes some careful consideration. There are many marketing automation solutions out there. Although they all have similar features, all platforms are not "one-size-fits-all," especially when it comes to CRM integration.  When selecting a marketing automation solution, there are basically eight questions you must ask yourself:
Does it include the features your organization needs?
Think about what your company needs now and in the future. Choose a solution that can grow with your company.
Is it easy to implement and use?
While functionality is an important factor when choosing a marketing automation solution if the solution is difficult to implement and use, your organization is unlikely to reach maximum ROI.
What are the options for training and support?
Make sure to look for training and support that allows you to get the help you need when you need.
Does it integrate well with Microsoft Dynamics 365?
ClickDimensions' powerful marketing automation solution is natively built inside Microsoft Dynamics 365.
How often is the system updated?
Make sure to choose a marketing automation solution that grows with the needs of the marketers.
What reporting and analytics capabilities does the system provide?
Marketing Automation reporting should allow businesses to make smarter decisions in the future.
Make sure to look at the overall value. A good marketing automation solution should pay for itself over a period of time.
Does the provider have a good reputation?
Buyers are interested not only in the technology and product but also in the relationship with the vendor. Search customer testimonials and reviews.
Challenges Solved by Marketing Automation
Lack of sales and marketing alignment
Lack of lead conversion

Target prospects that are ready to make a purchase decision.
Lead nurturing allows you to build credibility and trust – and develop relationships – with your prospects. Nurtured leads tend to produce an increase in sales opportunities vs non-nurtured leads.

Missing out on important opportunities and sales because salespeople don't know the appropriate times to follow up with a lead.

Lead Scoring lets you know a prospect's level of interest. Generally, lead scoring is a point-based system (where a lead showing a high level of interest will earn more points than someone who shows minimal interest).

Lack of Revenue

Keep clients in the loop with relevant information that speeds up the sale. A faster sales cycle means you can close deals faster and make more sales – increasing your revenue.

Marketing Inefficiencies

Marketing automation helps reduce the time marketing teams spend creating, scheduling, and sending communications. This means less time wasted on routine tasks.

Marketing automation can also help sales teams increase their efficiency by helping them to focus on the hottest leads.
Marketing automation allows you to track prospects and customers throughout the buying cycle.  This helps you determine the effectiveness of your marketing and its impact on revenue.
Unengaged customers

Through lead scoring, you can determine how engaged a customer is based on various activities.
Additional Benefits of a Marketing Automation Solution
A CRM is a great tool, as is a marketing automation solution. When combined, the benefits are exceptional. Over 3/4 of CRM users have integrated their CRM with their marketing automation solution in order to improve data management and ease of process.
A marketing automation solution also boosts the customer lifetime value through cross-sells and up-sells. Marketing automation enables you to take your marketing activity to the next level and refine your marketing processes.
How Can We Help?
If you are interested in getting started quickly with ClickDimensions full-featured marketing automation solution, check out our Marketing Accelerator package on AppSource.  If you are interested in learning more about ClickDimensions, watch this demo video. There are also a plethora of great resources on the enCloud9 Resource page or on the ClickDimensions website.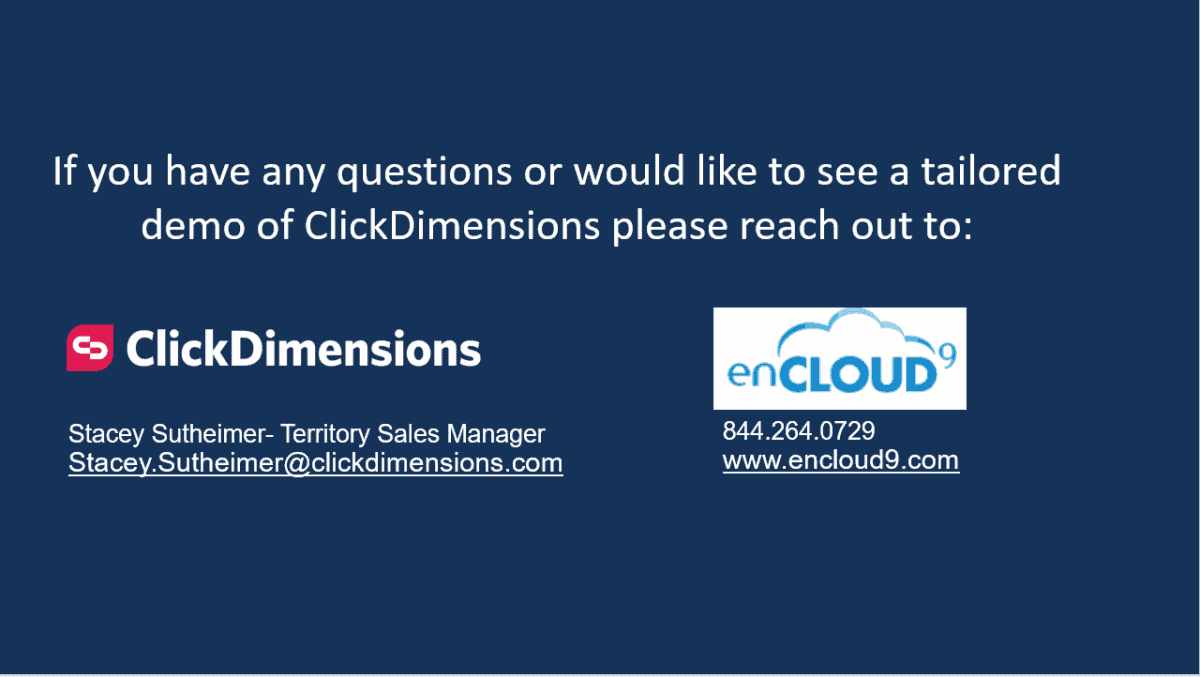 Additional Resources
Are you ready to implement ClickDimensions?