Dynamics 365 2019 Wave2: Early Opt-in Now Available
Beginning  August 2, 2019, Dynamics 365 administrators can enable the features coming in the 2019 release wave 2 update by opting into the updates in the Power Platform Admin center. Opting in will enable all changed user experience updates for Dynamics 365 for Customer Engagement, which will be enabled by default to everyone starting Dynamics 365 2019 release wave2.
By activating the 2019 release wave 2 updates opt-in, you will be able to access features and updates that are end-user impacting only. These and other changes will be enabled automatically for everyone in October 2019.
For directions on enabling the release wave 2 updates, visit Microsoft's  Early opt in to 2019 release wave document.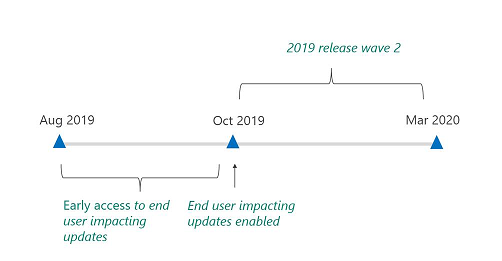 WHICH ENVIRONMENTS CAN BE USED FOR EARLY OPT-IN FOR THE DYNAMICS 365 2019 WAVE2?
Production, Trial and Sandbox environments may be enabled for the 2019 wave2 release. This allows you to explore features before they are released to the general public. However, you are encouraged to test the release in your trial environment before enabling them in production.
OTHER MICROSOFT RESOURCES
Key dates for the 2019 release wave 2
List of new features available for early access
If you need any assistance enabling the release wave 2 updates, contact the experts at enCloud9.
Do you want to learn how Dynamics 365 can help your organization?