5 New Features to be Excited about in the April 2020 Dynamics 365 Update!
Dynamics 365 Just Keeps Getting Better
Microsoft's dedication to make Dynamics 365 better is evident in the 2020 April Update. Microsoft has listened to users'  input and improved Dynamics 365 with a goal of increasing productivity.  Early access for most features started in February 2020 and will be generally available in April 2020. Remember, not all features are released at once. They will be released from April 2020 through September 2020. Here we will highlight some of the new features to be excited about!
5 New Features to be Excited about!
Case Management Enhancements
Configurable case resolution  Customers and partners have been asking for customizable case resolution dialogs for a LONG time! You will now have the ability to customize the window that displays when a case is closed. Things you will be able to do include: adding fields, adding data validation, and more.
Queue Enhancements – The user experience has been enhanced. It is now easier to manage your queues. Users will now be able to select an item from the queue and view its details on the same page without having to switch contexts or navigate away from the page. The end result is saving time. Fewer clicks and screens = more productivity.
Rich text notes and keyword search in the timeline  – The enhanced timeline control provides users with a better understanding of the customer's history. Closed activities are marked as closed in the timeline. New sorting and filtering options are available. Rich text notes provide sellers with more detail about the case and enables formatting for emphasis, clarity, and readability.
2. Improved forecasting 
We will see a more sophisticated feature here. The expanded functionality and flexibility result in more accuracy in forecasting.
Custom Forecast models – You will now be able to get the information that you need, based on your specific needs and requirements. Also featured here is advanced filtering.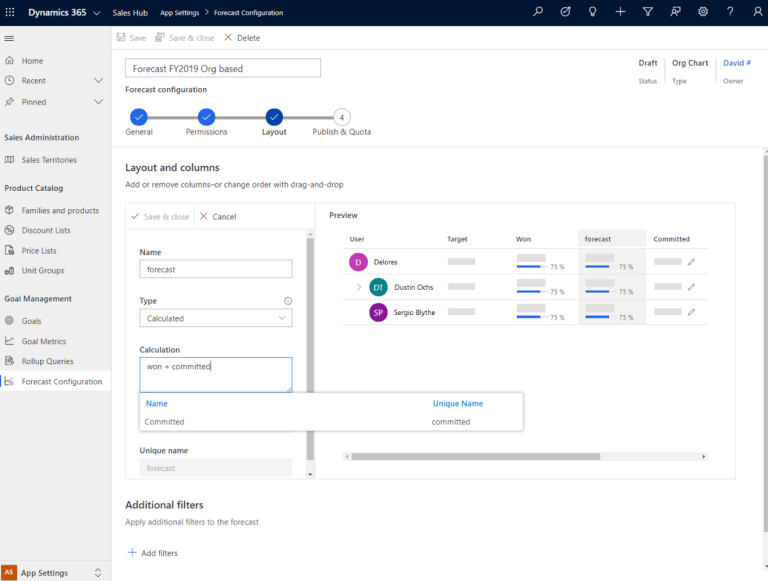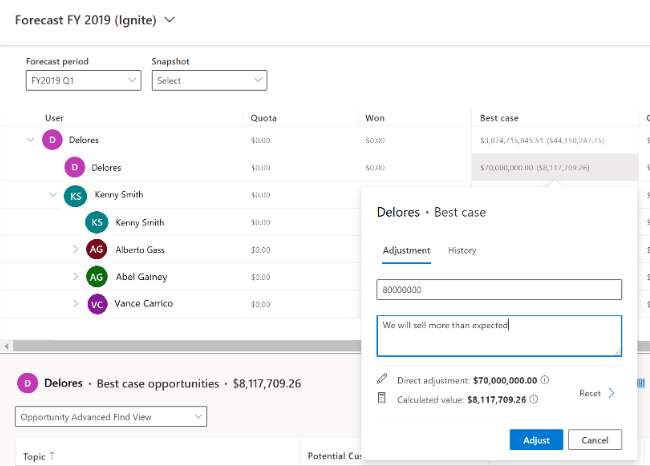 3. Enhanced Activity View 
You can now manage activities with ease. This enhanced activity management enables users to manage and assign tasks efficiently, as well as foster collaboration. It is now easier to work collaboratively on opportunities and leads.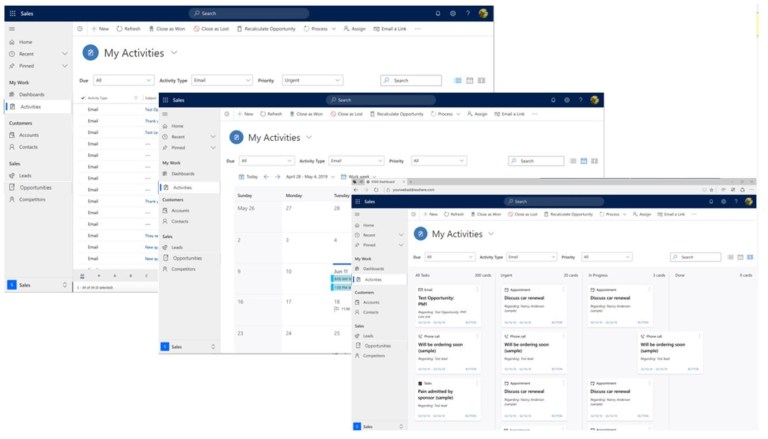 Some of the features of an enhanced activity view are:
Visual Calendar based upon selected view.
Enhanced filtering and sorting
4. Kanban Board 
Users now have a visual representation of work in various stages. The Kanban views help salespeople to effectively manage their opportunities and activities.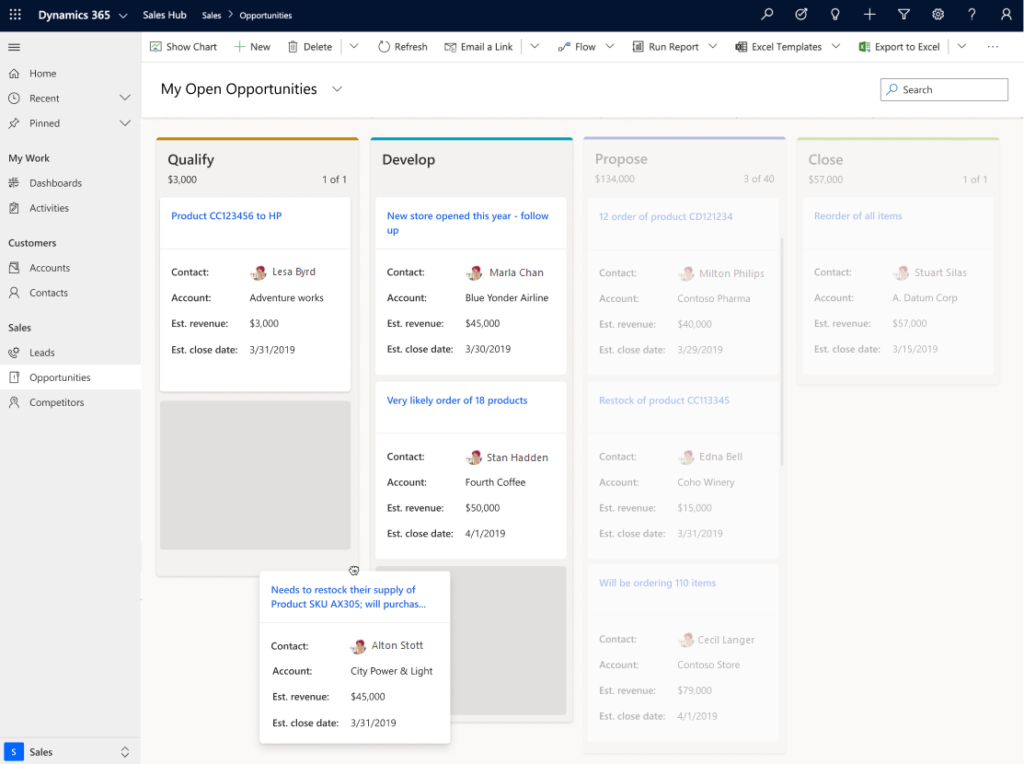 The first area Kanban boards have been implemented is in opportunities. You can also work with activities in the Kanban view. For directions on adding the Kanban control to opportunity or activity entities, click here. As of now, the Kanban control only works on these two entities.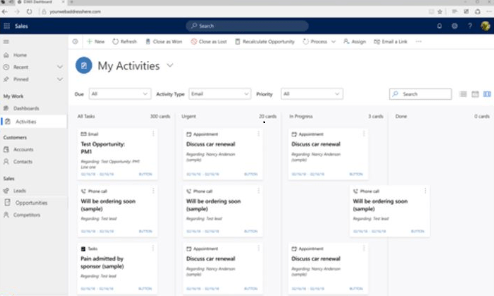 Some of the features you will experience using Kanban boards are:
Drag and drop record management
Easier pipeline and status management
Enhanced calendar views
Improved security and access
This enhancement enables sellers to add products quickly, intuitively, and with minimal effort. Previously, many users reported that it was very complicated to add products, adjust prices, or view product details when interacting with an opportunity. There are less clicks involved now.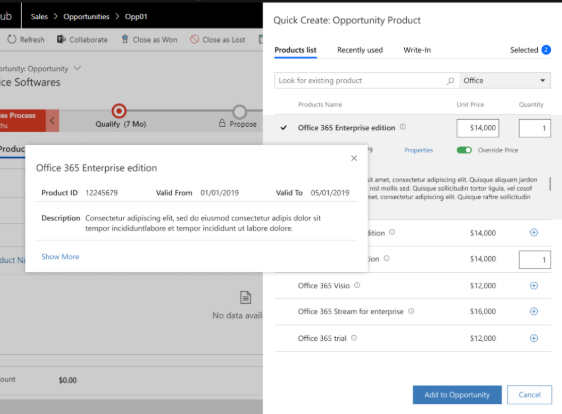 Highlights here include:
The ability to look up products directly from the catalog.
The ability to explore product details inline and compare products to make an informed selection.
The ease of adding multiple products at once.
Licensing Changes
Microsoft will be exerting more control over Team member licenses. This is a big change from the freedom we are used to, but in a way it is not a bad thing because it allows you to see the information you need to do your job. According to Microsoft,  if any of your users operate on the Team Member license, they will no longer be able to access Customer Service Hub, Sales Hub, or any other custom app modules' in the system. This way, you pay for what you need. You don't get stuck paying for a lot of unnecessary functions.
Have You Begun Your Transition to the Unified Interface?
Don't forget, as of October 2020, the classic web client is going away. If you haven't already done so, you'll have to switch to the Unified Interface ASAP.  In order to manage this inevitable shift, Microsoft has rolled out a self service transition portal.
This portal not only includes a  list of your environments, but also a suggested target date for auto transition for each environment. For further details, you can also visit the Microsoft Auto Transition FAQ and Planning Checklist. In case you missed it, you'll want to check out our blog Take The Plunge Into the Unified Interface.
Moving forward, all new features released will only be available in the UI.  Because of the responsive, sleek design of the UI, the introduction of things such as drag-and-drop Kanban boards, improved calendar views, and configurable case resolution are a natural fit and will instantly boost productivity and effectiveness. Make sure you make your switch to the UI today so you can start enjoying the new features. You'll soon see why these are the features to be excited about!
If you have questions or concerns with transitioning to the UI, we would be happy to help. Contact us today.
Want to Learn More?
The Dynamics365support blog is a great resource. Here you'll find a plethora of great information, from the latest news in Dynamics 365 and the Power Platform to tips for increasing your sales and productivity. Learn more about the 2020 Dynamics 365 Release Wave 1, the 2020 Power Platform Release Wave 1, or get tips about transitioning to the UI. Dynamics365support.com and enCloud9 present a monthly webinar on various topics including Dynamics 365, Power Apps, or the Power Platform.  In our last webinar, titled Three Flows to Charge up Your Sales, we demonstrated how you can work less and do more with Power Automate. Listen to the recording here.
Join us on Friday, March 20 for our monthly webinar Best of the April 2020 Power Apps and Dynamics 365 Update as we discuss some our favorite new features.
Other Resources
Dynamics 365: 2020release wave 1 online plan
Dynamics 365 2020 Release wave1 plan PDF
2020 Release wave 1 features available for early access
How Can We Help?
Dynamics 365 Support is a recognized expert in helping organizations like yours to get the most out of their Power Apps and Dynamics 365 system. Contact us today to get started. We aim to provide you with the most current news, tips, and best practices in Dynamics 365 and the Power Platform. Visit our blog to learn more about the features introduced in the 2020 Dynamics 365 Release Wave1. Subscribe to our newsletter to get the latest info delivered to your inbox. If you need assistance enabling the new features for preview in your environment or if any questions arise, don't hesitate to contact us.