Microsoft Flow Re-branded to Power Automate

MICROSOFT FLOW RE-BRANDED TO POWER AUTOMATE
In November of 2019, Microsoft announced the rebranding of Microsoft Flow to Power Automate at the Ignite conference. This rebranding was done to better align with the other Power Platform products. The Power Platform family consists of 3 products: Power BI, Power Apps (formerly PowerApps), and now Power Automate.  Along with the rebranding comes many enhancements.
NEW ROBOTIC PROCESSING AUTOMATION (RPA) ADDED TO POWER AUTOMATE
First among these enhancements to Power Automate is the public preview of Robotic Processing Automation called UI Flows.  UI Flows allow users to turn manual tasks into automated workflows by recording and playing back human-driven actions across software that does not support API automation with point-and-click experience.  UI Flows enable you to automate manual time-consuming tasks.
To learn more about the power of Power Automate, visit the Microsoft Power Automate YouTube channel.
WORK LESS AND DO MORE WITH MICROSOFT POWER AUTOMATE
Power Automate is a versatile and intuitive automation platform that integrates seamlessly with hundreds of apps and services. With Power Automate, you can enable anyone in your organization to automate manual business processes across all your on-premises and cloud apps and services. Turn repetitive tasks into multistep workflows. For example, with a few clicks capture tweets and add them as leads in Dynamics 365, subscribers in Mailchimp, and more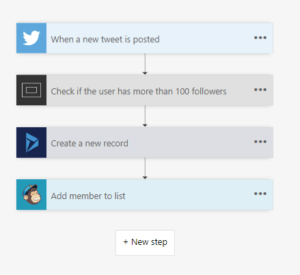 Simply start with a template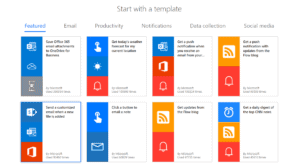 Build your own template or use one of the pre-built templates. For your convenience, there are hundreds of templates for you to choose from, as well as many featured template collections.
DO YOU WANT TO LEARN MORE?
If you weren't able to join Microsoft in Orlando for Ignite, you can watch CEO Satya Nadella's keynote live or on demand, as well as check out all the highlights on Microsoft's news page. And there are also more than 1,000 great sessions available to watch virtually. Here you can get a comprehensive look at the future of enterprise technology.
FEBRUARY WEBINAR
On February 21, 2020, our monthly webinar topic was how Power Automate enables you to work less and do more.  In our 30 minute webinar titled Three Flows to Charge Up Your Sales  we will demonstrate three flows that we have built for our clients. Power Automate can not only speed up the sales process but it can keep you in the loop with your team.
HOW CAN WE HELP?
enCloud9 is a recognized expert in helping organizations like yours to get the most out of their Dynamics 365 system. Contact us today to get started.
text.
Do you want to learn how Dynamics 365 can help your organization?