It is important in life to have goals – whether they are financial, physical, or business goals. Goals supply us with a visual and strategic target to reach. Goals also motivate us to meet and to exceed our expectations. Before a goal is met, we can review our current progress and determine if we are in target to reach a given goal. We can also celebrate milestones along the way. This blog is part one of our series on forgotten features of Dynamics 365 and will focus on understanding goals in Dynamics 365.

At enCloud9, we have been writing on forgotten features in Dynamics 365. Goals in Dynamics 365 is not really a forgotten feature, but maybe more of a feature that is not utilized to its full potential. Some people are easily intimidated and think it might be difficult to configure Goals in Dynamics 365, but really it is not. We have written a blog on How to Configure Goals in Dynamics 365.
What are Dynamics 365 Goals?
Dynamics 365 goals is a tool that provides businesses with data that keeps everyone aligned with the overall business objective. Goals let organizations set sales, service, marketing, and other business goals and then measure the results against those targets. Goals can be based on any Dynamics 365 table (including custom tables).
Goals can be set either for an individual or for a group – and for a particular time frame (such as month, quarter, year, etc).
Why Organizations Should Use Goals
Goals can be a very important piece of the puzzle for any organization, as goals can be used for compensation, bonuses, or even advancement within the company. Dynamics 365 goals allow organizations to set sales, service, marketing, and other business goals for their company and then measure the results against targets. Using goals, businesses can measure the success of the customer journey on an ongoing basis. Goal setting enables businesses to make needed improvements in order to reach their targets more quickly and effectively. Businesses are able to see the success of the their goals on an ongoing basis using the goal metric and a target.
Linda, a sales manager at a midwestern manufacturer, came to us recently looking for a better way to track her sales team. Her team was using leads and opportunities in Dynamics 365. She was having a hard time determining which members of her sales team were hitting their sales targets and which members needed some help. She tracked her team's performance targets in an Excel spreadsheet. She updated this spreadsheet every month. We recommended implementing Dynamics 365 goals. Goals would make it easy for Linda to continually monitor her team's progress using a dashboard we created for her. No more surprises at the end of each month!
Dynamics 365 goals provides in progress and actual goal progress and allows businesses to measure and track their goals.
Some common scenarios where businesses might use goals:
Number of leads of new clients
Number of products sold
Number of Customer Communications (such as emails, phone calls, or appointments)
Amount of revenue during a given fiscal year
Components of Goals
There are three components to any goal:
Goal metric – defines what will be measured.
Rollup Query – defines what records will be included in the goal.
Goal – which is used to define the target.
The first step in starting out using Dynamics 365 goals is to define the goal metric. There are two types of goal metrics in Dynamics 365:
Amount Goal Metrics – allows users to sum up a value on records. Examples of this type of goal metric might be the value of opportunities, a monetary value, or
Count Goal Metrics – enables users to count the number of records. Examples of this type of goal metrics would be number of phone calls made, number of leads created, or quantity of a specific product being sold.
When setting goal metrics in Dynamics 365 , there are a few metrics out of the box available. Users also have the option to create a new goal metric.

For help on defining the goal metric, visit our blog on setting up goals in Dynamics 365.
How Goals Differ from Goal Metrics
Dynamics 365 Goals are generally more specific than goal metrics. Goals generally define who will be responsible for the goal as well as the time frame that will be measured. An example of a goal might be that Linda's team needs to win 40 opportunities each month. The goal metric would be number of opportunities won. If her team has only closed 25 opportunities and it is May 25th, she knows that her team has to close some more sales to reach that goal.
Goal metrics can also track the progress towards a goal. That way Linda can see at a glance if her team is on target to meet their goals before month end.
Parent Goals and Child Goals
Dynamics 365 allows us to create parent goals and child goals. A parent goal can have many child goals under it. The results of child goals roll up to the primary target parent goal.
For example, in the image below – Linda, the Sales Manager, has a parent goal of 1,500,000 and all of the salespeople under her have their own goals. The sum of all these child goals roll into Linda (parent) goal.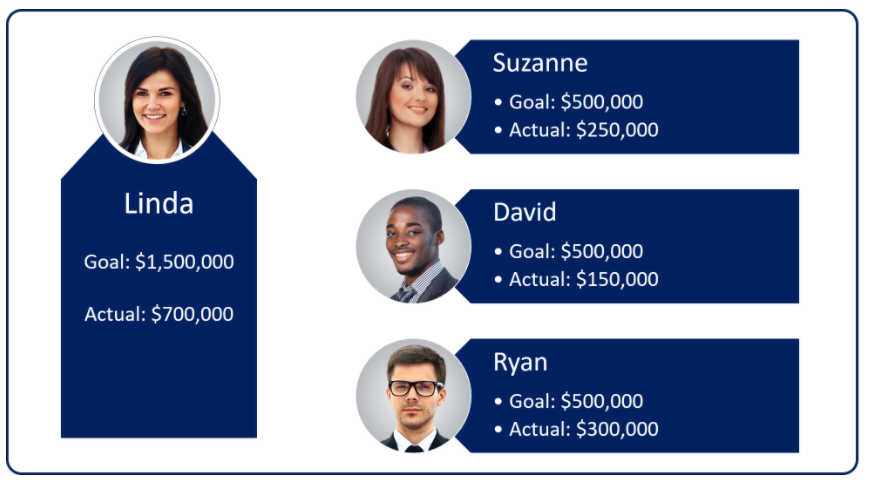 There are two ways to define child goals:
Child goals can be set based on the parent goal.
The parent goal can be based on the child goals.

Other important things to keep in mind about parent goals and child goals:
A goal can have multiple child goals AND be a child goal of another child goal (grandchild).
If a parent goal is deleted, the child goals are NOT deleted, only the references to the parent goals are deleted.
All goals in the goal hierarchy must be based on the same timeframe. If a different time period is specified, the time period for the parent goal will be used.
In Conclusion
So now that you've seen the impact that Dynamics 365 goals can have on your business, what is stopping you from getting started? To see how quick and easy it is to set goals up in your organization, visit How to Configure Goals in Dynamics 365.
How can we help?
enCloud9 has years of experience helping companies like yours increase sales, revenue, and productivity. If you are not already using Dynamics 365, we can certainly get you started quickly with one of our Accelerators. Accelerators are prepackaged Dynamics 365 implementations designed to get your business up and running on Dynamics 365 in approximately seven days. To learn more, visit our website or our YouTube page.
Some other blogs that you may enjoy are Dynamics 365 Project Milestones, Accelerating Business Growth with the Power Platform, and Easily Creating Forms with Customer Voice.