An Overview Of The 2020 Dynamics 365 Release Wave 1
On Monday, January 27, Microsoft published the 2020 Dynamics 365 Release Wave1 plans. The plan describes the features that will be released between April and September 2020. The new features and enhancements demonstrate our continued investment to power digital transformation. There are a number of new features being introduced, but there are also a number of enhancements to existing features. A common theme among all of the enhancement in this release is relationships with customers and deepening them. Microsoft continues to listen to its customers and learn from them about how they can make Dynamics 365 better.
The 2020 release wave 1 for Dynamics 365 brings new innovations that provide you with significant capabilities to transform your business…on your terms.
Here are the key dates for the 2020 release wave 1:

DRIVE DIGITAL TRANSFORMATION ON YOUR TERMS
If you choose not to take advantage of the early preview for these features, they will be enabled automatically. If you do choose to enable the features during the early access period, Microsoft will be eager to hear your thoughts in order to enable them to make improvements. Feedback can be shared on the Dynamics 365 Community Forum.
DYNAMICS 365 SALES
Dynamics 365 Sales is strongly centered on understanding customer needs and improving the customer relationship. Valuable Sales Insights and Product Visualization enable salespeople to sell more and to sell more efficiently. Through Microsoft AI, organizations now have a 360 degree view of their customer engagements.
Enhancements to Sales Insights include:
Advanced forecasting and pipeline intelligence
Conversation intelligence
Dynamics 365 Assistant
Relationship analytics and Auto Capture
Enhancements to Product Visualize include the ability to:
Ability to attach a video or PDF file to a 3D model
Utilize offline mode
Microsoft is releasing many new enhancements make Dynamics 365 Sales better. The goal of these enhancements is to eliminate unnecessary friction and make experiences easier to use. One great new feature is the ability to work with opportunities in the Kanban view. Traditionally records are visualized as lists of records in a tabular format. With the Kanban view, you can now easily view opportunities based on where they are in the process flow.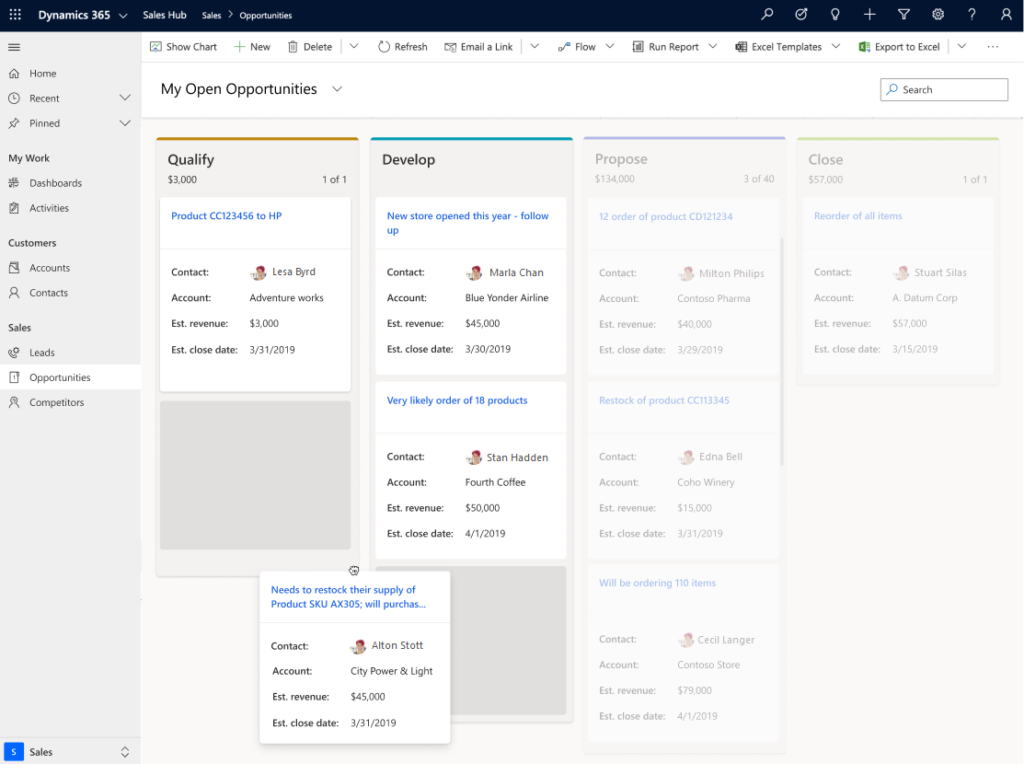 A Kanban view allows users to move opportunities from one stage to another by simply dragging and dropping. You will also be able to easily toggle between the existing grid view and the new Kanban view.
Microsoft is also releasing a series of function to enhance forecasting. It will be possible now to customize forecast models, improve and adjust forecast accuracy, and better understand forecasts with precision pipeline management.
There are also some changes to licensing. Team Member license will now find more restrictions on how they can be used to access and create Dynamics 365 records.
DYNAMICS 365 CUSTOMER SERVICE
Through Customer Service Insights and artificial intelligence, customer service managers are enabled to make better decisions, thus improving customer satisfaction. These Customer Service Insights provides critical performance metrics, comprehensive and efficient case routing information, as well as enabling authoring and consumption of knowledge management articles.
Timelines will be improved with several new features. Users can filter activities by user; search activities, notes and posts by keyword; and Notes now can feature formatted text.
In addition, this release also features a configurable case resolution page and enhancements to the queue page and to service level agreements.  There are also a number of enhancements to Omnichannel for Customer Service.
Dynamics 365 Field Service is built around the idea of being proactive and predictive rather than reactive. This approach enhances the customer experience.
Remote Assist  is a is a mixed-reality solution that brings critical information into view. Technicians are enabled to collaborate more efficiently with remotely located personnel to more effectively and efficiently get their job done.
MICROSOFT FORMS PRO
Because of the point and click simplicity and AI-assisted features, this enterprise survey solution allows everyone in the organization to easily capture, analyze, and act on valuable customer or employee feedback. These custom surveys can integrate directly into the workflows and the organization's business system.
Microsoft is releasing a customer feedback management solution template feature to enhance customer satisfaction. Featured will be survey template (that can be customized to meet specific business needs) and an integrated customer satisfaction insights dashboard. The template will include timely follow up actions, a workflow that automatically notifies you of things such as negative customer comments and Net Promotor Scores.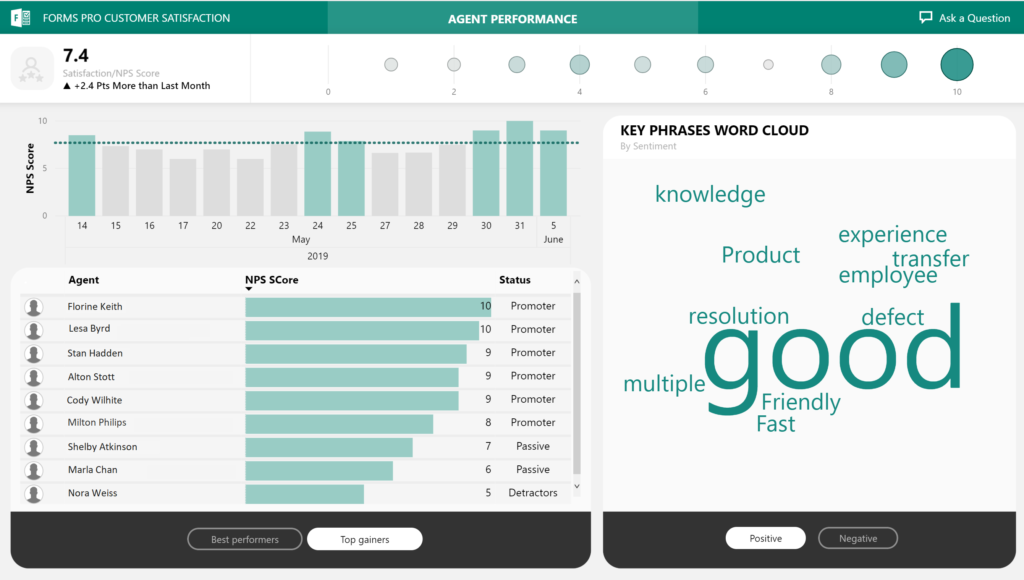 INDUSTRY ACCELERATORS
As part of the 2020 release wave 1, Microsoft is making available industry accelerators. The first four industry accelerators are Health Accelerator, Nonprofit Accelerator, Automotive Accelerator, and Financial Services Accelerator. These accelerators are custom solutions that include business processes, custom entities, and dashboards designed to get businesses up and running quickly. The solutions can be imported into a Dynamics 365 environment and customized to meet businesses unique needs.
DYNAMICS 365 MARKETING
Dynamics 365 Marketing is a marketing solution that helps businesses to better manage customer engagement through rich personalization and automation while leveraging Microsoft assets.
Changes to this area include:
Improved customer journey
Contextual email messages
Support for Surveys using Microsoft Forms
Compliance made easier
Enhancements to event management, the email content designer, as well as to the segment design and management
WHAT FEATURES AND EXPERIENCES ARE AVAILABLE FOR EARLY ACCESS?
The list of early access features is available in the release wave 1 plan. Opting into these preview features gives you an opportunity try out the new features in model-driven apps in Dynamics 365 (such as Dynamics 365 Sales, Dynamics 365 Customer Service, Dynamics 365 Marketing, and Dynamics 365 Field Service), Dynamics 365 Finance, Dynamics 365 Supply Chain Management, or Dynamics 365 Commerce.
WANT TO LEARN MORE ABOUT THE NEW DYNAMICS 365 FEATURES INTRODUCED IN THE DYNAMICS365 RELEASE WAVE1?
To learn more, check out these other great Microsoft Documents:
Dynamics 365 Blog – 2020 Release Plans
Dynamics 365 Release Schedule and Early Access
HOW CAN WE HELP?
enCloud9 is a recognized expert in helping organizations like yours to get the most out of their Power Apps and Dynamics 365 system. Contact us today to get started. We aim to provide you with the most current news, tips, and best practices in Dynamics 365 and the Power Platform. Visit our blog to learn more about the features introduced in the 2020 Dynamics 365 Release Wave1. Subscribe to our newsletter to get the latest info delivered to your inbox. If you need assistance enabling the new features for preview in your environment or if any questions arise, don't hesitate to contact us.
Do you want to learn how Dynamics 365 can help your organization?