What is Dynamics 365 Customer Service
Dynamics 365 Customer Service is a full suite of capabilities to ensure your business can deliver the best customer service experience possible to customers. Dynamics 365 Customer Service enables you to know your customers so that you to personalize each experience and earn customers for life. We will show you just how easy it is to navigate the Customer Service Hub.
Provide seamless, end-to-end experiences with Dynamics 365 Customer Service
Dynamics 365 Customer engagement is the key to driving sales, driving every interaction and decision. customer service is quickly overtaking price and product as the number one differentiator.
At the heart of Dynamics 365 Customer Service is the agent experience. The key to improving customer satisfaction in service delivery is providing agents with the tools they need to provide customers with excellent customer service. Empower agents to provide customers with the seamless customer service they deserve. Learn the Dynamics 365 Customer Service basics.
Dynamics 365 Customer Service provides agents with the tools they need to deliver more personalized service, resolve issues quickly, and engage with customers on their terms at any time and any place!
Understanding your customer and where they are at in the customer buying journey allows you to make the best possible decisions on how to proceed with an opportunity or lead. To learn specifically how Dynamics 365 Customer Service helps at each of the 6 stages of the customer buying journey, visit our blog. For more tips and best practices for providing amazing customer experiences using Dynamics 365,
Navigate the Customer Service Hub
The Customer Service Hub app is available to use on a desktop browser and on a mobile device for managing knowledge articles and case management.
Opening the Customer Service Hub in desktop
From the App Selector on the Dynamics 365 page, select Customer Service Hub.
Opening the Customer Service Hub in mobile
To open Customer Service from the mobile app, from the My Apps page, select Customer Service.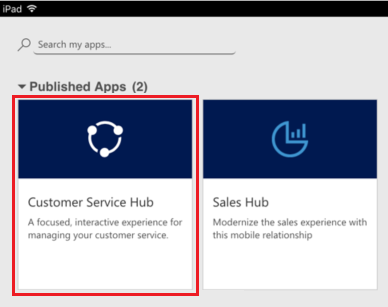 Navigate Customer Service workspace
When you select a record type (such as accounts, Contacts, or Cases) an Entity Grid will be displayed (a list of corresponding customer records)
To quickly navigate to opened records of pinned records, choose the down arrow next to recent or pinned (top right of the site map).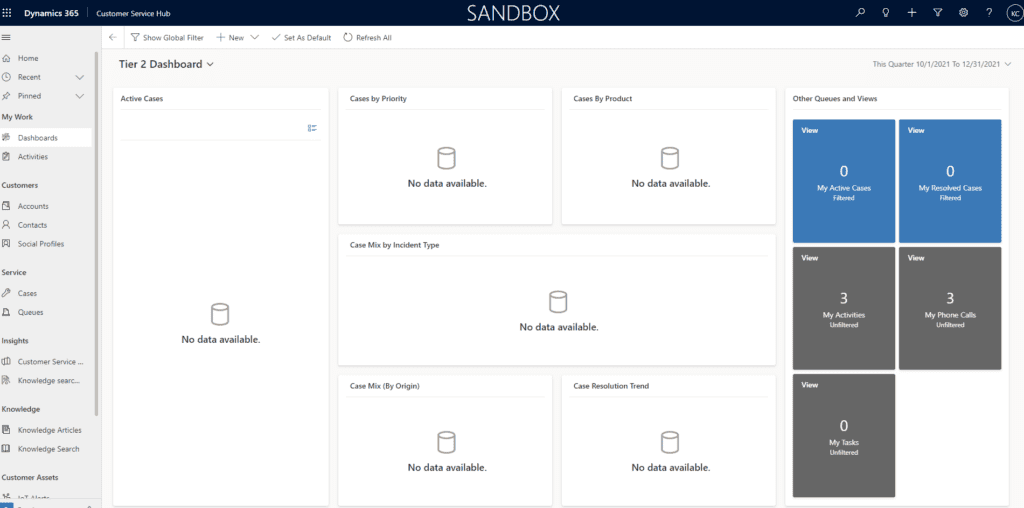 Work with Activities – Agents can view activities such as emails, appointments, phone calls, and tasks in the Timeline.
Create and search knowledge articles – Knowledge base search in the Customer Service Hub comes with improved search functionality. The knowledge base search is enabled to use Relevance Search in the knowledge base search control area, in addition to the global search area where Relevance Search is already enabled. Agents can easily search for knowledge articles that are relevant to the case they are working on.
Access email templates and signatures
Use the Inbox to view all cases and conversations assigned to you.
Utilize the productivity pane (on the right side of the customer service workspace) – to display intelligence driven suggestions – that enable them to better help customers. The productivity pane includes Smart Assist – which suggests related cases and knowledge articles that may be relevant to cases agents are working on.
Use Agent Scripts – that provide guidance about what to do when they get a customer issue.
How can we help?
We hope our blog on Navigating the Customer Service Hub has been helpful. Case management with Dynamics 365 Customer Service enables you to unify the way people experience your business.
With our Service Accelerator, we can get you started with Dynamics 365 Customer Service. Reach out to a customer care expert at enCloud9 today.
Intelligent customer service empowers you to deliver effortless experiences that leave our customers thinking not about the process, but just how easy their journey was.