Segments in Dynamics 365 are collections of contacts that you target with a customer journey. Segments allow marketers to choose who they want to target based on factors such as demographics, behavioral data, and other considerations.
Types of Segments
Segments in Dynamics 365 can be either Dynamic or Static. There may be different times that marketers need to use different types of segments.
Dynamic Segments – Dynamic Segments are set up by using logical expressions, such as "all contacts from Arizona" or "all contacts with a birthday next month." The members of Dynamic segments constantly change to reflect new or removed contacts or updated contact information.
Static Segments – Static Segments, on the other hand do not change – unless you change them manually. In other words, they remain "static."
So, how is a segment different than a marketing list?
So, with so many similarities between Segments and Marketing Lists, you are probably wondering how they are different. First and Foremost, Segments are exclusive to Dynamics 365 Marketing, whereas Marketing lists are accessible in both Dynamics 365 Sales and Dynamics 365 Marketing. In order to activate a customer journey, a segment must be used. For directions on creating a customer journey, click here.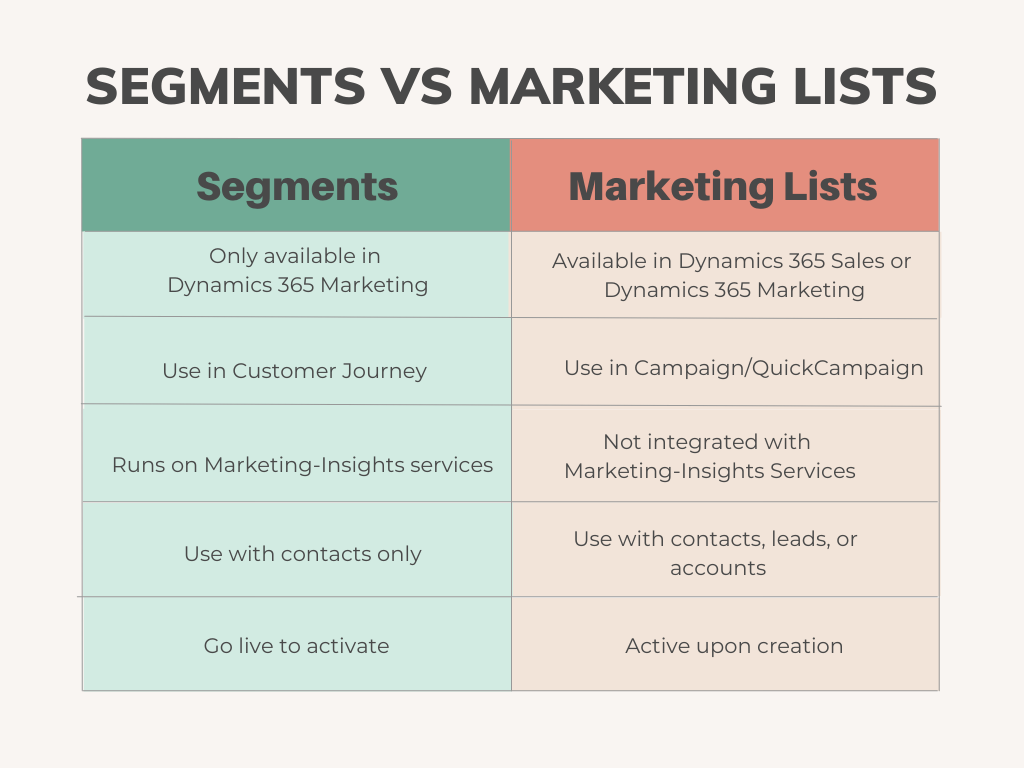 Unlike marketing lists, segments run on the marketing-insights service. Dynamics 365 Marketing is comprised of several components, one of which is the Marketing-Insights Service. The marketing-insights service provides businesses with important data on how customers are interacting with your digital marketing. In addition, the marketing-insights service crunches large amounts of data without impacting the performance of your Dynamics 365 user interface.
Segments can be combined to create compound segments.
A marketing list is basically just a list of people to market to. A marketing list can be a part of a segment.
Segments and Marketing Lists can both be a beneficial component of your marketing strategy – at different times. It's just a matter of knowing when to use which.
Creating Segments in Dynamics 365
Segments in Dynamics 365 are created in the Segment Designer. The Segment Designer is easy to navigate – as it resembles many other querying features in Dynamics 365, although it is much more flexible and powerful. The Segment designer is actually the only tool in Dynamics 365 that allows you to query interaction records from the Marketing-Insights service.
To create a new segment, follow these simple steps:
Go to Marketing>Customers>Segments
Select New to start creating your segment. Select whether you want to create a dynamics segment or a static segment.
Based on which type of segment you chose; different text will be displayed.
If you chose to create a dynamics segment, the Segment template dialog box opens – showing a list of available templates to use. Select any template to learn more information about it. There are also Filter and Search functions to help you find the template you are looking for. Choose Select to load the template. If you wish to create a segment from scratch without using a template, simply choose Cancel.
If you chose to create a static segment, a quick create menu appears. In the static segment designer, you can choose contacts by selecting the Add button on the General tab.
Select Save on the toolbar to save your segment.
Use the tools provided by the designer to establish your segment membership criteria.
Remember a segment is not live until you activate it. Select Go Live on the toolbar to start running a segment.
You can now use your newly created segment with your customer journeys. Once your segment is live, it will include a member's tab, where you can go to see exactly which contacts are part of the segment.
Are you ready to get started with Dynamics 365 Marketing?
Dynamics 365 Marketing includes a bundle of apps and solutions carefully selected to support marketing departments and coordinate with sales. Some of these apps and solutions are available as add-ons or bundles with other Dynamics 365 products, while others are only available as part of the Marketing package. Contact the Marketing experts at enCloud9 to learn more and to get started. Start turning prospects into business relationships.
enCloud9's Marketing Accelerator is a fully integrated CRM and marketing automation solution designed to connect marketing and sales teams.
If you are looking for a better way to identify, target, and nurture prospects, contact the marketing automation experts at enCloud9. In addition, check out other blogs we have written about marketing.