Turn prospects into business relationships with marketing in Dynamics 365
Orchestrate customer journeys and engage your target audience in real time by using built-in marketing features in Dynamics 365. Marketing Lists, Campaigns, and Quick Campaigns are the cornerstone of engaging with your clients and prospects as part of a successful marketing strategy.
Marketing Lists
Marketing lists are the core of any successful marketing campaign. When getting started with marketing in Dynamics 365, this is where you want to start. Marketing lists in Dynamics 365 allow you to segment your contacts, leads, or accounts by unique attributes. For example, all contacts who have purchased in the last 12 months or all leads who have expressed an interest in a product. Marketing lists can be re-used over and over. Once you have your marketing lists created, you can build the rest of your marketing strategy.
Two types of marketing lists
The two types of marketing lists are:
Static – Membership in this list is not updated automatically. Use this type of list when you want to update your marketing list manually.
Dynamic – Dynamic marketing lists automatically update membership based on a query. Members are automatically added and removed. A Dynamic marketing list can save you time because you don't have to manually add members each time someone meets the criteria.
When creating your marketing list, you need to decide which type of list better meets you needs. It is true that a dynamic marketing list can save you time, but with a static marketing list, you tend to have more control – as you control who is on the list.
To create a marketing list
In the Sales Hub, go to Marketing > Marketing Lists.
Select +New
In the Summary tab, fill in the required fields. You must give your marketing list a name, choose if you want your list to be static or dynamic, and what type of record you want your list aimed at.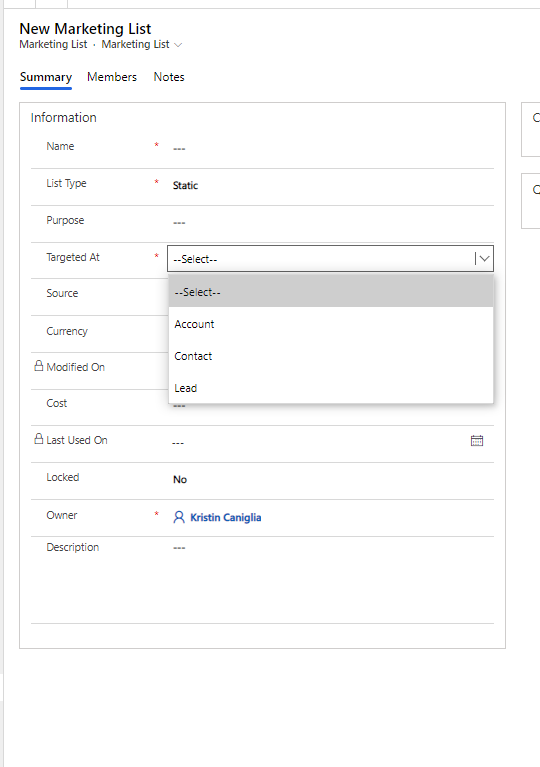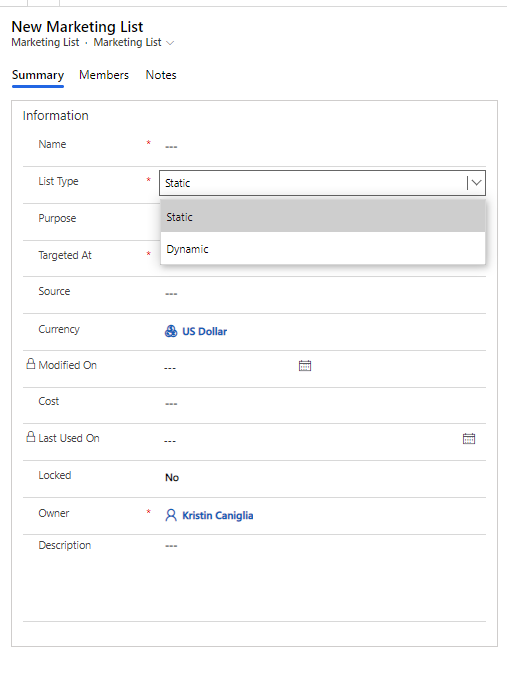 Once your marketing list is saved, you can add members. Navigate to the Members tab and select Add.
You must then choose a campaign to tie your marketing list to. You can choose to create a new campaign or use an existing one.
Campaigns
Campaigns are used in Dynamics 365 to organize marketing projects. Campaigns are designed to track revenue and investment for each campaign. The ability to track campaigns enables you to compare previous and ongoing projects as well as telling you how effective your strategies and efforts are.
To create a new campaign
In the site map, select Marketing Lists.
Open a marketing list and then in the Campaigns area, select New Campaign.

Enter information in the text boxes. (In the Campaign section, enter campaign details such as name, type, and expected response. In the Schedule section, enter information such as the proposed and actual start dates and end dates).
Once you've saved this information, you are able to enter activities in the timeline – so that you can track phone calls, emails, etc.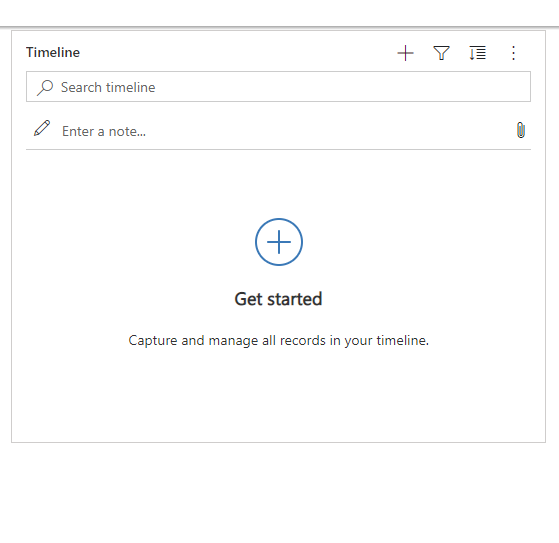 In the Details tab, enter details about the cost of the campaign and campaign activities in the financial section and then select save.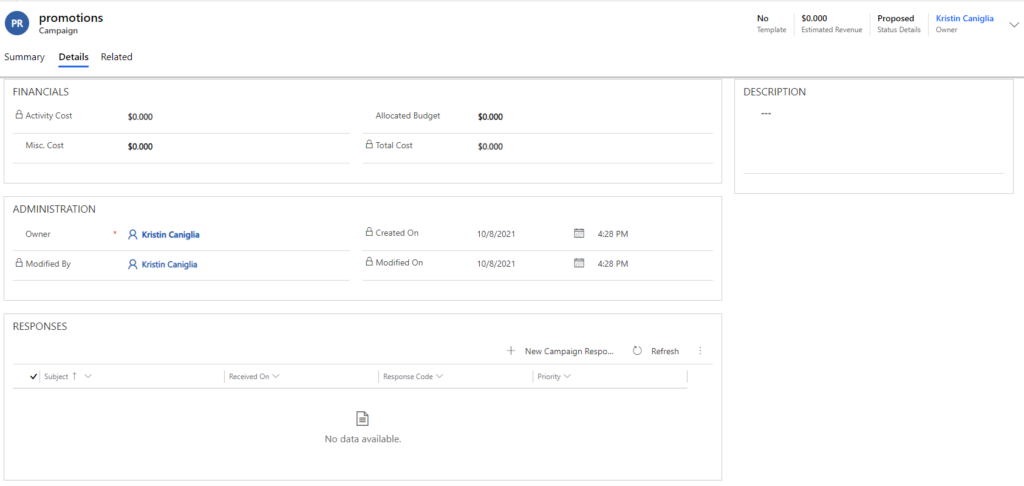 Quick Campaigns
A quick campaign is a single campaign activity towards a targeted audience or for targeted project. Success of a quick campaign can be determined through the campaign response. The response can be converted to orders, leads, or opportunities.
Advantages of Quick Campaigns
Allows you provide the best solution for your customer's needs. Quick Campaigns enable you to keep track on an individual buyer or a specific team.
Improves customer relationship- as quick campaigns allow you to stay up to date with specific clients.
Easily reach your upcoming goals. Quick campaigns can be used to set an estimated goal for a specific group of people.
Send more focused messages. Using quick campaigns, you can send emails to individuals or groups interested in your product.
To create a quick campaign
Go to Marketing > Marketing list
Open a record, and then in the Quick Campaigns area, select New Quick Campaign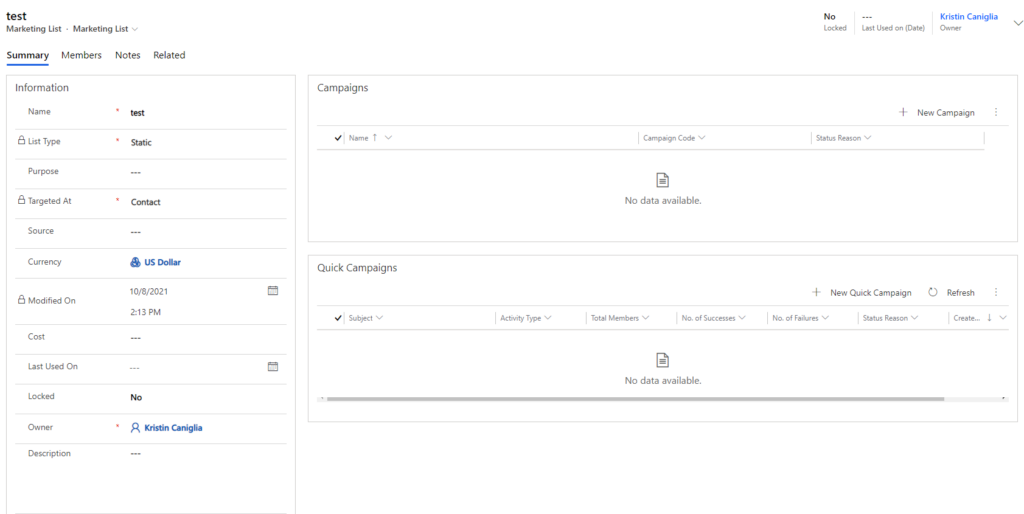 In the Quick Campaign Wizard, read the instructions on the Welcome page, and then select Next
Specify a name for your Quick Campaign
Select who the Quick Campaign will be assigned to
Select the type of activity you want to create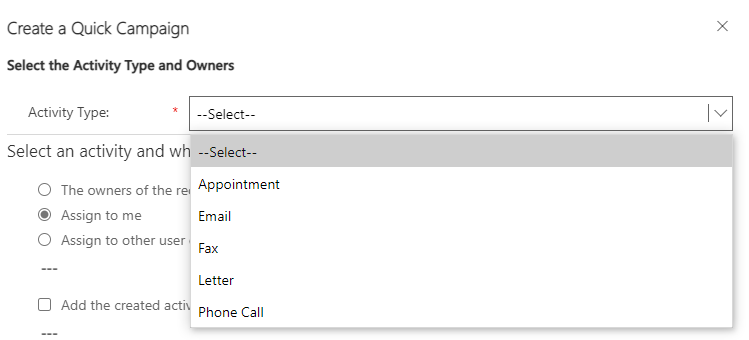 Add or change the information in the text boxes in the activity form, then select Next
Select Create
Once you have created your quick campaign, it can be found in the Sales and Marketing pane under Quick Campaigns.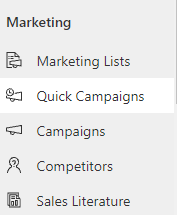 The difference between Campaigns and Quick Campaigns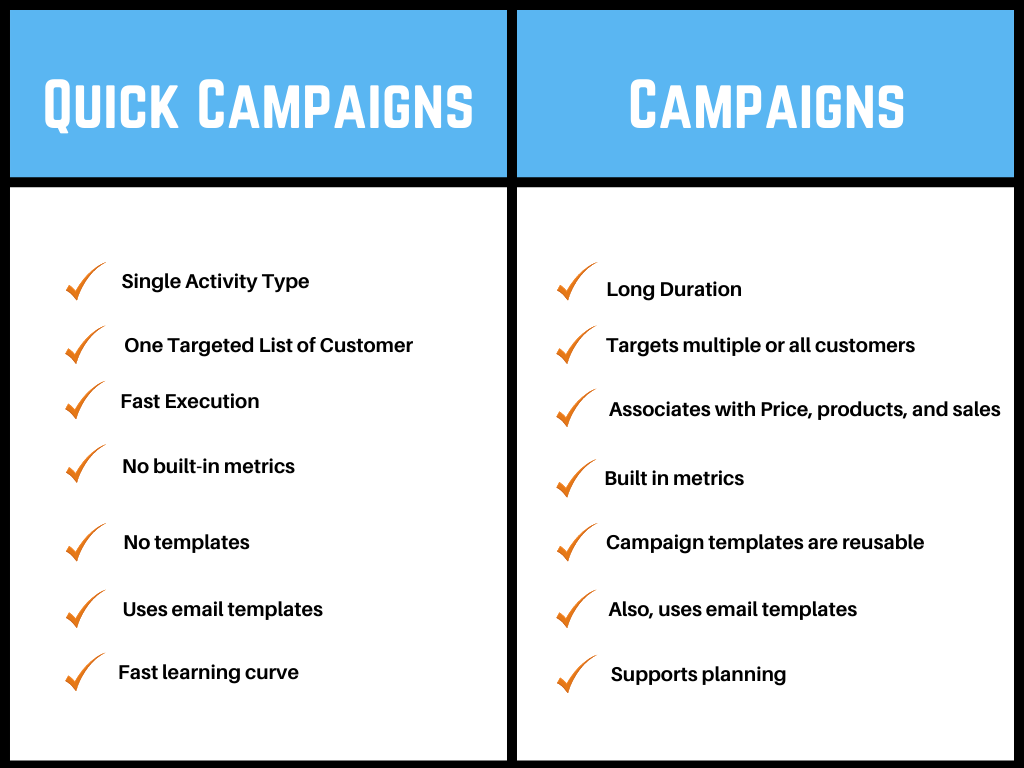 When to Create a campaign and when to create a quick campaign
Use a Campaign when you need to perform more than one activity for your campaign.
For example, we have a campaign called "Newsletters" – as we send out a monthly newsletter. We also have a campaign called "webinars" that includes all emails and activities related to our webinars.
We might create a Quick Campaign for something like sending out a single email to our customers about a special promotion or project or to inform them of our holiday hours.
Now you are ready to start marketing
Once you have these three core marketing components in place, you are ready to implement your marketing strategy. To learn more about closing more deals with marketing automation, managing and marketing live events using Microsoft Teams, or to view our marketing checklist, visit our blog.
When you are ready to move to the next step of marketing automation, it is time to consider Dynamics 365 Marketing or ClickDimensions. These full-featured marketing automation suites include features like webforms, email automation, and drip campaigns.
Combining Marketing Automation and CRM provides you with clear insights into your customer's journey.
Powered by ClickDimensions and Dynamics 365, enCloud9's Marketing Accelerator is a fully integrated CRM and marketing automation solution designed to connect marketing and sales teams.
If you are looking for a better way to identify, target, and nurture prospects, contact the marketing automation experts at enCloud9. In addition, check out other blogs we have written about marketing.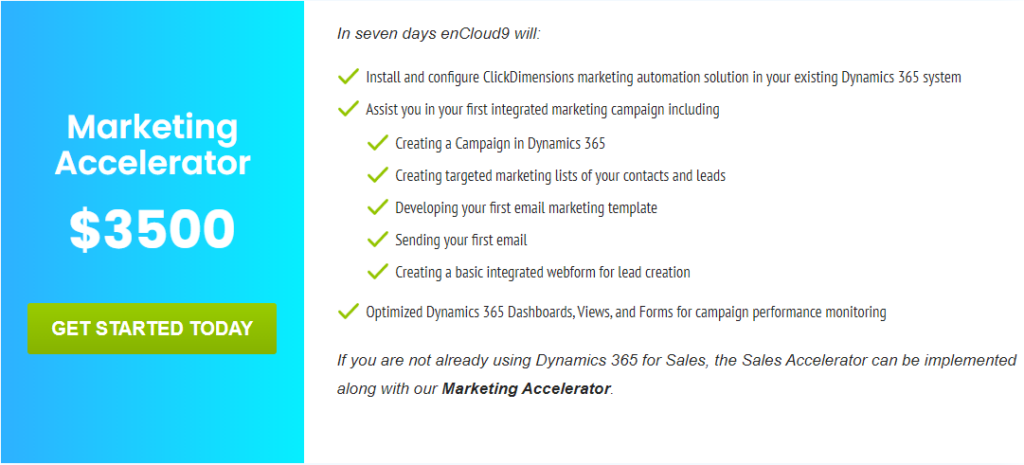 Click here to learn about what is up and coming for Microsoft Dynamics 365 Marketing in the 2022 wave 1 release.