Sales Accelerator, Conversation Intelligence, and Predictive Scoring were previously only available with a Sales Premium license. Since publishing this blog, Microsoft has announced that these three features will now be available to Sales Enterprise customers.
It takes time and effort to build strong and long-term relationships with customers.
Selling to customers today is about building and maintaining relationships. Salespeople need to communicate with customers on a regular basis and maintain a complete understanding of who their customers are and what they need. Through the power of Artificial Intelligence, Sales Insights enables salespeople build stronger relationships with their customers, take actions based on insights, and close opportunities faster.
Sales Insights is an add on feature to Dynamics 365 that combines intelligence and AI with your CRM capability. Some standard Sales Insights features are available for free along with Dynamics 365 Sales but in order to get the premium version of these features as well other features some require an additional Sales Insights license.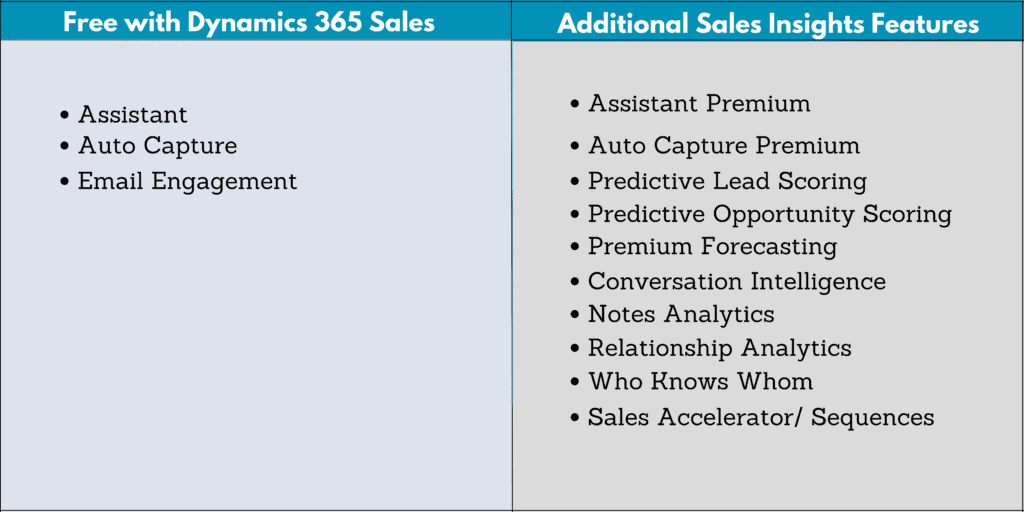 The standard version of Assistant, Auto Capture, and Email Engagement are free with Dynamics 365 Sales, but with an additional Sales insights license comes more functionality. Both the standard and premium versions are all about minimizing manual data entry. The premium versions of Assistant and Auto Capture are the first two of our top 10.
Top Ten Dynamics 365 Sales Insights Features
1. Premium Assistant
Standard Assistant offers suggestions about next best actions and gives standard cards for appointments coming up or overdue tasks. With a Sales Insights license, you get the ability to configure your own next best actions using the Studio. The Studio helps you create custom insight cards through Power Automate.
For example, if you want to prompt a seller with a resource, policy, or information for them to read. You also have the ability to launch a playbook of activities.
2. Premium Auto Capture
Standard Auto capture makes suggestions in the timeline about activities you should track. But with a Sales insights license, you get premium capability as well as suggesting contacts to create. For example, if someone has emailed you and they are not already in your CRM as a contact, Auto Capture will suggest creating a contact for them. This is much quicker than starting from scratch.
3. Predictive Lead and Opportunity Scoring
Predictive Scoring used to require a separate Sales Insights license, but due to a recent announcement by Microsoft, this feature will be available with a Sales Enterprise license.
Predictive lead scoring – allows the seller to focus on the leads that are most likely to convert. Based on what has happened in the past, the seller can go in an influence factors.
Predictive opportunity scoring – allows the seller to focus on the opportunities that are most likely to close. A trend in the opportunity score is also provided. For example, the seller is able to see if it went up or down. Sellers can base their decisions and actions on trends.
Sellers can see a view of opportunities and leads in order of their score – allowing them to really focus in on certain leads and opportunities.
4.Conversation Intelligence
Conversation Intelligence used to require a separate Sales Insights license, but due to a recent announcement by Microsoft, this feature will be available with a Sales Enterprise license.
Conversation Intelligence can be very helpful for organizations that are using a phone for sales or for a call center scenario. (For example, if you are working in phone sales or have to coach someone in phone sales).
Conversation Intelligence utilizes the power of AI to pull certain keywords out of conversations between sellers and customers. For example, what are your customers talking about, where are products mentioned, and whether the sentiment of the conversation is positive or negative.
5. Premium Sales Forecasting
As with many features in Dynamics 365, there are both standard and premium versions of Sales Forecasting. The premium version of Sales Forecasting leverages AI – allowing sellers to "take a snapshot" of where the Forecast was in time. Sellers can go back in time and ask why something has changed. The ability to take a snapshot from the past and look at past trends enables sellers to effectively make predictions on what will happen in the future.
6. Talking Points
Talking Points picks up on interest points of clients and prospects from emails. Sellers are given prompts for conversation starters or "talking points."
7. Who Knows Whom
Using Sales Navigator, sellers can see who in their organization knows someone. Who Knows Whom picks up on actual email interactions.
8. Sequences
With Sequences, a chain of sales activities that mirror your company's best practices can be constructed. This series of sales activities guides a seller though a prescribed sales process. Sequences is great if your sales team is fairly new or inexperienced, if your company is prone to high turnover rate, or you have salespeople that just don't "stick to the script." Sequences may not be necessary for a well-trained or experienced Sales staff.
To manage sequences, you have to have a System Administrator, Sequence Manager, or Sales Manager role.
9. Notes Analysis
With Notes Analysis, every time a note is typed into the timeline, a blue highlighted action point will be suggested. It will ask things such as if a meeting or appointment should be set up. All the seller has to do it say yes or no.
10 Relationship Analytics
Relationship analytics help sellers build relationships with their customers by giving them a "snapshot" based on their interactions with customers. (This exists with leads, accounts, and opportunities). Relationship Analytics will tell sellers things such as how their interaction with a customer is going or how their response rate is.
In conclusion
To configure Sales Insights into your environment, you must be a Dynamics 365 Sales administrator and you must have a Sales Premium or a Sales Insights license. For more information on configuring Sales Insights features, visit this Microsoft document. It only takes a few minutes to complete Sales Insights installation and progress is displayed in a dialog.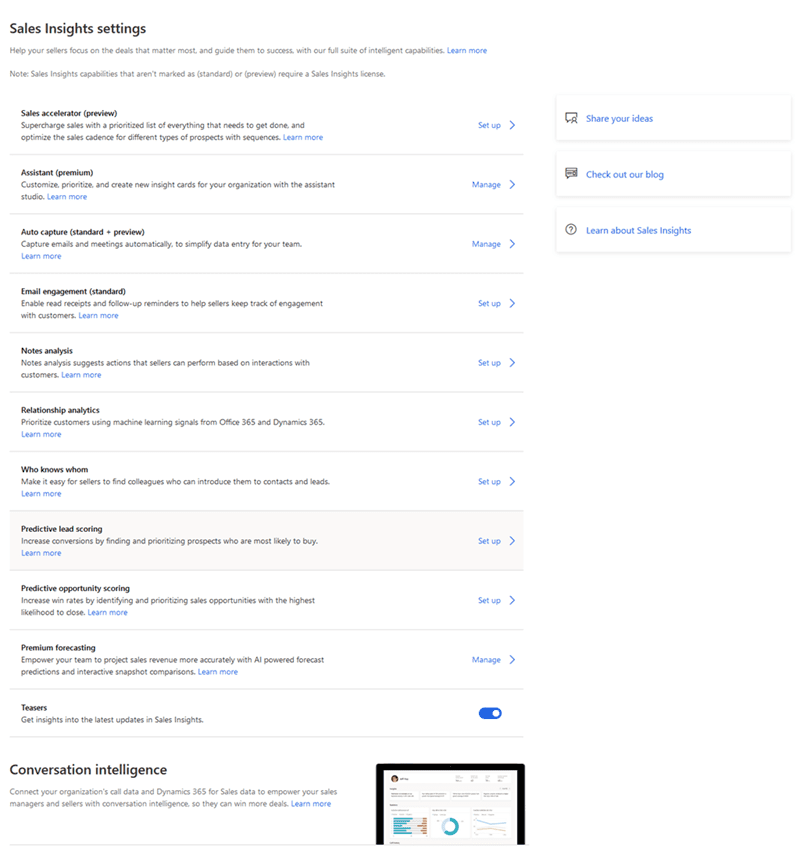 Sales Insights features help sellers build stronger relationships with their customers, save time, and stay on top of their deals by using real time AI based insights. Sales Insights provided many useful features to track and collect information about contacts, leads, and opportunities.
If you are not already using Dynamics 365 Sales read our blog article titled Getting Started with Dynamics 365 Sales. If you are ready to get started with the standard version of Dynamics 365 Sales, our Sales Accelerator plan can get you up and running quickly.
How can we help
The features discussed in this article are available with the Dynamics 365 Sales Insight Add on to Sales Enterprise or with a Dynamics 365 Sales Premium license.
Let enCloud9 help you maximize your investment in Dynamics 365 by deploying Sales Insights.
enCloud9 works with your business's specific needs, from assisting in the selection process to licensing – all the way to implementation and go live. And enCloud9 doesn't walk away when your solution is in place. We support your business so that your solution is always up to date and running smoothly.
Contact us today. We'd love to hear about you and discuss how Sales Insights would benefit your business.
Visit our blog to check out other great articles we have recently written about Sales Insights.