The 2021 Microsoft Power Platform release wave 1 describes all the new features releasing from April 2021 through September 2021 for Power BI, Power Apps, Power Apps portals, Power Automate, Power Virtual Agents, AI Builder, and data integration. The following key dates are subject to possibly change.
The document may be viewed online or downloaded as a PDF file.
Key dates of the 2021 Microsoft Power Platform Release Wave 1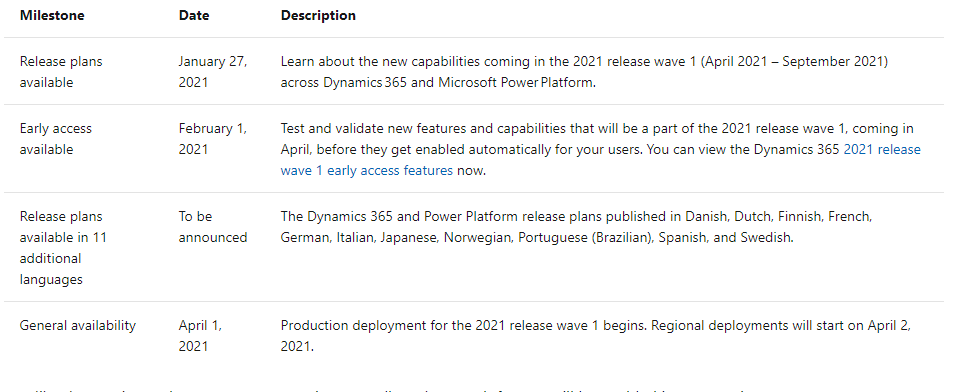 Power BI
Microsoft business intelligence simplifies how organizations extract insights from data. These insights empower organizations to make decisions based on facts – not opinions. Microsoft continues to focus on three main areas:
Amazing data experiences
Modern enterprise BI
Integrations where teams work
New Quick Create Experience allows new users to get started in Power BI by providing a guided experience. Many new users don't have access to an analyst or experienced Power BI user. The new quick create feature allows new users to connect data, author content, or create reports, dashboards, or apps without being a Power BI expert. This feature is currently in preview and will be released for general availability in June 2021. To learn more about creating reports in the Power BI service visit the Microsoft Power BI Blog.
Power Apps
The updates to Power Apps include:
duplicate detection to the Unified Interface Experience.
Improved accessibility for business process flow in mobile.
Enhanced global relevance search experience.
In-app notifications for model-driven apps.
Form processing improvements
New Region Availability
Signature detection
Significant improvements for portal developers of all skills.
Enhancements to the low code toolset to reduce the time taken to build sophisticated websites.
Support is enabled for familiar pro-developer tools for advanced developers.
In-app notifications for model-driven apps.
Power Automate
Digital and Robotic process automation (RPA) provides businesses with a more efficient way to get things done. Enhancements to Power Automate include:
Power Virtual agents
Improvements to the authoring experience include:
List variables
Topic suggestions from bot sessions
Adaptive cards
Power Automation integration with better error handing
New topic trigger management
Data Integration
Enhancements to data integration include:
Enrichment through integration with Azure maps
Gateway diagnostics
Improved error management
Visual data prep for Power Query Desktop
Security improvements
How can we help?
We have years of experience helping companies like yours increase sales, revenue, and productivity. If you are not already using Dynamics 365, we can certainly get you started quickly with one of our Accelerators.  Accelerators are prepackaged Dynamics 365 implementations designed to get your business up and running on Dynamics 365 in approximately seven days. To learn more, visit our website or our YouTube page. To learn about how Dynamics 365 benefits your business and how Dynamics 365 helps build customer relationships, visit our blog. For additional information about the other components of the Power Platform, read our  Introduction to the Power Platform.  To find out how the Power Platform can help your business, contact the experts at enCloud9 .