New Features in Microsoft Teams
Recently Microsoft announced new Teams capabilities, as Microsoft continues to improve the app's performance – in their continual battle to beat Zoom in the video conferencing space. The four areas of main focus were new meeting room experiences, new calling/ chat/ collaboration features, new Microsoft 365 Integrations, and Power Platform and custom development.
New Meeting Room Experiences in Microsoft Teams
Enhancements in meeting room experiences include:
New Together mode scenes – (Coming this calendar year) The New together mode helps participants feel closer together even when apart, as it allows users to easily transport their teams into a variety of settings (in order to set the tone and create the experience for their meetings).
Custom layouts – (also coming later this year) Custom layouts allow for a more dynamics content viewing experience, as presenters are able to customize how content is displayed to meeting participants.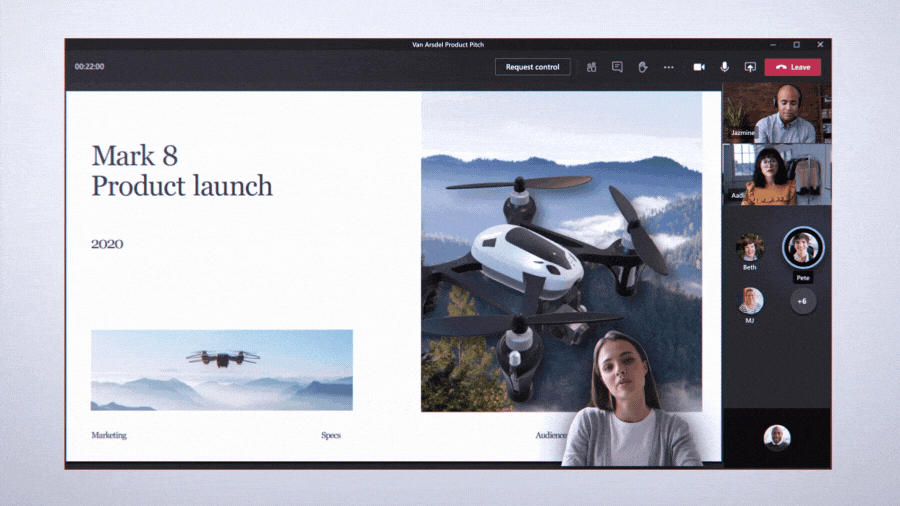 Breakout rooms – (Coming this month) Breakout rooms enable meeting organizers to split up meeting participant into smaller groups to facilitate brainstorming sessions and discussions between coworkers.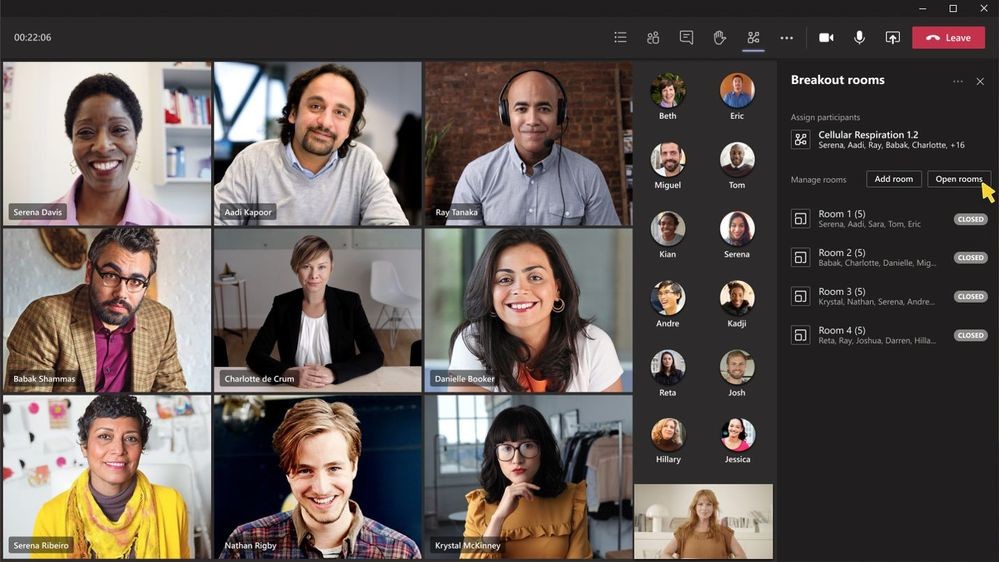 Meeting recap – (Coming this year) Meeting recap helps teams to stay on track and keep work moving forward after a meeting. A recap of the meeting will automatically be shared in the meeting chat tab and viewable Details tab for each meeting, as well as in the meeting event in your Outlook calendar.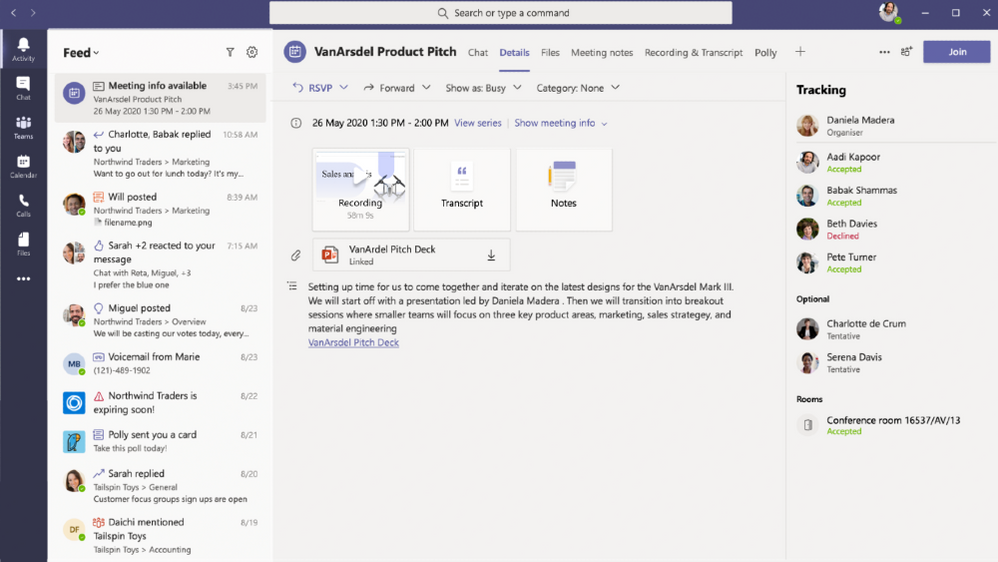 Webinar registration and reporting – (Coming by end of year) This new feature enables meeting organizers to use event registration with automated emails, making it easier to manage attendance. In addition, after a meeting, meeting organizers can view a detailed reporting dashboard in order to help them understand attendee engagement.

Microsoft Teams rooms experience on Android and iPhone – Users will be able to see up to 49 participants on a call. This feature is set to launch in preview by the end of this month and to everyone this Fall. Currently, you can only view up to nice meeting participants on a call. Microsoft reports that users will need to turn on the "multi-user experience" in order to take advantage of this new feature.
Touchless meeting experiences – (Coming later this year) In an effort to help users navigate this new, hybrid working environment, Microsoft is announcing Touchless meeting experiences for shared spaces. Users will soon be able to control their Teams Room and collaboration bar devices from the Teams mobile app.  Touchless meeting experiences features room remote, wireless casting, and Cortana voice assistance. In addition, meeting participants will be able to automatically exit a meeting by simply leaving the room.
Meeting room capacity notifications – Using data from meeting room cameras equipped with people counting technology, meeting room participants are alerted when the room is over capacity. This not only helps remind organizations of room capacities, but also social distancing practices.
Microsoft Teams panels (Coming early next year) Microsoft Teams panels provides users with the ability to view space, meeting details, reserve a space, view upcoming reservations, as well as easily identifying current availability status. In addition, users can also view the building floor plan and book another room using the "Nearby Rooms" feature.

Deploy two Microsoft Teams rooms at no additional charge – In an effort to transform your meeting rooms, Microsoft will help deploy two of your meeting rooms at no additional charge. Click here to learn more about Microsoft Teams rooms.
As of October 1, 2020 Microsoft Teams rooms will be a part of the FastTrack benefit – qualified customers can get remote guided assistance on select rooms at no additional charge.
Calling, chat, and collaboration features in Microsoft Teams
The enhancements in this area include:
A new calling experience (Coming later this year)  The user experience is simplified through a streamlined view that shows contacts, voicemail, and calling history at once. This makes it easier to return a call with a single click.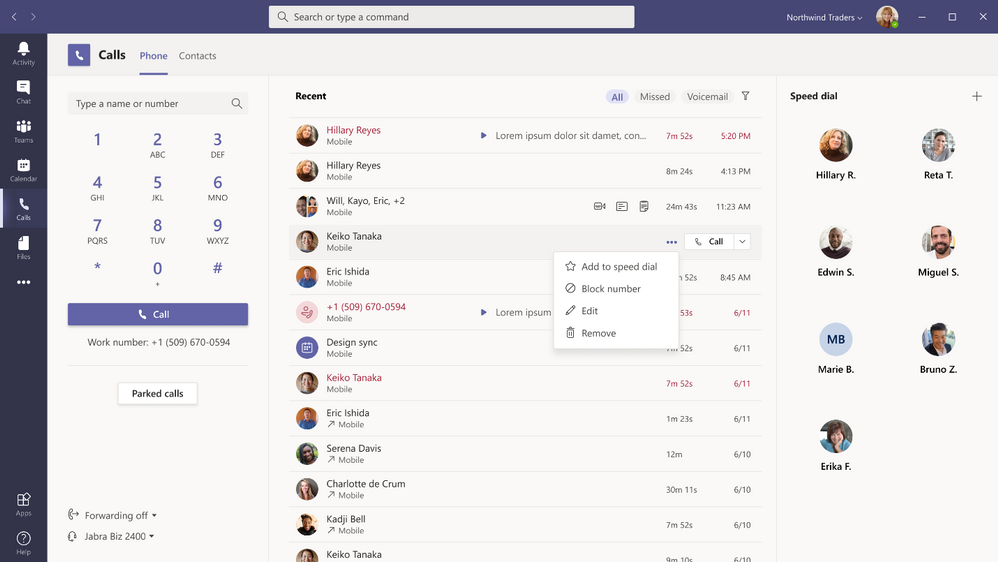 Collaborative calling– Collaborative calling enables users to collaborate and share information in the team while taking calls from the queue. This feature would be very helpful in a help desk or hotline situation.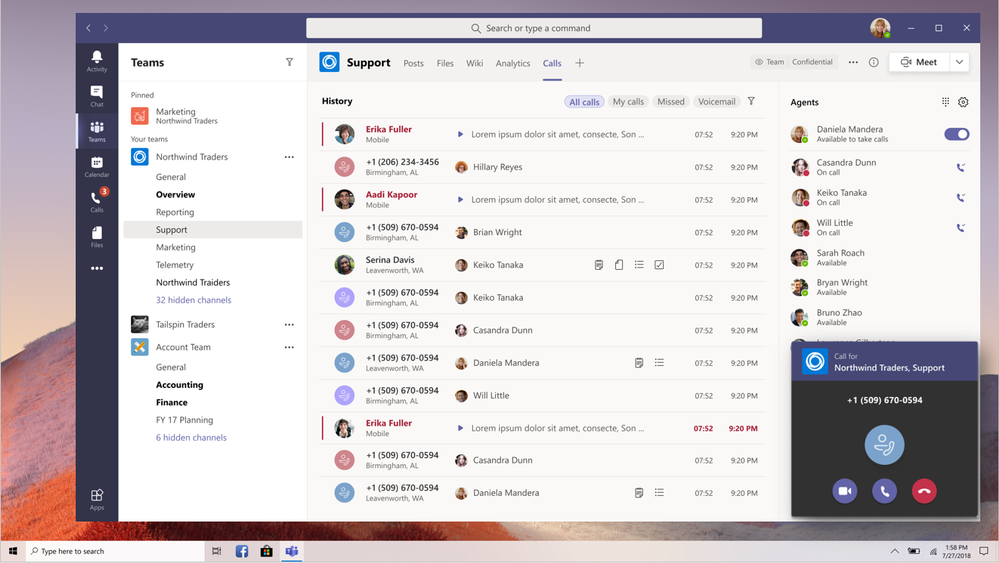 New calling plan countries – As of October 1,2020, the number of Microsoft calling plan countries will be expanded. New countries to be added include Austria, Denmark, Italy, Portugal, Sweden, and Switzerland.
Teams templates – (Now generally available)  Use pre-built templates or create your own template. Teams templates enable you to create consistent Teams across your organization.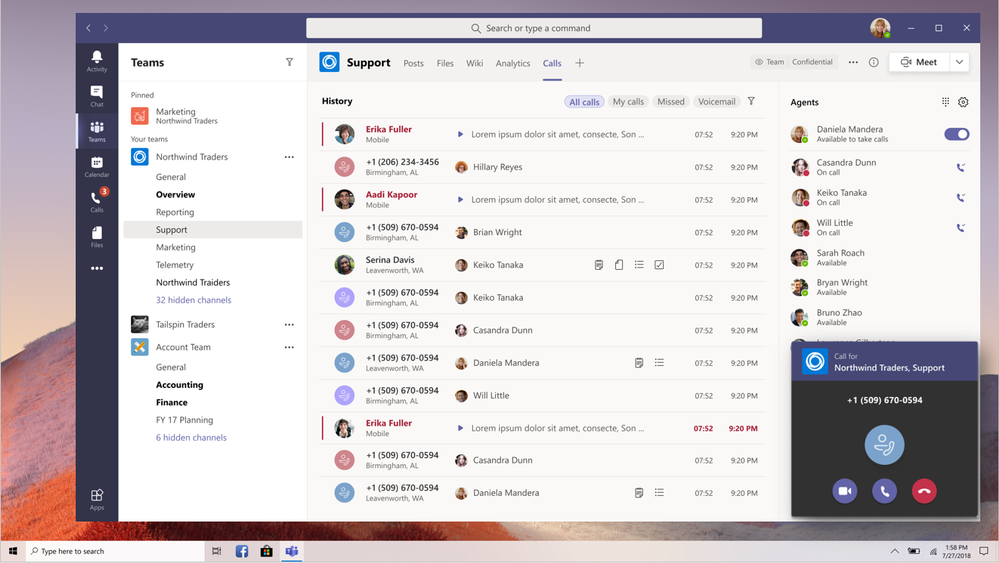 Info pane – (Available now) Info pane provides teams with the ability to pin posts and new conversations in channels – great for new team members getting up to speed or simply existing members who want to stay informed.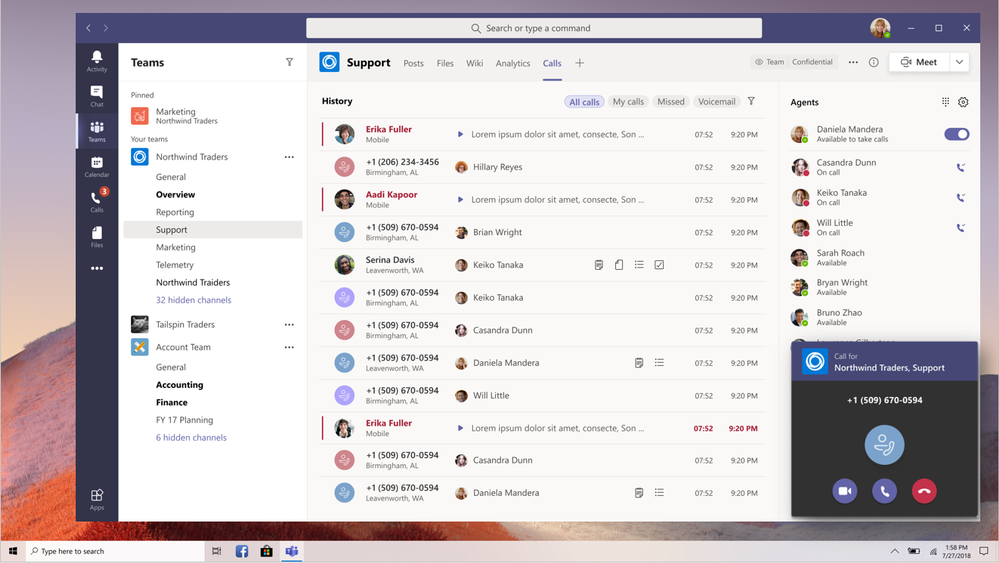 New search results experience – (Available later this year) This new search experience, powered my Microsoft Search, will make it easier to find the information you need. Users will see better context and faster results.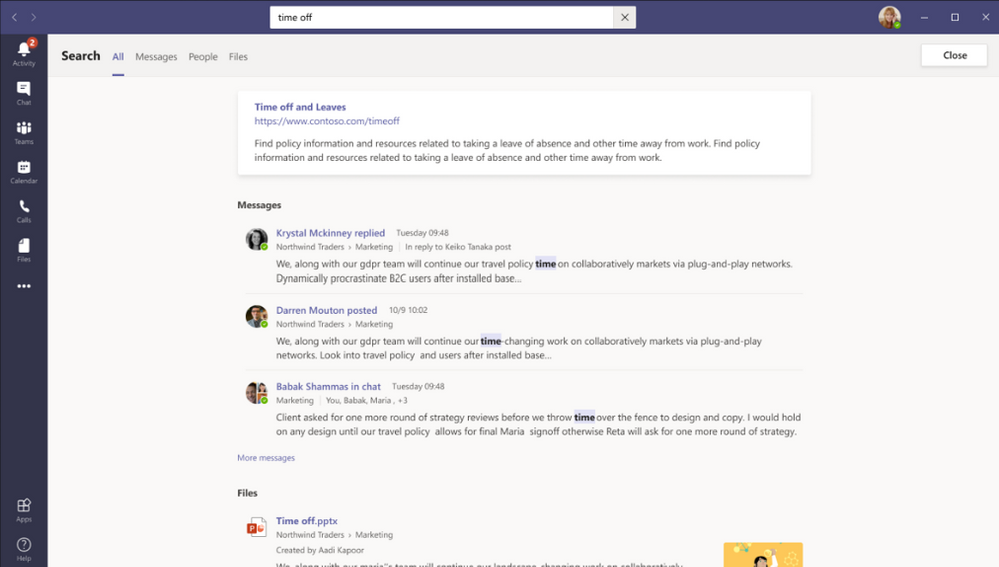 25K member Teams – (Coming later this year) Teams membership is currently limited to 10,000 members per individual team. This will be increased to 25,000 members.
Microsoft Lists in Teams – (Available now) Users can now create a list directly in Teams as a channel tab.
For a list of 24 Things You Probably Didn't Knew you Can Do in Microsoft Teams Chat, visit our blog.
New Microsoft Integrations in Teams
Enhancements to Microsoft Integrations are as follows:
Well being and productivity insights in Teams (Available in the first half of 2021) Users will get insights personalized to their role with recommended actions to change habits and improve productivity and well being. The new well being experiences feature a virtual commute to add structure to your remote day as well as Headspace guided meditations to help you unwind.
Sharepoint home site in Teams – (Coming in March 2021)  The new home site app provides employees quick access to search and a personalized view of news and important sites. The apps name and icon match the brand for the users organization and can simply be pinned to the app bar in Teams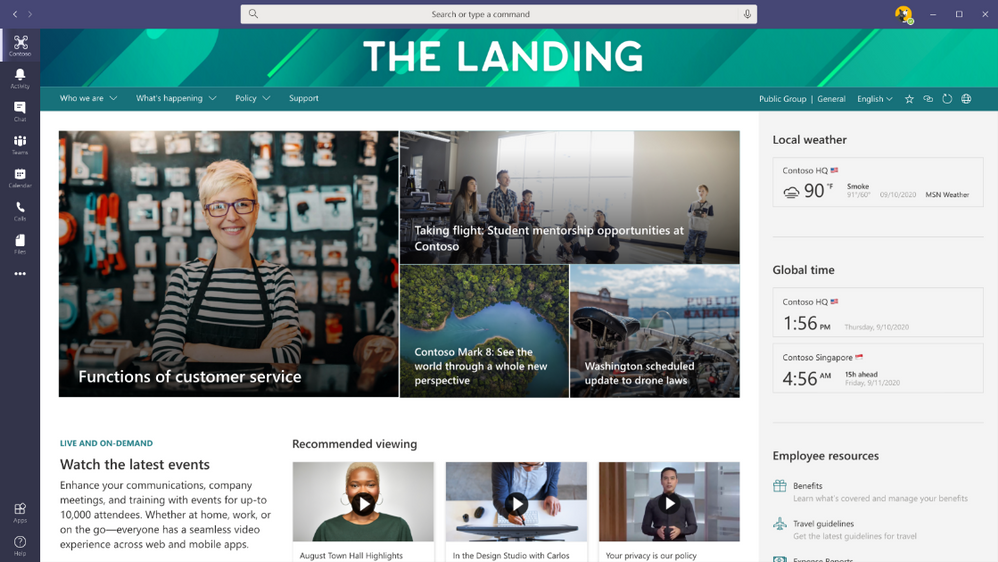 Power Platform and Custom Development
Enhancements in Power Platform and Custom development include:
Meetings extensibility with apps in meetings – (Generally available in October 2020)  Developers will soon be able to integrate their apps into Teams meetings and create scenarios that have deep awareness of the meeting content.
Approvals in Microsoft Teams – (Generally available in October 2020) users will be able to easily manage, create, chare, and act on approvals directly from Teams.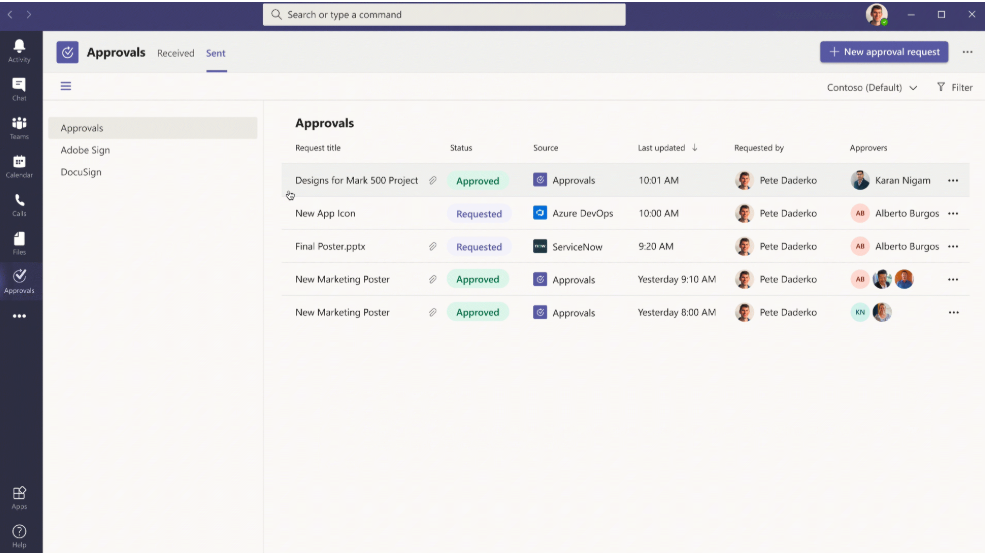 Enhanced Power BI for Teams – (Coming in public preview later this year)  The enhancements to the Power BI app for Teams will provide users with a centralized place to find and analyze data and enhance the usage of Excel and Teams.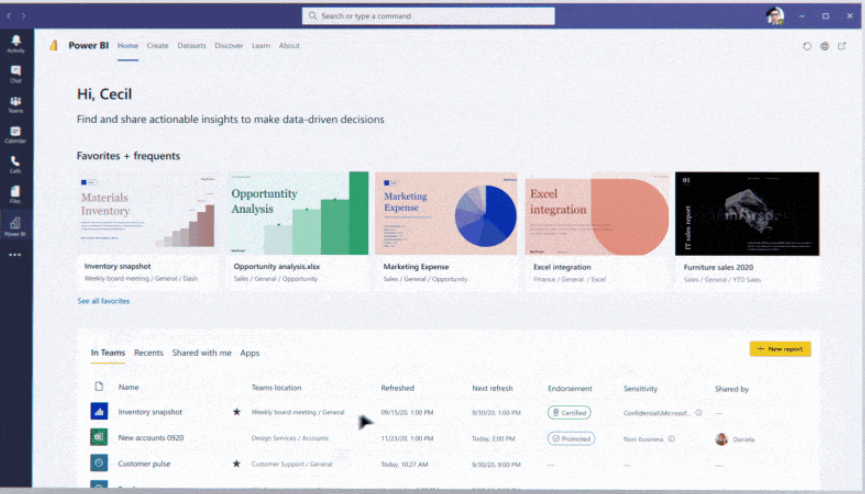 New Power Automate app for Teams – (Coming later this year) The New Power Automate app for Teams provides users with an enhanced set of templates to use in automating work in Teams. The new designer experience makes it easier to get started building.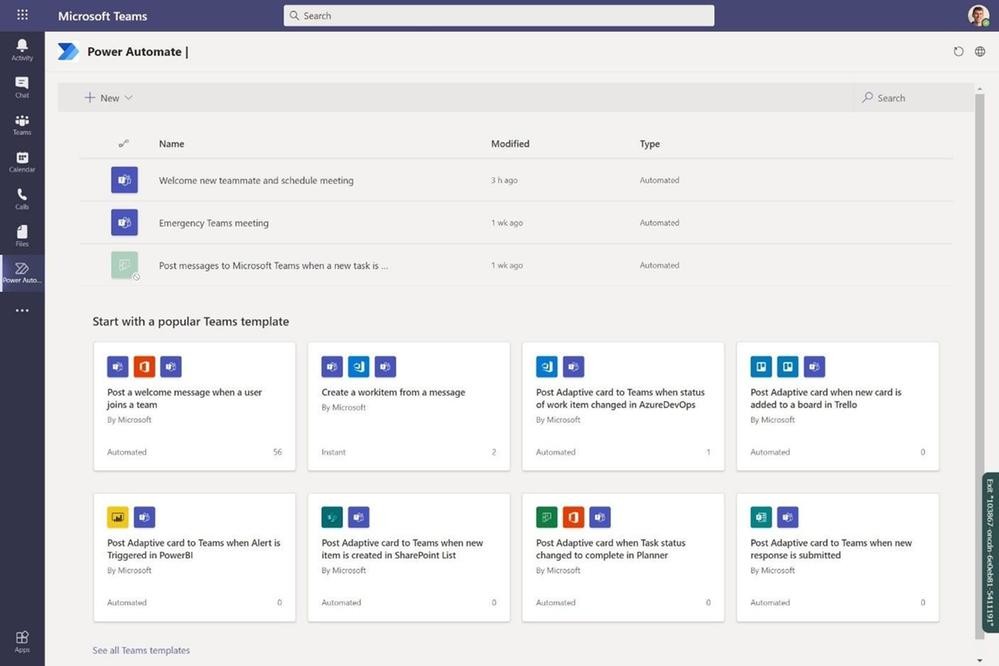 Azure API management capability for Power Platform + Teams – (Available for preview in October 2020) Professional developers will be able to build Power Platform connectors with Azure API Management and Azure Functions to any Microsoft hosted third-party, legacy, or line-of-business apps.
Resource-Specific Consent (RSC) for developers and IT administrators -(Currently available) With RSC, team owners can now install an RSC-enabled app for their specific team and restrict the apps scope and access to data to only that one team, without needing the global IT admin to provision access.
Single sign-on for Teams through Azure Active Directory – (Coming Soon) Developers will be able to build their apps to sign-in users using the same account the y are using to log in to Microsoft Teams.
GitHub for Teams – (Available now for public preview) Developers are provided with the a single hub to collaborate across their project teams and streamline workflows.
In Conclusion
There were also announcements in the areas of management, healthcare, Firstline workers, and security/compliance. Microsoft Teams is for the most part already more secure than it's rival, Zoom, but Microsoft continues to make enhancements in this area. There are many reason's Microsoft Teams is superior to Zoom, but probably the most significant benefit is the fact that Teams offers unlimited time on a video call for free, while Zoom users have to pay for calls over 45 minutes.
The new features highlighted in this blog are some of the features we are most excited about! In order to stay current on all the new updates to Teams, you may want to visit Microsoft's What's new in Microsoft Teams or visit Microsoft's weekly Teams content updates.
How can we help?
enCloud9 is one of the most experienced Microsoft partners in the US. Our consultants have been advising companies for over thirty years to give them the tools they need in achieving their goals. Our experience leads to your success. We are experts in using Microsoft Teams, as we use this tool to conduct our own day-to-day business. We understand the challenges you face. Microsoft Teams makes collaboration a breeze! Contact the professionals at enCloud9 to start experiencing the many benefits of Microsoft Teams today.
In addition, don't miss our October webinar, as we discuss some of our favorite new features coming to Dynamics 365.
Best New Features of the Dynamics 365 October 2020 Update
Friday October 16, 2020 – 1-1:30 PM CDT
Browse through Microsoft's on-demand content collection to revisit your favorite moments or to learn something new.