The new search experience in Dynamics 365 is intuitive, and modern.
In November 2020, Microsoft announced the general availability of a new intelligent search experience in model-driven PowerApps.  This update is comprised of a series of usability enhancements and core relevance search improvements – enabling you to interact with search in a familiar and recognizable way. There are five main enhancements included in this update that make information discovery faster and easier than before.
Search Bar in the Header
The search is now moved to a more prominent easy to find place (in the middle on top – just like many other office applications). Previously, the search bar was on the right side of the top bar, which was not always the easiest to find. The new search experience is more easily found and consistent in all model-driven Power Apps.
Zero Query Search
Model-driven apps show recent searches and recently accessed records – creating a personal result for each person. With one single click, it is now quicker and easier to search. Users don't need to fire a query first.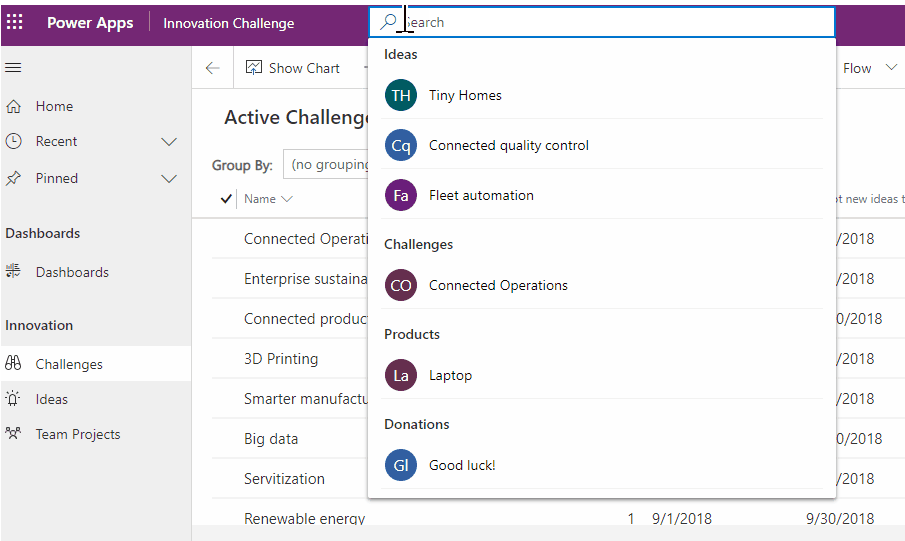 Suggested Results, as you type
View search results inline as you type. This feature minimizes keystrokes and simplifies navigation.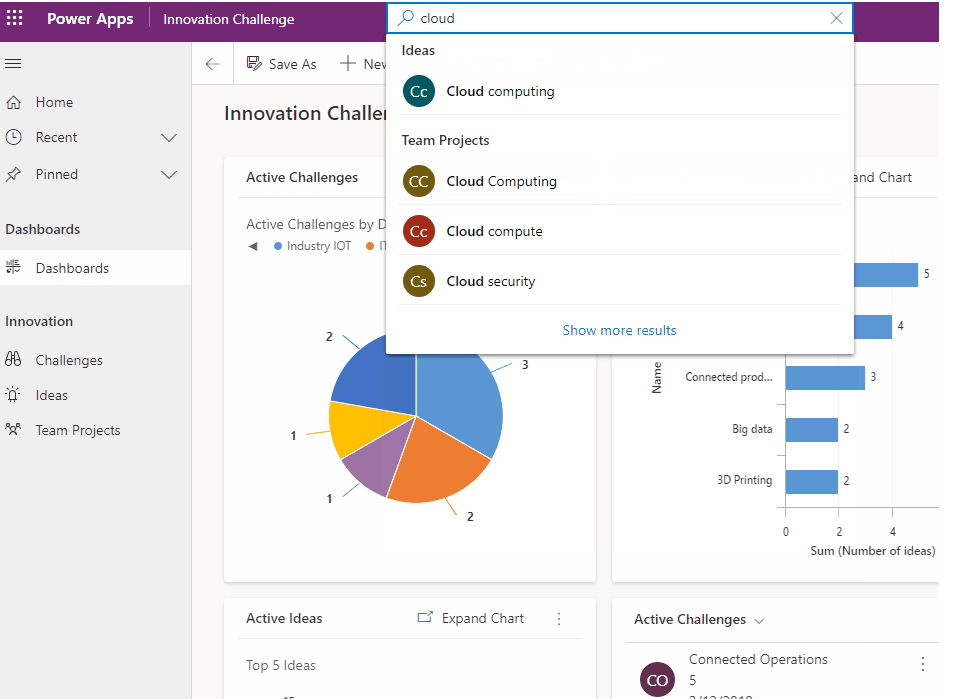 Improved Result Page
The improved results page makes it easier than ever to find the specific information you are looking for. We now have a results page that is very easy to understand. More fields are displayed, which helps in distinguishing records. In addition, search results are ranked and presented grouped by entity type. As you drill into specific entity types, filters are automatically adjusted to be relevant for that view. You can also apply addition additional filters to your search.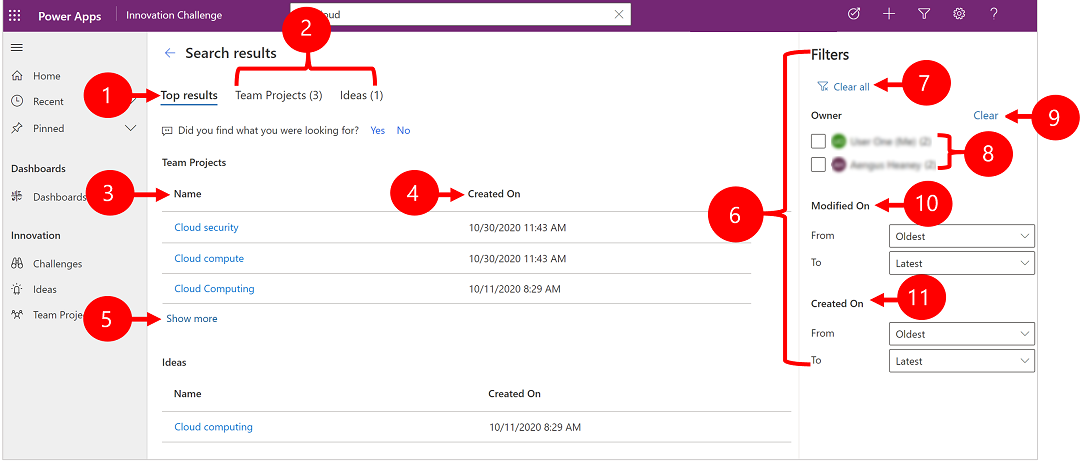 Top results: Show rows that best matches the search query.
Row type: To narrow your search results to a specific table, select the table tab.
Name: Shows the name of the row.
Created on: Shows when the row was created.
Show more: Select to show more results.
Filters: Refine the search results by using filters. Filters let you drill into and explore the results of your current search without having to repeatedly refine your search terms. Immediately after you perform a search you can filter by row type, owner, created on, and modified on.
Clear all: Select to clear all the filters.
Owner: Select your user name to find rows that you are the owner of.
Clear: Only clears the Owner filter. Note, you only see this filter when the Owner filter is selected.
Modified on: Filter the search results by when the row was last modified.
Created on: Select a time range to find rows created in the selected time range.
Intelligent Search
Relevance search leverages intelligence technology in an effective way to deliver quality results. Such things as language terms, misspellings, common abbreviations, synonyms, and more are interpreted. This feature is currently rolling out and will be available in Great Britain, North America, and Europe in early 2021. Intelligent Search is only available presently in Canada.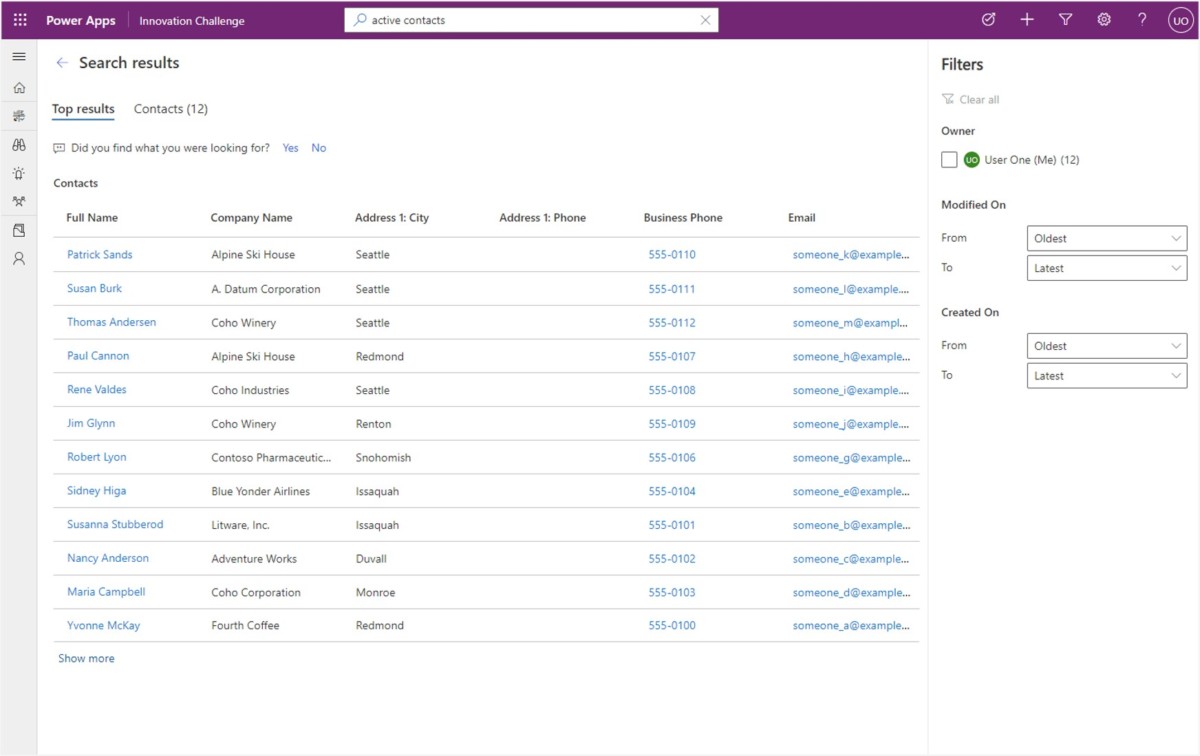 How to turn on the Power Apps new search experience
The new search experience can be enabled by administrators through a feature setting in the Power Platform Admin Center.
Follow these simple steps:
Click on gear icon on the right of the screen in Dynamics 365.
Click on the admin center from the menu.
Select the environment for which you want this feature to be turned on.
Click on the settings from the top ribbon.
Click on Product, then click on Features.
In conclusion
The new search experience is not only intuitive, but easy to use as well. Microsoft is constantly working on evolving search help you to be more productive in exploring your data in Dataverse.
How can we help?
If you have any questions using the new search experience or if we can help you with any of your Dynamics 365 needs, don't hesitate to contact us.  We would be more than happy to assist you. enCloud9 is a recognized expert in helping organizations like yours to get the most out of their Dynamics 365 system.