The release plan for the 2021 Dynamics 365 release wave 1 brings many new innovations to empower you to transform your business. The release describes all the new features that will be released from April 2021 through September 2021. We are most excited about the new features coming to Dynamics 365 Sales, Service, Customer Voice, and Customer Insights. This release also features updates in the areas of Marketing, Finance,  Human Resources, Commerce, Fraud Protection, and Business Central. The release plan may either be viewed online or downloaded as a PDF file.
The Microsoft Power Platform features coming in the release wave 1 have been summarized in a separate document. The release plan can be viewed online or downloaded as a PDF.
Key dates for the 2021 Dynamics 365 Release Wave 1
These delivery timelines and projected functionality may be subject to change.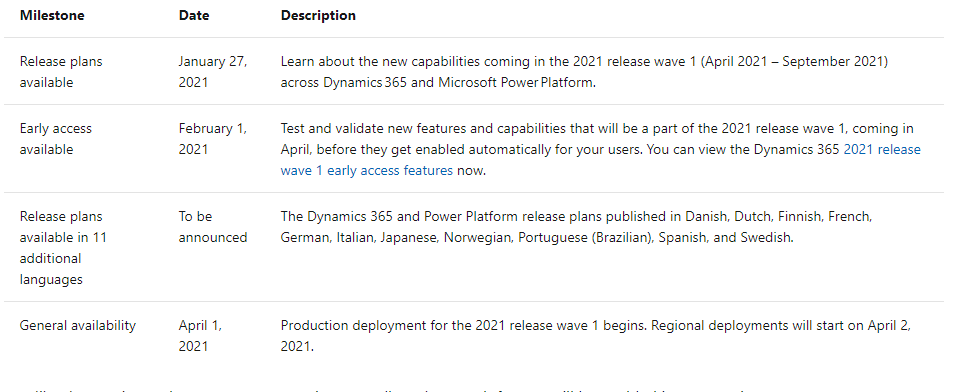 Sales
The updates to Dynamics 365 Sales concentrate on adding productivity enhancement for sellers and providing more access to data-driven insights to help in decision making. The three areas of focus here are:
1. Saving salespeople time
More automation and sequences that will adapt to the changing needs and behaviors of customers.
Customize workspace to your unique business requirements and trigger key action with the record side panel – all in the same place.
Quickly view the right deals and get all the right context with the Deal Manager – all in one click.
2. Providing salespeople intelligence at their fingertips
New out of-the-box data visualizations to help inform day-to-day decisions.
Conversation Intelligence provides important insights on top of video calls and calls with multiple participants.
Easily locate opportunities by searching, quickly setting a column filter, or choosing a time-based slicer.
3. Helping salespeople on-the-go
New intuitive mobile experience – offers salespeople quick access to customer information from wherever they are. In addition, the new mobile experience makes it easy for salespeople to log in and share information in real time. The new mobile experience features the following functions:

Microsoft Teams customer calls or online meetings can be transcribed and assigned to a Dynamics 365 record.
Easily manage activities and take follow-up actions promptly.
Get up-to-date LinkedIn information on meeting participants, insights about a deal, account and contacts integrated with AI.
Service
The updates to Dynamics 365 Service include both customer service and field service.
1. Customer Service
Enable customers to be up and running quickly.
Deliver the all-in-one contact center.
Transform contact center routing.
2. Field Service
Faster time-to-value and ability to use Field Service in production environments with a streamlined onboarding experience.
Stay in close communication with your customers with Comprehensive customer engagement capabilities.
Broader resourcing options with embedded schedule optimization.
Customer Voice
Customer voice is an enterprise feedback management app that enables organizations to incorporate the voice of their customers into their daily business decisions. The additional capabilities designed to improve survey response rate are:
Ability to pause and resume surveys, which enables users to complete surveys on different devices.
Automated survey reminders for recipients who have not yet filled out a survey.
Over-survey management
In addition, the use of Power Automate survey triggers makes it easier to create follow up action workflows.
Customer Insights
The updates to Dynamics 365 Customer Insights consists of Audience Insights and Engagement Insights.
1. Audience Insights
Audience Insights enables organizations to understand customer data and utilize it both in their actions and in their business decisions. The updates to Audience Insights include:
Eliminating data silos and unifying customer data.
Enriching customer profiles.
Enabling powerful AI and insights.
Extending business processes and personalizing customer experiences.
2. Engagement Insights
Engagement Insights (currently in preview) enables individual and holistic interactive analytics over web, mobile, and connected products customer journey touchpoints. Engagement Insights features:
Eliminating data silos and unifying customer data.
Enabling interactive analytics.
Connecting analysis to systems of action.
Advanced analytics and customer journey analytics.
How Can We Help?
We have years of experience helping companies like yours increase sales, revenue, and productivity. If you are not already using Dynamics 365, we can certainly get you started quickly with one of our Accelerators.  Accelerators are prepackaged Dynamics 365 implementations designed to get your business up and running on Dynamics 365 in approximately seven days. To learn more, visit our website or our YouTube page.
If you would like additional information about how Dynamics 365 benefits your business and how Dynamics 365 helps build customer relationships, visit our blog.
Get started with Dynamics 365 for free
enCloud9 and Microsoft are offering an 100% discount for the first 4 months of annual Dynamics 365 Sales Professional or Customer Service Professional. That's a savings of $260 per user! All you have to do is commit to one year. New customers may take advantage of this limited time promotion any time between August 3, 2020 and June 30, 2021. Contact us today to find out how you can get started quickly with Dynamics 365 for free.