Monitor your webinars and events – all in one place
Do you want to see which prospects and customers are attending your events? ClickDimensions integrates with today's leading event management platforms to bring event registration and attendee information automatically into Microsoft Dynamics 365.
ClickDimensions offers connectors to popular event management systems, such as GoToWebinar, WebEx, Cvent, Eventbrite, Zoom Webinar – and now Microsoft Teams Events has been added to the mix. ClickDimensions announced many impressive new features at their April 2021 Product Update Webinar, but the one that we are most excited about is the Teams Integration. Below are some of the other highlights of the Q2/Q3 2021 Roadmap.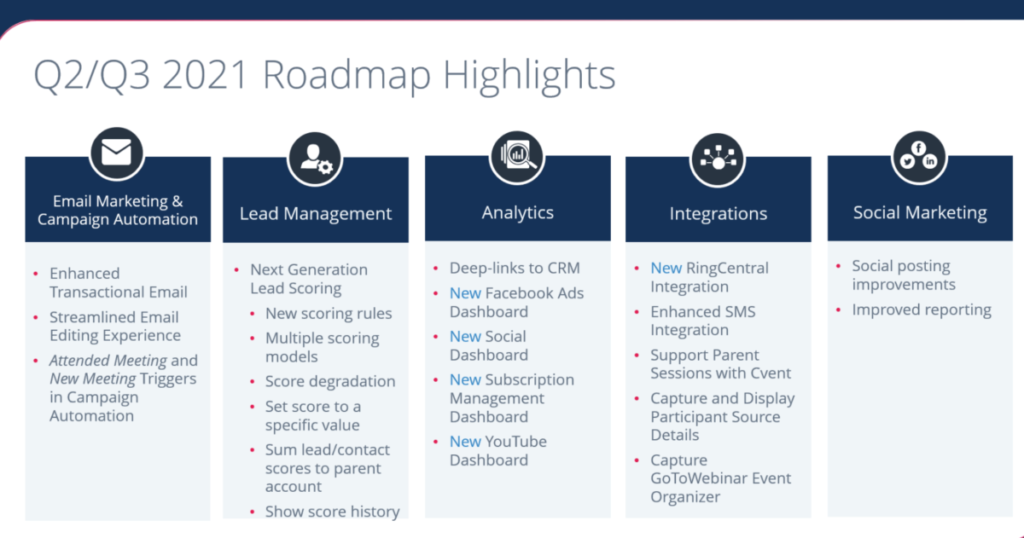 "Set it and forget it" Event Management
ClickDimensions event management integrations boast a "set it and forget it" design that automatically imports registration and attendance information into CRM. Once ClickDimensions is connected to your event accounts, your event information such as the sessions, registration, attendance information, attendee interest levels, questions/answers and more is automatically imported into Microsoft Dynamics 365.
With Event integration and ClickDimensions, you can easily keep track of hosted webinars, events, and participants. This feature is available now. Documentation on the Teams Event Management connector is also available at the ClickDimensions Help Center. Step-by-step directions on How to Set up Teams Meeting and Live Events Connector as well as documentation on what Information is brought in from Teams Meeting and Live Events. You can also find articles about setting up other connectors to event management systems.
Out with the old, in with the new
It only makes sense that as new features are introduced, the old features go away. ClickDimensions is continually improving their product to ensure the customer has the best experience possible.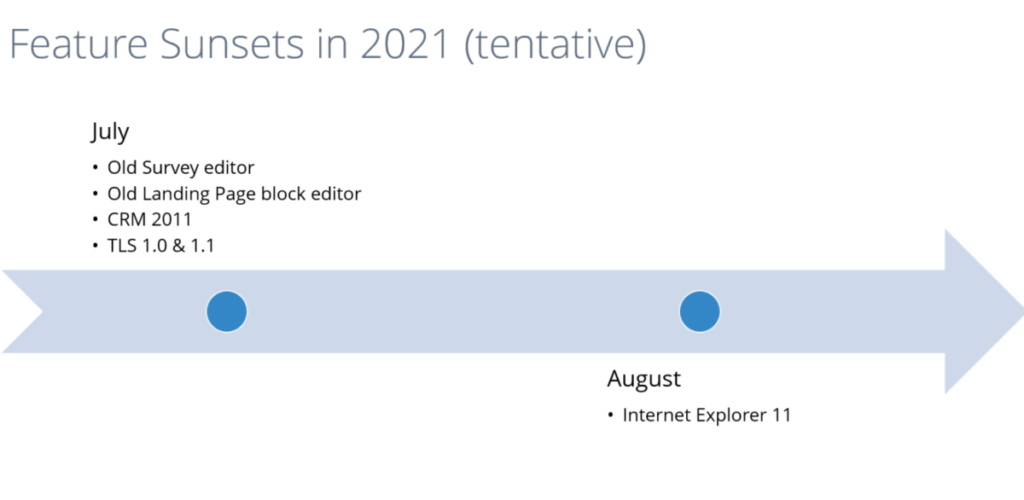 ClickDimensions did tell us that even though there is a new survey editor and a new landing page block editor being introduced, no action is needed in order to get the new editors. Surveys and landing pages created in the old editors will continue to work. New surveys and landing pages may be created in the new editors. Even though surveys and landing pages created in the old editor and those created in the new editor can work side by side, there unfortunately is not a way to migrate the old to the new. If surveys or landing pages were created in the old editor and changes need to be be made, the document will have to be recreated in the new editor in order to make changes.
Want to learn how you can close more deals with marketing automation from ClickDimensions?
ClickDimensions is a full-functioned marketing suite that integrates with Dynamics 365. If you are already using Dynamics 365 and need something to help manage your marketing automation, enCloud9 can quickly get you started in 7 days with our Marketing Accelerator. To learn more about our Marketing Accelerator, watch a short video. Since ClickDimensions leverages standard Dynamics 365 functionality, it is very easy to learn. enCloud9 is your ClickDimensions Marketing Automation experts. Not only do we implement and train clients on ClickDimensions powerful marketing automation solution, we use it in our own day-to-day business. Contact us today.