Mobilize Your Business Processes with Dynamics 365 Mobile
Mobilize your business processes with Dynamics 365 Mobile
Arrive more prepared for appointments and update notes, tasks, and attachments while the details are still fresh in your mind. Dynamics 365 allows you to mobilize your business processes.
If you've used Dynamics 365 Mobile previously, one change you'll notice right away is that the experience is the same whether you are on your desktop, phone, or tablet.  Also previously, there were some issues with the mobile app. These issues have now been resolved. For example, previously, certain features did not work in offline mode but this has been updated. Mobile online or offline is currently available. The mobile app now synchronizes data when it is operating in the background, freeing you to do other things on your device.  The mobile offline feature is now available for iOS and Android users. The mobile app will now synchronize data while it's operating in the background, allowing you to get updated data and do other things on your device at the same time.
Other New and Enhanced Features
Business Card Scanning: This is a much-requested feature of Dynamics 365 from many people. In this digital age, people still exchange business cards, but it can be time-consuming to enter all the data from a business card into your CRM. Also, a business card sitting on your desk can be easily lost.
In addition forms and notes have both been enhanced. The mobile app now allows you to create a note in-line while you are in a form- enabling you to view relevant details while writing a note. Also, notes do not have to be opened individually to view them. You can see notes at a glance, as they now include a preview of the attached images.
Quickly get to the apps you use most: By default, the list of model-driven apps in Dynamics 365 mobile app contains only production apps.  The list can be expanded to see apps belonging to non-production environments as well. Also, the app list is updated to display the correct icon along with the app name/ environment, enabling you to quickly access the app of your choice at a quick glance.
New Look and Feel: There are new, updated colors.  Apps will be displayed with the new Unified Interface on your mobile device.
Sign in and Navigation
Sign in quickly using your email or web address. You no longer have to sort through a long list of apps to find the app you are looking for. Upon sign-in, users can view an optimized list of model-driven apps they have access to.
It is easy to mobilize your business processes as the navigation is now easier and is improved than what we had previously. Portrait mode is the default view for phones and landscape mode is the default for tablets. Layouts are now more compact and optimized in order to allow you to view more information with less scrolling. Because the dashboard now stacks related elements, more information is displayed at once.
The navigation bar (hamburger menu) can be used to get to your work area, create a new record, switch apps, search, and more.
Selecting the site map button will bring you to your dashboards and charts. Clicking on the down arrow will allow you to select a different dashboard.
Easily call or send an email to your customers from the mobile app. Just open a customer record and select a phone number in the record to start a call, or select the email button to send an email. A call can also be made by opening the customer record and selecting the phone number.
Access your favorites and recently used records.
Easily pin or unpin records to your favorites by selecting the pin icon.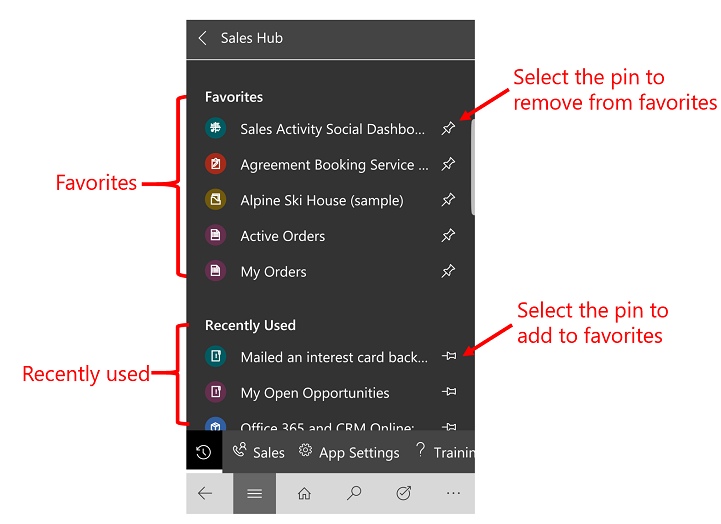 Why Wait?
Start experiencing the many benefits of utilizing Dynamics 365 Mobile today. Increase your productivity on the go and mobilize your business processes. Refer to the Microsoft Installation guide for directions for installing the app. Dynamics 365 mobile supports model-driven apps such as Dynamics 365 Sales and Dynamics 365 Customer Service. There are separate apps for Field Service and Operations, for more information: Field Service (Resco) mobile app and Finance and Operations mobile app. y
The Dynamics 365 Mobile app is fairly straightforward and easy to use, but you may want to refer to the Microsoft Dynamics 365 Mobile User Guide.
Web browsers on your phone or tablet can be used, but for an optimized experience and for full functionality, use of the app is recommended.  With one simple download from your app store, you'll automatically have access to all the apps you need for your role. So… login to the app and immediately begin executing your business processes from your mobile phone.
Want to learn more?
If you have tried to use the Dynamics 365 mobile app on your phone in the past but left disappointed, then listen to our webinar. Microsoft has rebuilt the app from the bottom up to make it easier to use, with all the most important information at your fingertips. We will be sharing some of the great new enhancements to the app, as well as doing a demo.
How can we help?
enCloud9 is a recognized expert in helping organizations like yours to get the most out of their Dynamics 365 system. Contact us today to get started.
​
Do you want to learn how Dynamics 365 can help your organization?