Microsoft has released the timeline for the first major update of the year – the Dynamics 365 and Power Platform 2022 Release Wave 1.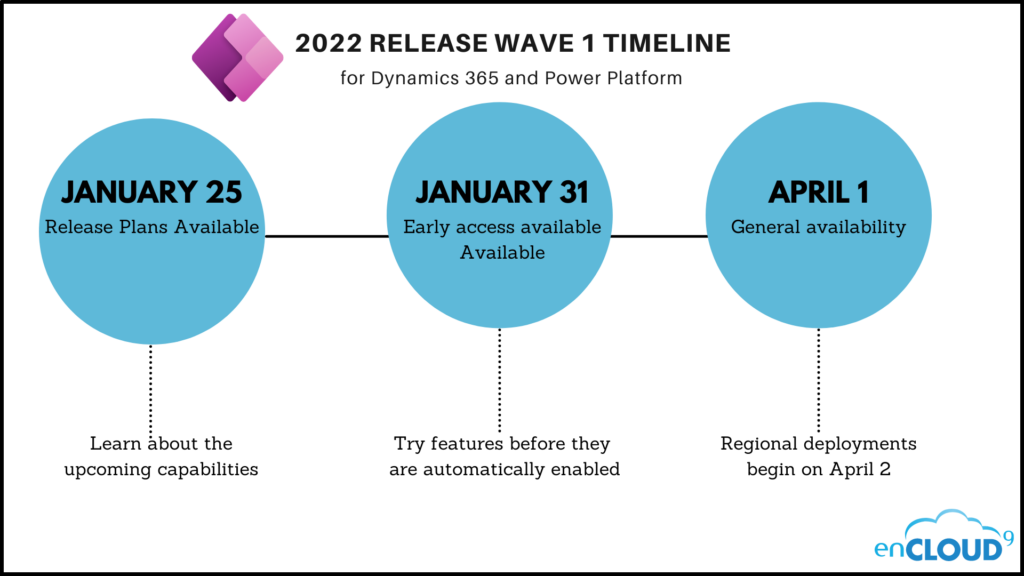 Stages in the Timeline
Release Plans Available
The release plans will be posted to the public to the Dynamics 365 and Power Platform release plan pages on Tuesday 1/25/2022. Power Platform users and partners will be able to learn about the new capabilities rolling out across Dynamics 365 and the Power Platform between April and September.
The PDF guides will be available to download at:
Early Access
Beginning January 31, 2022, particular features from the release will be available for Early Access. This will allow administrators the opportunity to test some of the new capabilities in a sandbox instance, before they are automatically enabled in April 2022. The release plans will detail the new capabilities that will be available for early access.
General Availability
The 2021 Release Wave 1 features will automatically roll out from April 1, 2022 to September 2022. A more detailed schedule of the rollout and regional deployment dates will be published nearer the time. We will continue to update you as we learn more details. Watch our blog for more details or sign up to receive our monthly newsletter.
Contact us
Please don't hesitate to contact us if you have questions about your current system or the upcoming release. We are excited to see what Microsoft announces in the new release and will be posting further blogs when more details become available.
Because Dynamics 365 is continually evolving, you need expert guidance to determine exactly which apps fit your business needs and strategies.
You also need expert help to set up and tailor Dynamics 365 to your business processes and to support you over time – as your business grows.
That expert guidance and assistance comes from a Microsoft Dynamics Partner, like enCloud9.
enCloud9 works with your business's specific needs, from assisting in the selection process to licensing – all the way to implementation and go live. And enCloud9 doesn't walk away when your solution is in place. We support your business so that your solution is always up to date and running smoothly.
Contact us today. We'd love to hear about you and discuss how Dynamics 365 can improve the way you do business.