Increase Productivity with Dynamics 365 for Outlook App
Increase Productivity with Dynamics 365 App for Outlook
Most business users respond to emails all day long. Oftentimes these emails dictate which tasks you focus on and help you to prioritize the tasks you need to work on. The main way you communicate with your customers and coworkers is email, so doesn't it make sense that your email would be integrated with your CRM system? Toggling between disconnected programs can be very time-consuming. Dynamics 365 App for Outlook can help you save time.
Microsoft sees the value of tight integration between the programs you use every day. The integration between Outlook and Dynamics 365 is certainly no exception.
Previously, Dynamics 365 for Outlook was the go-to Dynamics 365/Outlook integration tool. There are currently two versions available for Dynamics 365/Outlook integration. The older application, the Dynamics 365 for Outlook client and the newer version, the Dynamics 365 App for Outlook. While the newer version has some definite advantages, both allow you to work faster and more efficiently. For the purpose of this article, we will be focusing on the newer version, the Dynamics 365 App for Outlook.
Unified Interface Makes a Difference
The app is built on the Unified Interface, which uses responsive web design – providing the user with an optimal viewing experience regardless of device they are on.
Soon the Unified Interface will be the only client interface across all Dynamics 365 apps. Deprecation of the legacy web client for Dynamics 365 Online was announced in September 2019 and the legacy will no longer be available from 1 October 2020.
The Unified Interface is now the default interface for the Dynamics App for Outlook, the Dynamics mobile app, and for all new Dynamics 365 apps moving forward.
What the Dynamics 365 App for Outlook Offers
Increase productivity and tap the power of Dynamics 365 apps while you're using Outlook on the desktop, web, or phone.
What a huge time savings it is to be able to add contacts, leads, cases, and much more to a record… all from within Outlook, without switching applications. This is how easy it is:
Simply click on the Dynamics 365 icon in Outlook (found at the top right-hand side).

A screen then pops up, click the (+) sign.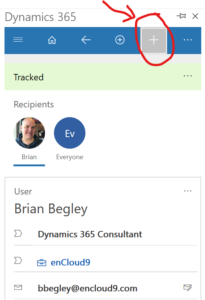 You are then given a choice of adding not only just a contact, lead, opportunity, case, or account, but you can also choose to add knowledge articles, projects, or SOWs.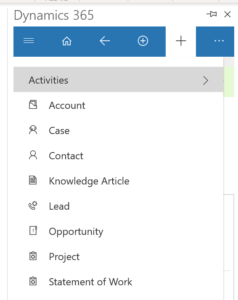 The item of your choice is now added. See how simple that was?
Another very useful function is Using Relationship assistant to get additional insights on your customers.
Again, click on the Dynamics 365 icon.

A screen will pop up. Simply click on the 3 ellipses on the right-hand corner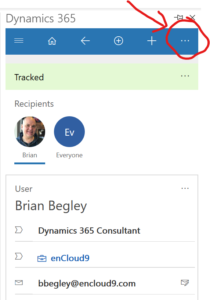 A drop-down menu will open, giving you three choices, choose Relationship Assistant.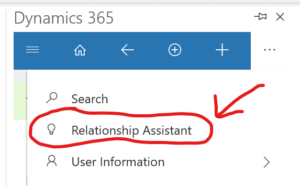 Other functions you can perform with Dynamics 365 App for Outlook:
How Can We Help?
Dynamics 365 Support is a recognized expert in helping organizations like yours to get the most out of their Dynamics 365 system. Contact us today to get started.
Want to Learn More?
For more information on how to deploy and customize the app and how to use it, see: